Fighter Profile and Biography: Floyd "Money" Mayweather Jr.
Floyd Mayweather Jr. is one of the most accomplished boxers of his generation. Mayweather, who was recently released from jail after a brief stint, owns a perfect professional record of 43-0 with 26 knockout victories spanning 5 different weight classes.  The long time pound for pound kingpin of the sport is considered one of the best fighters of his era and is a sure fire future Hall of Famer. Now, will we ever see him face Manny Pacquiao?
Profile updated & amended by Matt Andrzejewski in August 2012
The Early Years for Mayweather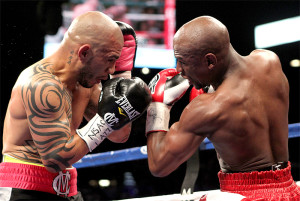 Floyd Mayweather is from a family of fighters. His father, Floyd Mayweather Sr. was a decent professional fighter and his uncle Roger Mayweather was a champion caliber fighter. His other uncle Jeff Mayweather was also a pro boxer. Therefore it was no surprise that young Floyd began boxing as soon as he could stand. He had an excellent amateur career that ended with a bronze medal in the 1996 Olympics.
He turned pro just months later and began his professional career at the super featherweight limit of 130 pounds. Over the next 18 months he fought a staggering 17 times and was lined up for the first true test of his career.
Super Featherweight Domination
Mayweather was lined up to face Genaro Hernandez in October of 1998. Hernandez was a reigning champion who had only lost once in his career before. He moved up in weight to challenge the far bigger Oscar De La Hoya and was stopped. Back down to his normal weight of 130, he had once again been looking excellent. Mayweather needed just 7 rounds to get rid of him.
Next up came 8 title defenses against many top challengers and contenders. First on the list was the respected Angel Manfrady who was stopped in two rounds. Then in the beginning of 2001 came a showdown with an undefeated Diego Corrales, who had been tearing up his opposition. Mayweather dissected and battered him over the course of 10 rounds, knocking him down 5 times. Mayweather then took on 2 future world champions and beat both impressively, in Carlos Hernandez and Jesus Chavez.
Moving Up to New Weights
With the super featherweight division cleaned and seeking more exposure, Mayweather moved up to lightweight. Here he met reigning champion Jose Luis Castillo. Suffering an arm injury early in the contest, he received what many feel was a gift decision. However he gave Castillo a rematch later in the year and bested him easily.
Mayweather defended his new lightweight championship twice more and then moved up again, to junior welterweight. After two fights he was lined up against Arturo Gatti. It was his breakout performance and it was a brutal, one sided affair. After six violent rounds, Mayweather extraordinarily too fast and skilled for Gatti, the fight was mercifully stopped. Most knew Mayweather would win, but few knew it would be so emphatically.
Finally to get the attention he always felt he deserved, he moved up another weight class to welterweight, gearing up for a fight with undisputed champion Zab Judah. Judah lost his tune up bout but the Mayweather-Judah fight was held up anyway. Mayweather beat Judah then beat the man who ruined the luster of their match, Carlos Baldomir.
He then finally got the match that he had been waiting a career for, a showdown against Oscar De La Hoya. Mayweather moved up to 154 pounds to fight the biggest star in boxing, and earned a split decision victory. Nearly all observers felt however that the fight was won in a wide fashion, and not in the close split decision the judges questionably awarded.
Moving back to welterweight, Mayweather met fellow undefeated star Ricky Hatton. Mayweather knocked him out in ten rounds en route to becoming the biggest star in boxing this side of De La Hoya himself.
The Retirement & Comeback of Mayweather
Following the Hatton bout Mayweather announced his retirement from the sport.  However, this retirement was brief and Mayweather would find himself back in the ring 21 months later to face Mexican star Juan Manuel Marquez.  In a battle of two future Hall of Fame fighters, Mayweather was able to completely outclass Marquez on route to a decisive unanimous decision victory.
In his next bout Mayweather would take on another future Hall of Famer in "Sugar" Shane Mosley.  In the 2nd round Mayweather was hurt badly by two right hands from Mosley.  But Mayweather was able to regain his composure and would go on to dominate "Sugar" Shane in what would become another lopsided unanimous decision victory.
After the Mosley victory, Mayweather would take another brief break from the sport.  He would return 14 months later to defeat rising contender Victor Ortiz by knockout in round 4.  The fight was clouded by controversy as earlier in the round Ortiz would attempt to head butt Mayweather.  The referee, Joe Cortez, would penalize Ortiz for the infraction.
When the fighters came back together Ortiz would attempt to embrace Mayweather in an apparent apology and Mayweather instead of accepting the embrace throw a deadly combination that knocked Ortiz down cold.  While many fans saw this as a "sucker punch" from Mayweather no rules were broken and the punches were deemed legal.
In his next bout in May of 2012, Mayweather would face Puerto Rican star Miguel Cotto for Cotto's WBA Light Middleweight Championship.  Mayweather, stepping up in weight to face the bigger Cotto, would receive a tough fight but was able to prevail in the end with a hard fought unanimous decision victory.
What's Next for Floyd Mayweather?
After the Cotto fight, Mayweather went to prison for a short time following a plea deal on a domestic battery charge.  He was released in August of 2012 and is poised to resume his boxing career once again.
There are several potential big fights on the horizon for Mayweather.  The one all fight fans want to see is a bout with the man widely considered a close second to Mayweather in the pound for pound standings in Manny Pacquiao.  Though they fight in the same weight class, the bout has proved very difficult to make and does not appear likely to happen in 2012.
Another big fight that seems more likely to be made is a bout with rising Mexican superstar Saul "Canelo" Alvarez.  Assuming the Pacquiao fight cannot be made, "Canelo" is next biggest name available and a fight between Mayweather and "Canelo" would draw large pay-per-view numbers.
Robert Guerrero is another name that keeps popping up on the Mayweather radar and that fight could be easily made if the "Canelo" fight does not come off right away.  One thing is certain about Mayweather's future in the ring and that is no matter who he fights the event will be big and garner attention from sports fans across the world.