Ricky Hatton Fighter Profile & Biography
"There's only one, Ricky Hatton!" That's the greeting that British boxing champion Ricky Hatton receives from his fans wherever he goes and wherever he fights. Hatton is followed to his bouts not just by a small handful of diehard fans, but by thousands of dedicated supporters who are willing to travel around the world to see their hero fight.
Profile updated & amended by Matt Andrzejewski November 2012
Ricky "The Hitman" Hatton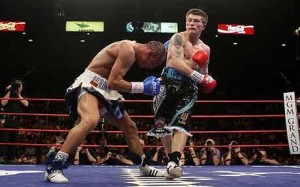 Hatton is a man of the people, and accordingly, the people love him. He's a blue collar guy who spends his downtime in between fights by drinking beer, shooting darts and watching soccer. This has also earned him the nickname Ricky Fatton, as during his off time he routinely balloons up in weight, gaining 40 pounds or more.
In the ring Hatton displays the same blue collar sensibility. There's not much flashy to his game. He jumps inside an opponent's punches and starts launching his own wide power shots. He digs powerful shots to an opponent's body to break them down over the course of a fight. He clinches to get the advantage inside and stymie his opponent's offense while continuing to tire him out. And when all is said and done, Hatton gets his hand raised.
Only once did that fail to happen, against former pound for pound king Floyd Mayweather Jr. Mayweather, a supremely talented boxer and technician, was able to evade Hatton's punches and set him up for his own counters. Many men have tried the tactic, but nobody else has been able to pull it off.
Hatton burst onto the scene by using his signature, domineering style to brutalize Kostya Tszyu, one of the best fighters on the planet at the time. Hatton then went on a spree, fighting many fighters who held titles or would go on to hold titles. The Hitman's hitlist included Carlos Maussa, Luis Collazo, Juan Urango and Jose Luis Castillo.
Then came the Mayweather setback. It was a contest fought at welterweight, as opposed to Hatton's preferred weight of 140 pounds. Back to his natural weight, Hatton is also back to his winning ways. He won a hard fought decision against Juan Lazcano and then earned a TKO win over Paulie Malignaggi.
A couple weeks after Hatton defeated Malignaggi, Manny Pacquaio defeated Oscar De La Hoya.  It wasn't long before negotiations began for a Hatton-Pacquiao showdown.  It took some time but the fighters were able to come to terms for a bout on May 2nd, 2009 in Las Vegas.
Hatton came out aggressive in the first round and this seemed to play right into Pacquiao's hands.  Pacquaio was able to catch the much slower Hatton on the way in several times and was able to score a knock down with a right hook.  Another knockdown of Hatton took place towards the end of round.
In the 2nd Hatton appeared to be working himself back into the fight.  However, late in the round, Hatton was caught with a vicious left hand that sent him down hard.  He would be unable to recover giving Pacquiao a convincing knockout victory.
Hatton's personal life began to unravel following the Pacquiao loss.  In September 2010, he checked into a rehabilitation facility.  Hatton's spokesperson stated the reason was for "depression and a drinking problem" though rumors persisted of drug use as well.
After getting his personal life back in order, Hatton took time to analyze his future in boxing.  On July 7th, 2011 at an emotional press conference Hatton decided to hang up his gloves for good and announced his retirement from the sport.
But as so often happens in the sport of boxing Hatton's retirement would prove to be short lived.   He announced in September 2012 he would be making a comeback.  His first fight back will be on November 24 against former WBA Welterweight Champion Vyacheslav Senchenko.
Ricky Hatton's Future in Boxing
Hatton faces a tough test in his comeback fight when he faces Senchenko.  If he is successful, most in boxing believe a rematch with Paulie Malignaggi could occur in 2013.
Hatton has a big name in the sport and has a big following among his passionate fans.  Regardless of who he fights, his events are big events. He fights in a very deep weight class and if successful in the early stages of his comeback almost assuredly the big names will be lining up for an opportunity to fight him.