Lamont Peterson Fighter Bio, Record & Background (30-1-1)
Lamont Peterson has one of the more unique and memorable backgrounds in the sport, from his beyond-humble roots of living homeless on the streets of Washington D.C., to becoming a world champion in the sport. He currently holds the WBA (Super) and IBF light welterweight champion titles. Peterson has fought numerous worthy foes but his reputation has been damaged after he failed a pre-fight drug test heading into his scheduled rematch against Amir Khan.
Amateur Career: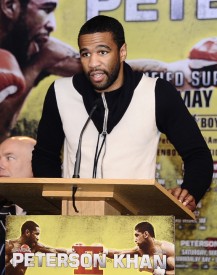 As an amateur, Lamont managed to win the 2001 National Golden Gloves at 141lbs. Even though Peterson had big wins over Mike Alvarado and Willy Blain, Lamont was never able to compete in the Olympics as he failed to beat Rock Allen in the 2004 Olympic trials.
Pro Career:
Peterson's debut fight over Nicholas Dean in 2004 ended in a technical knockout in just 22 seconds of the first round. Since that fight, Peterson had numerous wins over the likes of Damian Fuller, Willy Blain and Lanardo Tyner as he continued to build his undefeated record, and slowly work himself into title contention.
First loss:
Peterson's first loss came to then WBO light welterweight champion Timothy Bradley who managed to land a significant number of hard shots to Peterson's head and body. Bradley's aggressive head-on style was too much for Peterson to handle and Peterson lost by unanimous decision. Peterson showed some toughness in that fight, but was nearly shut out against Bradley, who controlled nearly all of the action.
Controversial Win against Amir Khan:
In December 2011, Peterson managed to win a controversial split decision over England's Amir Khan, making him the unified light welterweight champion. During the fight, Khan was given 2 separate point deductions for 'pushing' which led to the eventual loss of the fight. The scorecards were also questionable even without the point deductions. The fight had taken place in Peterson's hometown of Washington D.C.
Prior to the fight against Khan, Peterson also met Victor Ortiz, and battled him to a Draw.
Future:
The recent news pertaining to a failed drug test this year by Peterson has led to the cancellation of the Khan-Peterson rematch. The failure of this drug test will forever be shown on Peterson's record, and many have labeled him as a cheat, despite his team's efforts to explain the issue as a prescription from a doctor for a low-testosterone issue.
However, Lamont Peterson is still in his early stages of his career and may be able to make a comeback if he is able to fight and beat greater opponents such as Juan Manuel Marquez and Danny Garcia. It's unclear at the time of this writing whether or not Peterson will be dealing with a lengthy suspension as a result of the failed drug test.