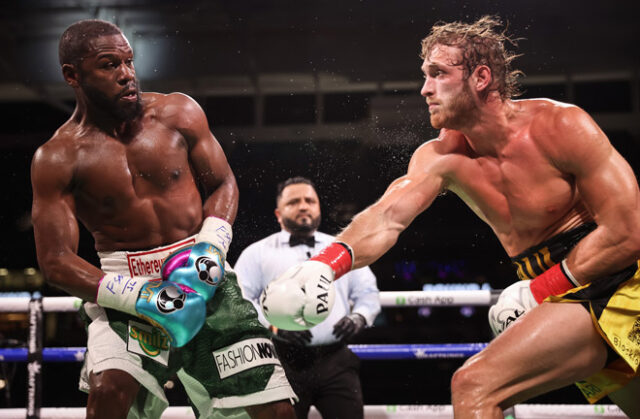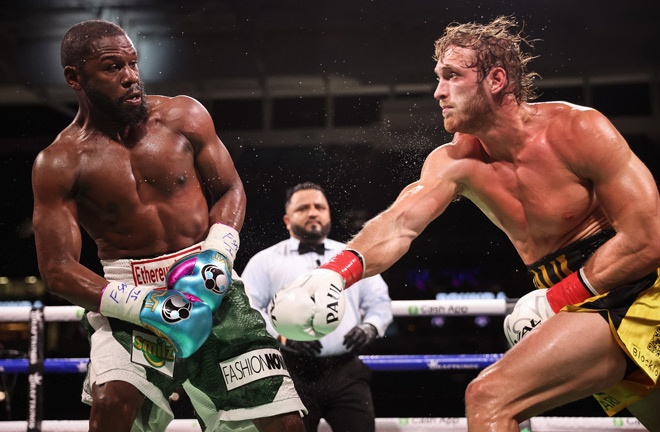 Floyd Mayweather was unable to knockout Logan Paul with their exhibition going the full eight rounds in Miami on Sunday.
Former undefeated, pound-for-pound star, Mayweather dictated proceedings at Hard Rock Stadium, but to his credit social media sensation, Paul withstood the onslaught to see out the fight.
As per Florida State Boxing Commission rules, no winner was officially declared, although knockouts were permitted.
Mayweather, who returned to the ring for the first time since a one round knockout of Tenshin Nasukawa weighed in 34.5lbs lighter than Paul and boxed on the back foot during a cagey opening round, making the 26-year-old miss frequently with jabs, as he displayed glimpses of his elusive skills.
Paul, who has amassed over 23m subscribers on YouTube and had one professional bout losing to fellow influencer, KSI in November 2019, unloaded with a flurry of punches towards the end of the first round, which mainly hit the gloves of 'Money'.
Mayweather upped the ante slightly in the second round, landing jabs to the body, but was still not out of first gear, as he showed his vintage defence, making his foe miss.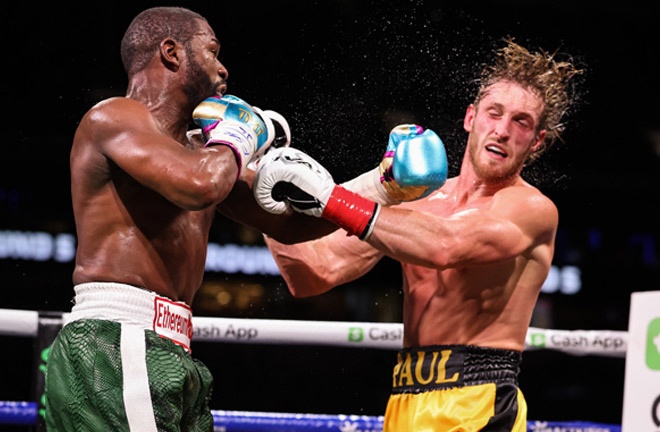 Paul had success in the third round, connecting with an uppercut on the inside, but began to hold the 44-year-old, with Mayweather landing a hard left hook to the head which he took well.
The 26-year-old began to fatigue in the fourth round and walked into a right hand from the Hall of Famer.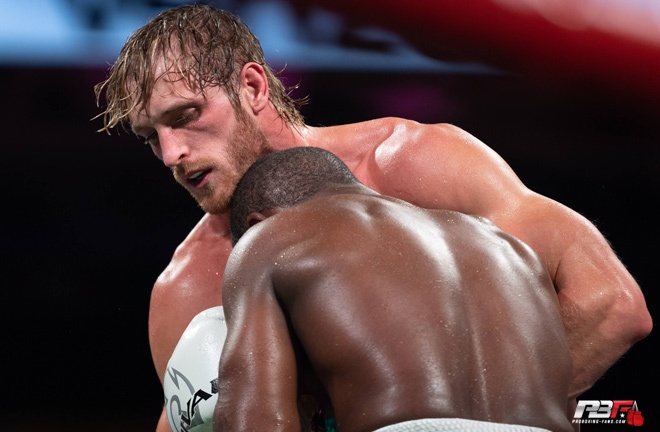 Mayweather was looking to close the show and landed with his highest number of power punches, according to CompuBOX stats, with 10 of his 23 blows connecting, with 'The Maverick' forced to hold on.
The pattern followed, with Mayweather largely avoiding Paul's attacks, using his fleet footwork and lateral movement to move in and out of range, with Paul continuing to hold and landing on occasion.
Mayweather was unable to finish the job inside the distance and gave his opponent huge credit admitting that he had surprised him.
"He was strong, tough and better than I thought he was," said Mayweather to SHOWTIME post-fight.
"I was surprised by him tonight. That was some good little work."
"I don't want anyone to tell me anything is impossible ever again," said Paul to SHOWTIME post-fight.
"The fact that I got in here with one of the greatest boxers of all time, it proves the odds can be beat. Anyone can beat the odds and do great things in life. This is one of the greatest nights of my life, I'm happy."
Jack eases past Colina in four
Badou Jack dominated and knocked out the outmatched, previously unbeaten Dervin Colina to stay on course for another world title shot.
The former-two-weight world champion was set to face Jean Pascal in a rematch for the WBA Light Heavyweight title, however the Canadian, who beat the Swede by split decision in 2019 tested positive for four banned substances, which shelved the meeting.
Jack looked sharp in the opening stages and just a level above his late-replacement opponent, landing hard body shots, although a timeout was called after he landed a low blow.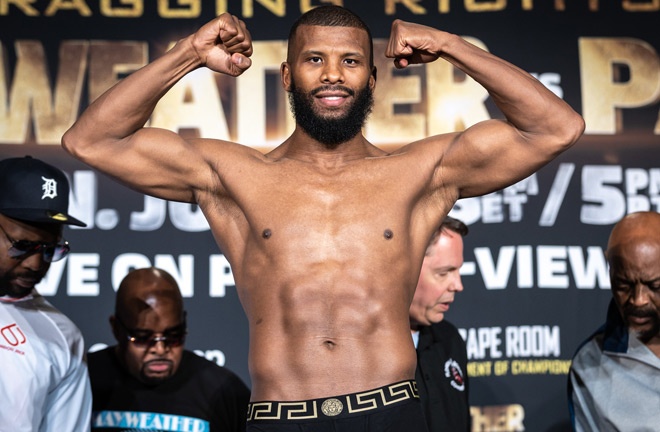 Colina was warned for persistent holding in the second round, with Jack searching for an early finish and had a point taken off towards the end of the round.
The Venezuelan had a another point deducted in the third round and was given a stern warning from the referee who threatened to disqualify him if the holding continued.
Jack was warned after another low blow and Colina started to let his hands go at the end of the third.
.@BadouJack stops Colina with his 3rd knockdown in round 4 💥👀 #JackColina #MayweatherPaul pic.twitter.com/eVLhKTR9G3

— SHOWTIME Boxing (@ShowtimeBoxing) June 7, 2021
However, 'The Ripper' showed his class and experience in the fourth round, connecting with combinations before dropping his foe with a hard right hand.
"My goal is to become a 3-division world champion."@BadouJack setting his goals high 🙌 #JackColina #MayweatherPaul pic.twitter.com/M8ViipPvop

— SHOWTIME Boxing (@ShowtimeBoxing) June 7, 2021
'El Diamante' bravely rose to his feet, but was down again shortly after, copping a left hand to the head and a right to the body, before falling rather theatrically.
But, Jack closed the show dropping Colina for a third time with a body shot, before following up with another body shot whilst he was down, with the referee calling off the contest.
Jack hinted at a move to Cruiserweight in his post-fight interview.
Arias stuns Hurd
Luis Arias shocked former unified Super Welterweight world champion Jarrett Hurd with a split decision win in their ten rounder at Middleweight.
Arias was in control throughout, setting a relentless pace, but was forced to climb off the canvas in the ninth round, yet remained composed to claim the biggest win of his career to date.
The 30-year-old used his rapid hand speed to catch Hurd to head and body and momentarily stunned his foe towards the end of the second round with a powerful left hook, despite suffering a gruesome cut.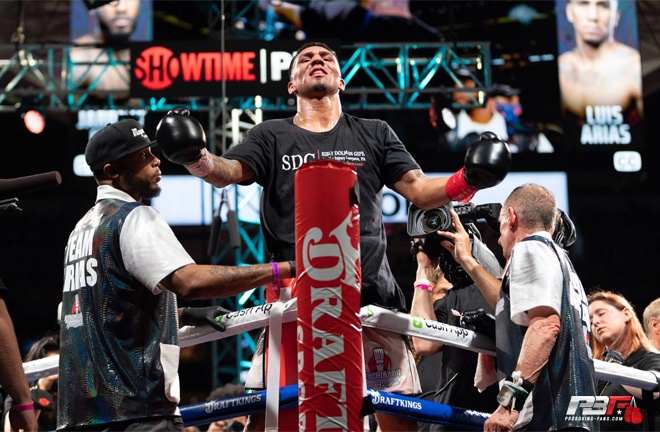 Hurd was at Middleweight for the first time, but appeared static and lethargic, as he was caught with further combinations in rounds three and four and this trend continued past the halfway mark.
'Swift' remained competitive despite being outworked and had his best round to date in the sixth, forcing Arias back with hard right hands, although 'Cuba' was still able to connect with power shots.
The pair were trading with regularity, although Hurd struck Arias with successive low blows and was warned by the referee.
Round 9 was fun 👀#HurdArias #MayweatherPaul pic.twitter.com/dWIH6bvxS7

— SHOWTIME Boxing (@ShowtimeBoxing) June 7, 2021
The conditions were not helping either fighter, with the rain lashing down at the Hard Rock Stadium and a time out was called by the referee, who took it on himself to dry the canvas at the start of the ninth round, as had been the case in the second round.
Hurd had his best moment in the ninth, dropping his foe with a right hand, with Arias appearing to slip and expressed his frustration at being counted.
.@LuisCubaArias is feeling it after taking down Jarrett Hurd 💯 #HurdArias #MayweatherPaul pic.twitter.com/paJUtEgiUp

— SHOWTIME Boxing (@ShowtimeBoxing) June 7, 2021
The pattern continued, however with Arias recovering from the knockdown to land solid combinations of his own.
Both men traded into the final round and as the bell went Hurd connected with a right hand with Arias falling to the canvas, although it was not called a knockdown.
Arias took a deserved victory on the scorecards and seemed unfortunate not to take a unanimous decision, instead settling for a split decision with scores of 95-94, 93-97, 96-93.