Fight Pick & Preview – Floyd "Money" Mayweather vs. Robert "The Ghost" Guerrero:
On May 4 at the MGM, pound-for-pound king Floyd Mayweather, Jr. will take on Robert Guerrero. It has been exactly a year since Mayweather defeated Miguel Cotto in this same arena. In fact, the MGM has been Mayweather's home base, with all his bouts taking place here since 2006. Guerrero has fought at the MGM once–beating Michael Katsidis in 2011.
Mayweather, Jr. is a huge favorite at -800. It's understandable to an extent. Point blank, he has never lost. The last time anyone came close was over a decade ago. At the same time, he is 36. Add in the fact that Guerrero is a 29-year-old champion in his prime who has specifically called for this fight for years, and it hardly seems like a foregone conclusion.
Date: May 4, 2013
Site: MGM Grand Arena, Las Vegas, Nevada
Weight Class: WBC Welterweight Championship: 12 Rounds
Floyd Mayweather, Jr., 43-0 (26 KOs), Las Vegas, Nevada, WBC Welterweight Champion
vs.
Robert Guerrero, 31-1-1 (18 KOs), Gilroy, CA, "Interim" WBC Welterweight Champion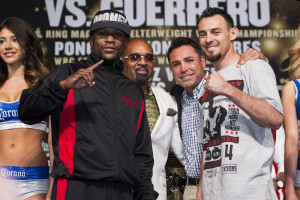 A lot of people are selling Guerrero short. That could be a mistake. The Gilroy native is a lot better than he looks. He really can do it all–box, brawl, and everything in between. He is a durable and resourceful fighter with a high ring IQ.
With youth on his side, he is unlike most of Mayweather's recent foes. Floyd's recent docket is chock-full of names whose best days were probably behind them. The one youngster he beat, Victor Ortiz, is quite unlike Guerrero, particularly mentally. Guerrero might not win, but he won't blow it or choke like Ortiz did in his 2011 fight with Mayweather, Jr.
What impresses me most about Guerrero is his intelligence. It doesn't leap off the screen and captivate you like the qualities of speed or power, but it might be even more of a weapon. Against Berto, one might have suspected Guerrero would use his boxing technique and length.
Instead, he surprisingly swarmed Berto and smothered his offense. When inside, he roughed up the supposedly more explosive Berto, dropping him in each of the first two rounds en route to a clear decision win. Berto looked like he had experienced a shellfish allergy–that's how swollen he was by night's end.
Mayweather vs. Guerrero Analysis
Guerrero is a southpaw, meaning his power hand will be coming from the left, away from Mayweather's vaunted shoulder-roll defense. While Mayweather handled southpaws like Victor Ortiz and Zab Judah, perhaps Guerrero can put his lefty stance to better use. This sport really comes down to match-ups and maybe Guerrero is better-equipped to handle the Mayweather package than a lot of Pretty Boy Floyd's more recent opposition.
Guerrero deserves full kudos for beating Berto in a heartfelt performance. Watching him walk by me on his way to the ring, his intensity was palpable. This is a different matter altogether, however. Berto was never a smart cookie in the ring, relying mostly on his immense physicality to subdue foes. I don't expect Guerrero to have such an easy time strategically against Mayweather. Floyd's ring IQ is unsurpassed and he still has the physical wherewithal to get it done.
No one has managed to figure out how to beat Mayweather. Cotto gave it a good go. Mosley rocked him with a right hand. But no one has managed to get over the hump. Could they be looking past Guerrero? Unlike recent Mayweather foes, he is smart, tough, and more importantly–fresh.
Not to imply that Guerrero's life-issues, like his wife's sickness, were positive things. Once you manage to get through those issues, however, they recycle themselves as mettle. Guerrero has been through some stuff, and even at 29, is a man's man. He's been galvanized and battle-tempered by life and his experience in the ring. Combine that with a sharp boxing mind and I think he presents a package unlike anything Mayweather has seen in recent years.
That works both ways. Guerrero's resume is underrated, but he hasn't faced anything on the level of a Mayweather. I'm not too worried about the effect of Mayweather's gamesmanship or the hype of the event having a bad affect on Guerrero. It's the Mayweather skills that make me wonder about Guerrero's chances.
Sometimes you have to handicap the situation more than the fight, especially in big-time match-ups where the ramifications run deep. Mayweather is the last true American boxing superstar. He is embarking on a historic TV deal. He greatly aids a sagging Vegas economy every time he steps in the ring. That has a subconscious effect on judges. Nothing against the arbiters, but it's hard to score close rounds against a guy who is a big part of keeping the sport afloat. I'm not sure I would be above it, either.
That might put Guerrero in an unenviable spot of having to dominate Mayweather, Jr. just to get a decision. That might be asking for too much. Guerrero and Mayweather, Jr. should mesh to make an exciting, high-energy fight that pleases the blood-thirsty, as well as the boxing connoisseur. One just has to wonder if Guerrero will get full credit for his work against a fighter who is so clearly "the man" in American boxing.
It's hard to remember the last time a fighter was so far ahead of everyone else in terms of Q-rating as Mayweather is. With fighters like that, you always have to figure that maybe they'll get the benefit of the doubt if there is in fact doubt.
Mayweather vs. Guerrero Prediction
I see a close fight. Guerrero is simply better than a lot of people think. He has all the attributes you look for in a top fighter. It's just that you can't expect Mayweather to suffer from the same things that befall most fighters. Is he getting old? Sure, but he hasn't really shown it. Will ring rust affect him? It never has. Will he be looking past Guerrero or underestimate him? Since when has he ever done that?
I see a Mayweather win in the 115-113 or 116-112 range that gets scored more widely for Floyd. At +500, Guerrero is getting a lot of betting value here, but not only does he have Mayweather to beat, but the whole boxing machine as well. I see that being too tough of a mountain to climb, as much as I like the kid and what he brings to the table.
Prediction: Floyd Mayweather, Jr. wins by unanimous decision.
Comments
comments