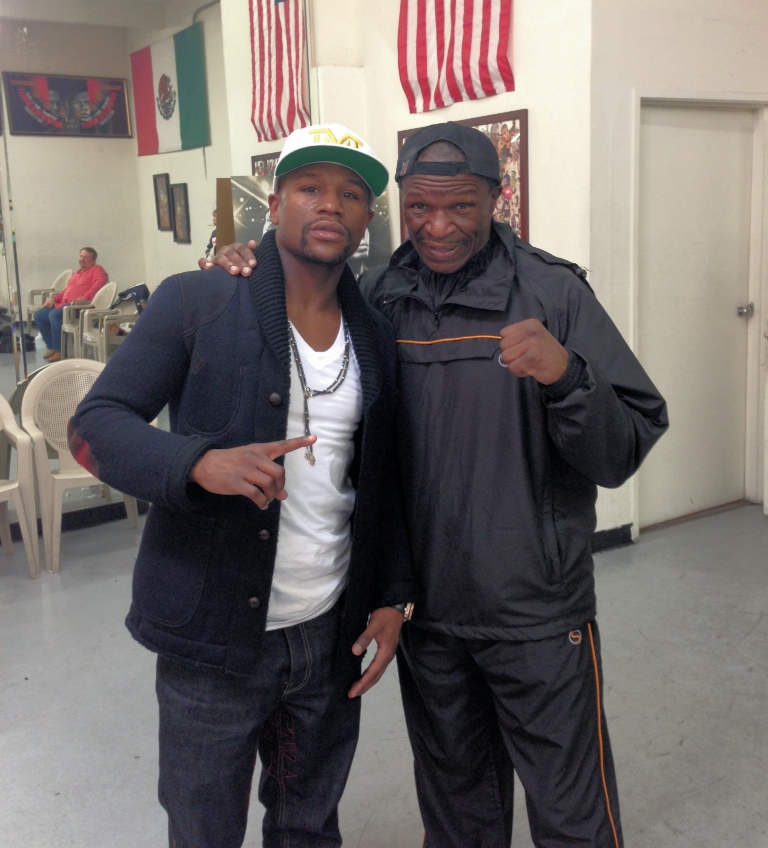 He's back! Floyd Mayweather Sr., that is. Floyd Mayweather Tweeted out a picture on Wednesday night which showed him and his father looking quite chummy together, with an announcement about the two joining forces once again in the gym. Take a look at the photos — including extra photos of Mayweather hanging with Kobe Bryant, and getting ready to go snowboarding — and the details here.
Here's what Mayweather had to say:
"Me & my trainer (my dad) back working together getting ready for May 4th"
Mayweather Sr. hasn't been the head trainer for his son in quite a long time… since his jail sentence years ago. Uncle Roger has been the man in charge, but he has had a variety of legal and health issues to contend with.
Dan Rafael suggests that Roger's battle with diabetes could be the reason that father and son are reuniting here. But that's as much of a guess as anything else — and we don't know if this means that Roger is completely out of the picture, partially on the sidelines, or still calling the shots, but just allowing his brother to be in the spotlight with his son a bit.
Mayweather Sr. has been involved in some of Floyd's camps in recent memory, taking a backseat but getting himself in the mix. Notably, they've also had some very public and very ugly falling out episodes during these times away. But for now, all is well as far as we can see.
Of course, what fight fans really want to know about Floyd Mayweather is who is next opponent is going to be. Devon Alexander, as he suggested? Robert Guerrero? A surprise candidate? It's less than three months away, and even though I keep on saying this, you'd have to think that an announcement is imminent if they want to properly build up this fight.
Also in the photos above, besides seeing Mayweather Jr. and Sr. together, you'll see a photo that Mayweather Tweeted out with himself and Kobe Bryant with the message: "Me and @KobeBryant… a brotherhood that could never be broken", and two pictures of Mayweather getting ready to hit the slopes on his snowboard.
Uh, Floyd, listen… I don't really care about who trains you, whether it's your father or uncle or anybody else. But keep the snowboards on the rack at home. You don't need to break an ankle or a leg with a fight coming up in less than three months. Finalize the opponent, announce it, and then stick to the squared circle, not the black diamonds!