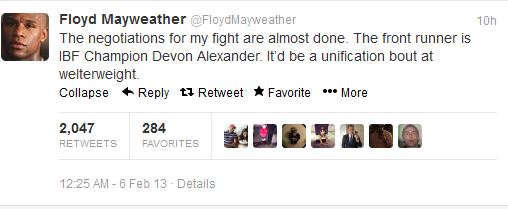 The unending quest to determine Floyd Mayweather's opponent for his scheduled May 4th fight in Las Vegas continues with an added twist today. Mayweather has implied that suddenly Devon Alexander has emerged as the "front runner" to land the fight, in what would be a unification bout at Welterweight. Take a look at what Mayweather had to say and what it all could mean right here.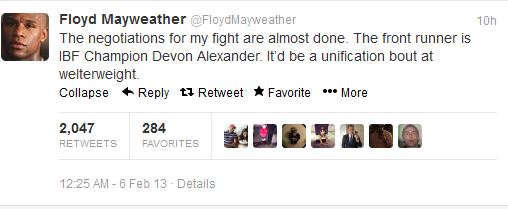 Here's what Floyd Mayweather Tweeted out:
The negotiations for my fight are almost done. The front runner is IBF Champion Devon Alexander. It'd be a unification bout at welterweight.
Hmmm. Didn't Devon Alexander's fight against Kell Brook just get postponed due to an "injury" that Alexander suffered in camp? Was it really just an excuse to pursue a much more lucrative, high-profile bout against Mayweather?
Mayweather vs. Alexander is an interesting fight, although I don't find it as interesting as I would find Mayweather vs. Robert Guerrero or Saul "Canelo" Alvarez. I also have a hard time envisioning their respective styles meshing well for an exciting affair.
[See: Welterweight Division Rankings– Where are Mayweather, Guerrero & Alexander ranked?]
However, while many in the boxing media have assumed Mayweather vs. Guerrero has been a done deal for over a month, that's never been the case. Mayweather himself shot that down, stating it was just a rumor.
Meanwhile, Steve Kim of Max Boxing thinks that Mayweather's next fight could potentially land on Showtime. That idea also could have some legs considering that Alexander pulled out of a Showtime main event, that Canelo Alvarez has had recent fights on Showtime as well, and that it would be building towards Mayweather vs. Canelo, which would be the biggest fight to make in the fall.
Of course, this could all also be a final negotiating ploy for whoever Mayweather is really looking at for an opponent. At this point, we really don't know.
Hopefully this gets hashed out in the next few days with some concrete information. Stay tuned for the latest news updates and rumors regarding Mayweather's next opponent right here at ProBoxing-Fans.com.