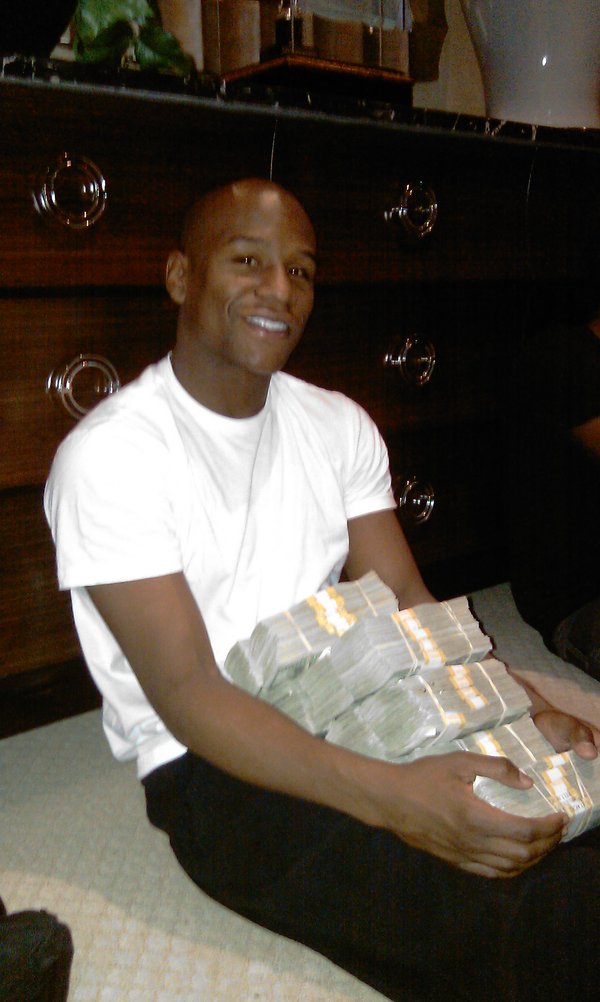 Rumors have been swirling all afternoon that Floyd Mayweather has wagered a sizable chunk of change on tonight's Miami Heat vs. Indiana Pacers Game 7 in the NBA Eastern Conference Finals.
Just how much money is a sizable chunk of change for Mr. "Money" Mayweather? If you're to believe the reports, it's $5.9 million, and he's taking the Heat at -7. So not only does Miami need to win, they need to win by a comfortable margin.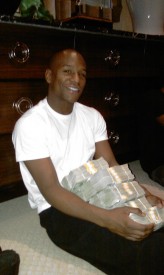 Now, let's do some math here. You might be thinking that since Money Mayweather is the number 1 highest earning athlete in the world, that $5.9 million really isn't that much money after all. Sports Illustrated projected he'd make $90 million in 2013 with his two fights, and his six-fight deal with Showtime could net him a total of $200 million.
But let's say he does earn $90 million in 2013. A single $5.9 million bet represents 6.55% of his income for the year.
That's like a guy with a $50,000 salary making a $3,250 bet on tonight's game. So however you want to slice up the numbers, Mayweather's bet on the Miami Heat tonight is a big deal, even for him.
Of course, this isn't the first we've heard of Mayweather betting absurd sums of money on sports game. His flashy lifestyle is notorious, and notoriously self-promoted, through images with piles of cash, and winning betting slips for several hundred grand a pop.
Last fall, rumors circulated that Mayweather bet $3 million on the Alabama vs. Michigan college football game. It's a bet that Mayweather would have lost, if he ever indeed made it. Mayweather and his team denied he made the bet though, and they're sure to do the same here, unless he ends up as the massive winner.
Mayweather only really talks about his wagers which win. That means we don't hear about the losses, ever. And if any sportsbook wanted to keep Mayweather's huge and ridiculous level of business, they surely wouldn't go leaking this kind of information against his will.
So we may never know if Mayweather bet $5.9 million on the Heat beating the Pacers tonight… unless he did, and he wins.
UPDATE:
The Miami Heat won the game, and easily bested the point spread. If Mayweather made the bet, he won. But there's been no word from him about that yet.