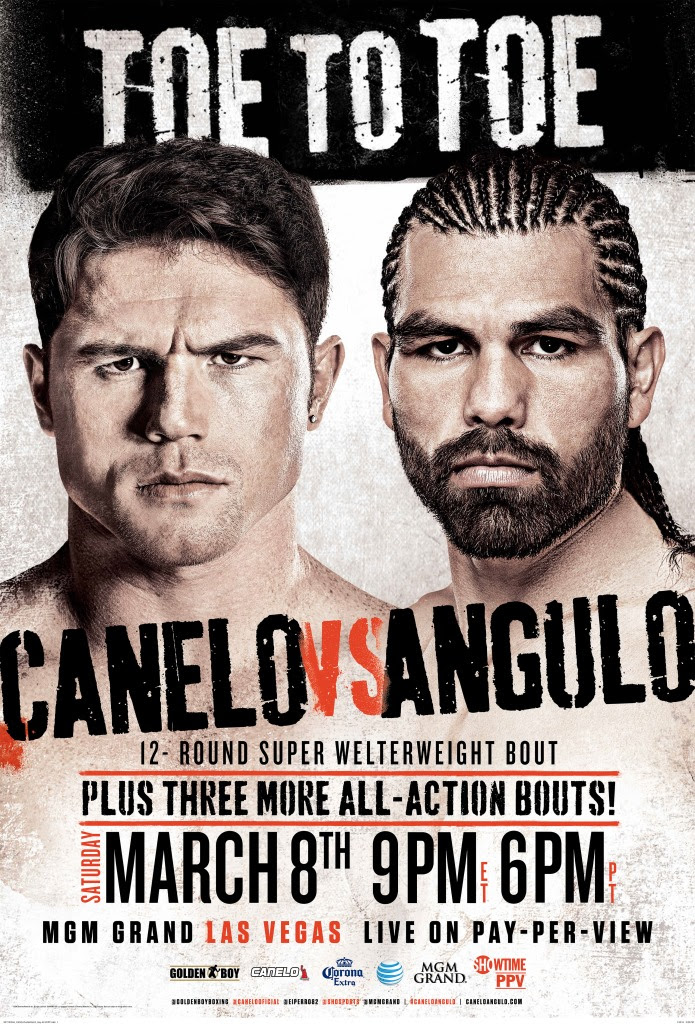 Canelo Alvarez returns to the ring on Saturday, March 8 to face the fierce and rugged Alfredo "El Perro" Angulo in the headline attraction of a stacked four-fight event at the MGM Grand Garden Arena in Las Vegas. The full four-fight card has been released, and Canelo vs. Angulo tickets are also now on sale.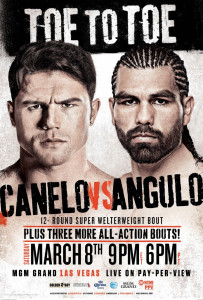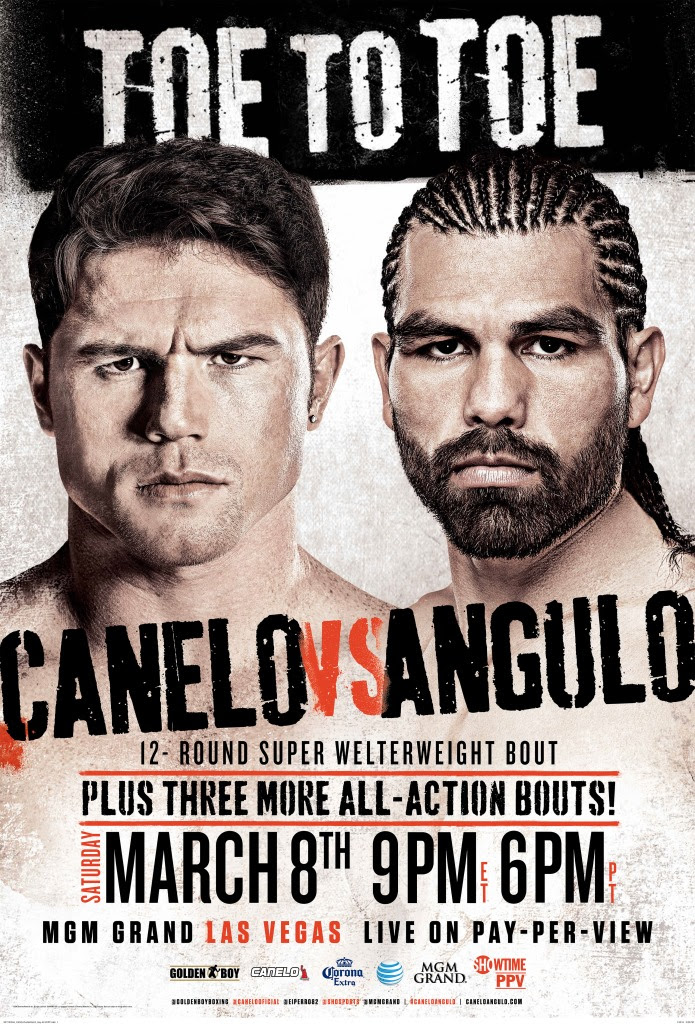 The pay-per-view card offers matchups that promise to be exciting, all-action bouts.
The most anticipated match of the night is the headliner with Canelo Alvarez vs. Angulo, as Canelo looks to reassert himself as the best young fighter of this era. Rounding out the card are Leo "Terremoto" Santa Cruz (27-0-1, 15 KO's) against Cristian "El Diamante" Mijares (49-7-2, 24 KO's); exciting young star Omar "Panterita'' Figueroa (24-0-1, 17 KO's) against Canelo's brother Ricardo "Dinamita" Alvarez (23-2-3, 14 KO's) and Jorge "Niño de Oro" Linares (35-3, 23 KO's) will face Nihito Arakawa (24-3-1, 16 KO's) in a lightweight clash.
Note: Carlos Molina vs. Jermall Charlo has been added to the PPV Card, and Linares vs. Arakawa will be non-televised
Tickets are on sale and are priced at $600, $400, $200, $100, $50 and $25, not including applicable service charges and taxes.
You can buy Canelo vs. Angulo tickets online here, and tickets also are available for purchase through Ticketmaster and the MGM Grand.
March 8 is a hallowed date in boxing history as in 1971; "Smokin" Joe Frazier first met Muhammad Ali in the ring to begin their epic series. Now, eight fighters, including two of the most exciting Mexican stars of today, will attempt to do their part to add to its lore.
"This is a great fight for me and for the fans and I can't wait to get back in the ring on March 8," said Canelo, who will be making his first ring appearance since his mega-fight with pound-for-pound kingpin Floyd Mayweather last September. "Angulo is a true warrior and I have to be alert every second of every round when I fight him. I expect that we will put on a fight no one will ever forget."
"Canelo is a great young fighter who has earned his way to the top," said Angulo. "That being said, I know I'm hungrier than he is right now and I will take him to places he's never been. Our fans in Mexico and around the world will see what we're all about when we fight."
"When we presented opponents to Canelo for his return fight, he immediately took the man who he expected would give him the toughest challenge in the ring and who also would help him give the fans the most exciting fight possible," said Richard Schaefer, CEO of Golden Boy Promotions. "Alfredo Angulo fits the bill on all counts and this will not only be a stern test for Canelo, but I know fight fans are going to see all action from start to finish. I can say that about all the fights on the card, and in keeping with Golden Boy Promotions' promise to fans, we're making sure to deliver the most competitive and compelling matchups that we can."
"We are very excited to welcome back Canelo Alvarez to MGM Grand for what's sure to be a fierce battle with Alfredo Angulo," said Richard Sturm, president of sports and entertainment for MGM Resorts International. "These two fighters are sure to bring their best performances to the MGM Grand Garden Arena for a thrilling evening of epic boxing."
"This is the type of stacked, all-action fight card that SHOWTIME has become known for," said Stephen Espinoza, executive vice president and general manager, SHOWTIME Sports.
"We are proud to present this excellent main event and compelling co-features on our preeminent platform, SHOWTIME PPV. Last year, this network emerged as the premiere destination for boxing's biggest events and most competitive fights. The men and the matchups on this fight card embody our commitment to deliver the best the sport has to offer."
A superstar in his native Mexico who has gone international with his appeal over the last two years, Canelo Alvarez (42-1-1, 30 KO's) is a former super welterweight world champion whose talent, fighting style and charisma is likely to keep him on top for years to come. Only 23 years of age, the Guadalajara Jalisco, Mexico native turned pro in 2005 and he hasn't looked back since he defeated the likes of Jose Miguel Cotto, Carlos Baldomir, Lovemore Ndou, Matthew Hatton, Ryan Rhodes, Alfonso Gomez, Kermit Cintron and Sugar Shane Mosley. In 2013, Canelo packed nearly 40,000 fans into the Alamodome in San Antonio for a win over Austin Trout to unify 154-pound titles. Canelo's last fight, the main event bout vs. Mayweather, shattered pay-per-view revenue records, largely due to the growing popularity of the bright Mexican star. On March 8, Canelo is back.
A vicious puncher with a crowd-pleasing and aggressive style, Mexicali Baja California, Mexico native Alfredo "El Perro" Angulo (22-3, 18 KO's) produces exciting fights every time he steps through the ropes, as evidenced by knockouts of Gabriel Rosado, Joel Julio and Joachim Alcine, as well as his classic 2011 showdown with James Kirkland. Owner of 2012 wins over Raul Casarez and Jorge Silva, the 31-year-old appeared to be on his way to his first world championship in June 2013 when he knocked down Erislandy Lara twice in their interim WBA title fight. However, a controversial stoppage due to an eye injury postponed Angulo's ascension to the top, something he hopes to rectify starting with his bout against Alvarez.
All-action warrior Leo Santa Cruz simply outworks his opponents every time he steps between the ropes, becoming must-see TV in the process. But he will be meeting a former world champion in Cristian Mijares who plans on having an answer for everything the young titlist throws at him.
"I've always been a fan of Cristian Mijares, and I know he will give me a tough fight on March 8," said Santa Cruz. "When two Mexicans get into the ring together, it's always a show, and this fight will be no different."
"Santa Cruz is an impressive young fighter and a worthy champion," said Mijares. "I respect him because he fights like I fight: to get the knockout and give the fans a great fight. They will get their money's worth on March 8."
Santa Cruz (26-0-1, 15 KO's) is widely recognized as one of the highest -olume punchers in the game today. The 25-year-old, two-division world champion fights out of Los Angeles by way of Huetamo, Michoacán de Ocampo, Mexico, and will be making the second defense of the WBC 122-pound title he won by knockout last August. In his initial defense, Santa Cruz registered one knockdown en route to a close, hard-fought, decision over a determined and courageous Cesar Seda last Dec. 14. His exciting work rate and significant power have made Santa Cruz a mainstay on SHOWTIME as six of his last seven fights have aired on the premium network. The other came on CBS Television Network in December 2012.
Mijares (48-7-2, 22 KO's), 32, of Gomez Palacio, Durango, Mexico, is as game as any active fighter today. His give-and-take southpaw style makes him as vulnerable as he is exciting. He's is currently 14-1 in his last 15 fights dating to November 2009. A pro since 1997, the former Three-Time World Champion is 8-2 in world title fights and owns a ninth-round TKO over renowned slugger Rafael Marquez. His only defeat since 2009 came on a split 12-round decision to then-WBC champ Victor Terrazas on April 13, 2013.
Seen for years as the future of boxing, Omar Figueroa's time is now, especially after his epic win over Nihito Arakawa last July. Now returning to fight in Las Vegas for the first time since 2012, "Panterita" will look to turn back the challenge of Ricardo Alvarez, a winner of five straight who emerged on the world scene with his December victory over Rod Salka.
"I can't wait to get back into the ring on March 8; it's been too long and I'm ready to defend my title," said Figueroa. "The fans know what I can do in the ring, and they're going to see the best version of me yet against Alvarez."
"World champions are in the Alvarez bloodline, and we're going to make history when I become the latest champion from our family on March 8," said Alvarez. "Figueroa is a great young fighter, but I will be the one with his hand raised in victory. "
The popular and promising 24-year-old Figueroa (22-0-1, 17 KO's), of McAllen, Texas, captured the Interim WBC 135-pound crown with a unanimous decision over Arakawa in brutal brawl last July 27 that was a top nominee for 2013's Fight of the Year. Figueroa, despite fighting with a cut on his nose from an accidental head butt in the third round, dropped Arakawa in the second and sixth rounds. Figueroa and Arakawa combined to throw more than 2,100 punches in their memorable 36-minute slugfest.
Alvarez (23-2-3, 13 KO's), of Guadalajara, Jalisco, Mexico, has triumphed five consecutive times and is 13-1-1 in his last 15 bouts. The older brother of Mexican icon Canelo Alvarez and current WBC Continental Americas 140-pound champion, the 32-year-old "Dinamita" is coming off a 10-round majority decision victory over Rod Salka last Dec. 14.
Former world champion Jorge Linares has fought his way back into title contention with four consecutive victories, including three knockouts, but he will get the fight of his life from Japan's Nihito Arakawa, whose instant classic with Figueroa last July made him an instant star in the United States and around the world.
"I've worked hard to get back to the top of the division, and I can't let Arakawa slow me down," said Linares. "He's a tough, rugged fighter who will be in front of me all night, but I am confident that I will be victorious."
"The United States fans treated me so well when I fought here against Omar Figueroa, and I'm excited to be back to fight Linares," said Arakawa. "He is a true warrior and we will put on a memorable fight for sure."
Twenty-eight-year-old Linares (35-3, 23 KO's), a Venezuelan now fighting out of Tokyo, Japan, is a former WBC Featherweight and WBA Super Featherweight titleholder. The hard-knocking 11-year professional has won four straight, including a first-round knockout over Francisco Contreras last Nov.10 in Tokyo.
Arakawa (24-3-1, 16 KO's), of Tokyo, will be fighting for the second time in America. The 32-year-old proved his ability and toughness to the U.S. audience in the aforementioned slugfest versus Figueroa last July. Arakawa's spirited effort was anchored by his ability to overcome two knockdowns and fight exhaustion as he forced the action until the final bell. The Japanese warrior earned great respect in defeat.
Buy your Canelo vs. Angulo tickets today, before they sell out! – Use Code "10PCTOFF" to save 10% by January 20th