IBF junior welterweight world champion Mickey Garcia (38-0, 30 KOs) has a big decision to make concerning his career.
The pound-for-pound fighter became a four-division champion. Who recently won a hard fought unanimous decision over Sergey Lupines on Showtime in San Antonio.
Garcia, who still holds the WBC lightweight title, is considering whether to continue to campaign in that division or move on. In his post-fight interview, Garcia acknowledged that he has a number of options.
Garcia could remain at 140 and take on the winner of Linares-Lomachenko on May 12. He could also drop down to 135 for a lucrative fight with Robert Easter Jr. given their past verbal sparring.
In addition, Garcia could test the waters at welterweight against Danny Garcia. The IBF welterweight champion Errol Spence Jr. or even former lightweight division champion Terence Crawford, who beat Garcia in the amateurs.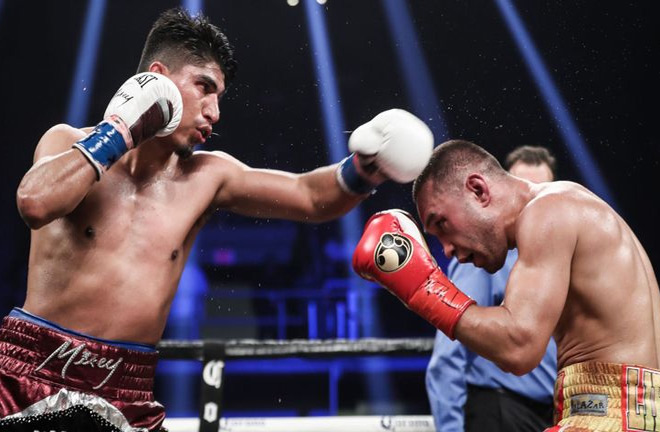 Any one of these matches would be quite intriguing. Mickey has consistently proven himself as an elite fighter with the kind of raw power, chin and skills to compete against the best fighters in the world.
The Californian indeed has a bright future but is running out of time as he comes under increasing pressure by the WBC to make a defense of the belt he brutally captured by knocking out Dejan Zlaticanin back in January 2017.
Garcia was supposed to fight mandatory challenger and WBA boss Jorge Linares but that clash fell through when the Venezuelan defected to battle Vasyl Lomachenko instead.
That leaves Garcia without a meaningful fight at lightweight to capitalize off. The historic win which really sets up the other two scenarios. Among his options, Garcia seems to prefer Spence and that is in keeping with his earned reputation for taking on all comers.
Garcia had this to say to Yahoo Sport's Kevin Iole in a recent interview about facing either Spence or Crawford:
"I think against Spence it would be a very good fight, because he's strong, he's a stand-up fighter. He's not going to be running; he's going to make it a good fight. Crawford I think would be running more, using his height and his reach advantages…he wants to make it as easy as possible for him, and that's the way he has to fight – but that makes it a dull fight sometimes and the fans don't like that, and I don't want that."
It might not be an accurate assessment for Garcia to label Crawford a runner. After all, this is one of the best pound-for-pound fighters in the world. He literally cleaned out the junior welterweight division by unifying the four major belts. However, I do agree with him that the Spence fight is probably the most entertaining.
The boxing world will tune in to see what Garcia ultimately decides.
Whom do you believe Mickey Garcia should fight next? Please comment below.