Fight pick & preview – Golovkin vs. Lemieux:
On October 17th, Madison Square Garden will be rocking as Gennady "GGG" Golovkin and David Lemieux collide on HBO pay-per-view, in a bout featuring the two hardest hitters at 160 pounds. Since Miguel Cotto insists on fighting at catch-weights, we have officially declared that Golovkin vs. Lemieux is for our vacant Middleweight World Championship. As if this fight wasn't juicy enough already, that makes it even more intriguing. Here's the rundown of what you can expect to see on fight night.
Meet the Fighters
[tabs type="horizontal"][tabs_head][tab_title]Gennady "GGG" Golovkin[/tab_title][tab_title]David Lemieux[/tab_title][/tabs_head][tab]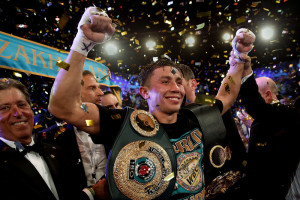 [/tab][tab]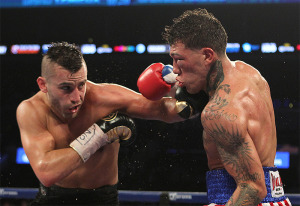 Record: 34-2, 31 KOs
Age: 26
Height: 5'9.5″
Reach: 70″
Ranking: #3 at Middleweight
Best Wins: UD Hassan N'Dam, TKO10 Gabriel Rosado, KO3 Fernando Guerrero
[/tab][/tabs]
Golovkin vs. Lemieux Preview & Analysis
At just 21 years old, David Lemieux was unbeaten and tearing his way through the gatekeeper rungs of the middleweight division. Clearly raw, although with tremendous power, he then took a step up too big, too soon, meeting rugged contender Marco Antonio Rubio in April 2011. He found a fighter he couldn't easily intimidate or deter, and with little in the way of a plan B, he was stopped. Next came a disappointing decision loss to Joachim Alcine.
Those two defeats seem like a whole career ago for Lemieux, who has strung together nine straight wins since. More importantly than the momentum has been the refinement of his game. He's still a power puncher looking to put the hurt on his opponent, but he's more capable at setting up his shots, putting himself in the right position with footwork and ring generalship, and using a full offensive arsenal. Clearly though, what comes next will be his biggest challenge.
Golovkin has all of the power, and all of the momentum, with none of the earlier setbacks. He's stopped his last 20 consecutive opponents, rising from unknown, to avoided, to top 10 pound for pound status as his wins have become more impressive. Who doesn't like to watch one of his Big Drama Shows?
Each successive opponent was supposedly the first real test — Matthew Macklin, Daniel Geale, Martin Murray. For Murray, he was lauded simply for nearly making it the full distance while surviving a beating, while both Geale and Macklin imploded by Round 3.
GGG has faced the far superior opposition, and he has a more rounded and complete skill set. Still, in Lemieux he faces a unique challenge himself. In this fight, likely the first time in his career and for all we know the last, the guy standing across the ring from him wields even more explosive power than he does.
Golovkin vs. Lemieux Prediction
For Lemieux to pull off the upset, his goal is simple — he needs to put the hurt on Golovkin, preferably in the first several rounds while both men are still fresh. If Golovkin gets into his rhythm, and is confident he can take whatever is coming at him while delivering his own firepower, then the fight will continue to get more one-sided until Lemieux is forced to be largely on the defensive. This will only make matters worse for him as GGG continues to unload.
Golovkin can be hit, and perhaps even sometimes allows himself to be, so Lemieux needs to catch him early, potentially with an upstairs counter as Golovkin works the body. He has more than your average puncher's chance of doing so, because he's far more than your average puncher.
Still, the real question will be how he stands up to Golovkin's power. Lemieux is a different fighter than he was in 2011, but he's been stopped before, and when Golovkin smells blood he goes for the kill and gets it. Twenty straight times.
Unfortunately for Lemieux, this will mark 21. He'll make a go of things early but in the end he'll be the first to feel the punishment, and Golovkin will continue breaking him down until the referee or corner halts the action.
Prediction: Golovkin TKO8 Lemieux