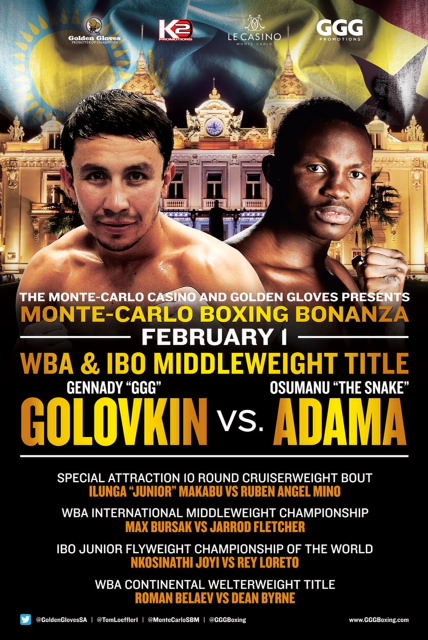 Kazakh crusher Gennady Golovkin is perhaps the most explosive puncher active in boxing, and he will be inaction this Saturday.
Right here, you can find a Golovkin vs. Adama press conference video, details on the card, and a preview on the fight from Matthew Macklin.
GGG, 31, has knocked-out 25 of his 28 pro opponents – including each of his last 15 – inside the scheduled distance and, eager to secure the superfights that will vault him among the sport's biggest earners, he'll be hoping to extend the streak against tough Ghanaian Osumanu Adama at the Salle des etoiles Monte Carlo.
The 33 year old African challenger, known as 'Machine Gun', lasted the full 12 round trip in an abortive IBF challenge to Australia's Daniel Geale in March 2012 and boasts a stoppage victory over Russia's Roman Karmazin, a former IBF light-middle titlist. Therefore, expect him to take some shifting.
One man brutally aware of the carnage Golovkin is capable of wreaking is Birmingham's Matt Macklin who was punctured by a crippling body shot from the Kazakh in round three of his world title crack last June.
On Tuesday evening, boxing writer Glynn Evans called the triple world title challenger at his Marbella training base to get the inside skinny on 'GGG' and analyses how Saturday's championship action might pan out.
"Living in Marbella now, I'm contemplating driving across to see the fight live.

I think Gennady has to be placed behind only Floyd Mayweather and Andre Ward on the pound-for-pound list right now. He's on around the same level as Guillermo Rigondeaux – a completely different fighter – but that's the level he's at.

People bang on about Golovkin's strength and power but, having shared a ring with him, I was most impressed by his boxing ability. His footwork is outstanding and he's got such good judgement of distance. His timing and accuracy are both exceptional. He wastes absolutely nothing.

And he is a seriously devastating puncher with both hands, without really looking for it (the finish). The left hook that finished me broke my ribs and there was no way I could do anything about it. It's the leverage that he generates rather than brute force that makes him so formidable.

His shots, including the hooks, tend to be long and looping. He's definitely at his best from long range. He uses a very good jab to soften you up and his power tends to be at the end of his punches. It's his timing that makes him so dangerous. He's happy to stay outside and cleverly coax you on to his punches.

He's also really aggressive. From the moment the bell rings, he's on ya, looking to take you out. But he's so patient, relaxed and economical when he stalks ya. It's all so effortless. He's able to apply intense pressure without throwing many punches or exerting much pressure himself. He's a master at getting opponents to burn nervous energy. Against me, he was bowling forward in second gear, I was darting backwards in fifth! He's a very, very impressive operator.

Mind, all the talk of him dropping down to light-middle for a superfight with Floyd Mayweather is bull. Golovkin's not a big middleweight but he's definitely a middleweight. He might physically be able to cut to 154 but he'd not be able to perform down there.

Moving up to super-middle to get his megafight would be far more logical. I think he'd be far too much for Carl Froch who likes to fight at mid and long range himself. However, Andre Ward, who's an expert at smothering and fighting up close, has the style to give Golovkin big problems. That would be a very intriguing fight.

I'm actually quite familiar with Adama because I considered using him as a sparhand when I was preparing for my fight with Golovkin. An agent showed me quite a few clips and he seemed pretty tough, the type you could get decent rounds out of. For whatever reason, it never materialised.

I know Adama took Daniel Geale to points in a world title challenge over in Oz so he must be pretty durable. From what I saw, he was pretty orthodox. He wasn't especially awkward like a lot of the African lads are. He seemed pretty rugged and capable, appeared to have a decent left hook but didn't really do anything unique.

To give himself any kind of chance against Golovkin, Adama needs to hold the centre of the ring, attempt to push Gennady back and take away some of his leverages. In my opinion, Golovkin isn't great up close, fighting inside. Adama needs to close the gap and attempt to work Golovkin over with uppercuts. He needs to meet fire with fire, just like Ricky Hatton did with Kostya Tszyu.

That was my initial intention after studying Golovkin before we fought. However, Buddy McGirt, my coach at the time, persuaded me to try to box him. It's conceivable that a middleweight version of Buddy (ex IBF light-welter champion) could've succeeded with those tactics but my strengths and attributes are different. By the time I realized that I needed to adapt our gameplan, I was already really under the kosh. Gennady's jab busted me up and I had to work so hard, so early.

Unless you're a middleweight Guillermo Rigondeaux – and from what I've seen Adama isn't – the worst possible thing you could do against Golovkin would be to try to outbox him. He's got a very good jab and his footwork is far too good.

Osumanu needs to try to make it a grueling, draining affair. He's been 12 rounds three times whereas Golovkin is yet to complete ten. All fighters' timing and reactions deteriorate as they become more fatigued. It's a case of getting Gennady into the second half of the fight. Easier said than done!

Unless Golovkin turns up sick, injured or seriously overlooks Adama, it's hard to give the African any hope at all. But no fighter is invincible.

Remember Vince Phillips upsetting a prime Kostya Tszyu when nobody gave him any kind of chance. He just dug in, kept firing back and ultimately broke Kostya's heart.

Still, I think a repeat of that is unlikely here. If Adama gambles on engaging early and gets sloppy, he could get taken out immediately. He's wiped out 15 of his 28 victims within three rounds. More likely, Golovkin will systematically break him down and bust him up by mid way.

I see Adama constantly under pressure, not winning any rounds. Curtis Stevens started boldly against Golovkin but once he tasted his power and got knocked down in round two he withdrew into his shell.

Golovkin is an expert at knocking the ambition out of you. I can't see Adama making it past round seven or eight. "