This weekend saw a huge fight night in Monaco as Gennady Golovkin made a decisive defense of his WBA Middleweight Title, Edwin Rodriguez solidified his status as a top 10 super middleweight contender, and both Denis Grachev and Zsolt Erdei proved they were for real in the light heavyweight division.
This one PPV fight night sent ripples out across three weight classes, but because it was on the Continent, my guess is that most Americans missed it. That makes the issue of fallout — what should come and what one can expect — paramount.
Make Martinez vs. Golovkin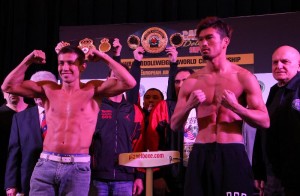 Middleweight top dog Sergio Martinez's promoter Lou DiBella is already on the record as having no interest in making a fight with Gennady Golovkin, but that will change. While Nobuhiro Ishida is hardly a world beater, he was a junior middleweight contender, and Golovkin crushed him easily.
He is already the #2 middleweight in the world, and as soon as Golovkin takes on another Top 10 contender (preferably a Top 5 contender), he will be in the same position that Julio Cesar Chavez, Jr. was. DiBella will likely start changing his tune at that point.
An interesting tweak on Martinez and Golovkin is Maravilla's choice for his next opponent, Martin Murray, who is also the interim (fake) WBA champ and #1 contender and challenger for Golovkin's title. Triple G will need to make a mandatory defense this year, so we might just see Martinez vs. Murray, and if Martinez gets past Murray, Golovkin vs. Murray, followed by Martinez vs. Golovkin.
Rodriguez, Maderna, Grachev and Erdei
The main issue stemming from the two undercard bouts is that Edwin Rodriguez is now slated to fight Denis Grachev in a winner's bracket catchweight fight set for 171.5 lbs. Given that Grachev came within a hair of beating former IBF super middleweight champion Lucian Bute in a 175 lbs bout, and the super middleweight division's title picture is currently tied up by Andre Ward's hiatus; the fracas between Arthur Abraham and Robert Stieglitz; and the upcoming Carl Froch vs. Mikkel Kessler bout (with Adonis Stevenson waiting in the wings); this could signal that Rodriguez is moving up to 175 lbs to pursue better and quicker opportunities.
Another point is that while Rodriguez merely cemented his #7 ranking at 168 lbs, both Denis Grachev and Zsolt Erdei made solid accounts of themselves. Their battle was a close, hard-fought encounter between a skilled boxer and a rugged slugger, and the Split Decision victory could have gone either way.
Grachev's win proves that he is for real, and therefore it shouldn't be quite so surprising that he gave Lucian Bute such a hard time back in November 2012. Zsolt Erdei is in his late 30s and emerging from a career spent making protected title defenses in Europe. One or both guys should break into the Top 10 now, and Erdei gets the added bonus of going back to Monaco to fight on the Rodriguez vs. Grachev undercard.