Will Ramirez Land a Date Against the Likes of Chavez Jr or DeGale?
It is clear that the super middleweight division is in flux, with several of the weight class's more experienced men retiring, considering retirement or inactive. As a result, we are now in the midst of a changing of the guard, with relative youngsters such as Anthony Dirrell, James DeGale, George Groves and Callum Smith leading the charge.
One man who rarely gets a mention, however, is Mexico's Gilberto Ramirez, currently ranked #8 in our top 10 at 168 lbs. The 23-year-old has talent in abundance and should be seen as one of the future stars of the super middleweight division. If no-one else wants to shine a light then we will by asking the question: who exactly is Gilberto 'Zurdo' Ramirez?
Gilberto Ramirez: The elephant in the super middleweight division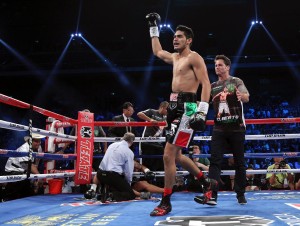 Ramirez holds an elevated position with one alphabet body that shall not be named. It's a position that should entitle him to a shot at the titleholder at some point in the near future. As of the present moment, however, that title is itself up for grabs, with DeGale likely to fight Andre Dirrell for it at some stage this year.
On the UK boxing show, Ringside, Ramirez's name was mentioned to DeGale, who appeared to hold a high degree of respect for the young Mexican. The feeling seems to be that if you can, avoid Ramirez at all costs.
Top Rank's surprise golden egg
Ramirez is promoted by Top Rank, which should guarantee that, no matter the opinion of those around him at super middleweight, he should get big fights at some point. Technically, he's still a work in progress, with his resume lacking big wins beyond Maxim Vlasov and the aged Fulgencio Zuniga.
Whether Top Rank planned for Ramirez to be as good as his potential suggests he could be is doubtful. They might say otherwise, but it has been very apparent that their main Mexican man in and around 168 lbs is Julio Cesar Chavez Jr.
The Mexican third wheel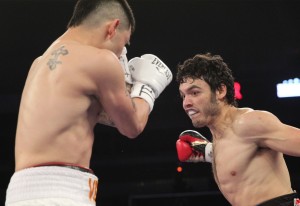 Chavez has the name, the fan base and, for the time being, the resume to garner his loftier status, but the presence of Ramirez at super middleweight poses one intriguing thought – are we in line for a Mexican version of the four kings?
With Ramirez sturdy at 168 and Chavez having just moved there, all that we need is for Saul Alvarez to accelerate through the weights for an exciting trio of Mexican super middleweight contests to be on the horizon. There are issues with this prospect, however.
One is that Alvarez is currently not promoted by Top Rank. In spite of the thawing of relations between them and Golden Boy, 'Canelo' is Golden Boy's star man and they are not going to be overly willing to throw him in to a series of dogfights above his natural weight.
Another is that Chavez's name has prevented him from being put in with risky fights, which is exactly what a clash with Ramirez would be. Losing that fight would remove Chavez of his 'iconic Mexican' status, which would affect Top Rank's future promotional ambitions.
As it stands, Ramirez is Mexican boxing's third wheel. He could pose a threat to the main two but is nowhere near as big a name, and that damages his prospects of sharing a ring with either Chavez or Alvarez.
What's next for Ramirez?
Last time out Ramirez encountered a few difficulties against Vlasov, suggesting he is still a work in progress. Some defensive deficiencies, including a lack of head movement, mean that he would find real trouble when faced by a slick boxer such as Andre Ward, either Dirrell, and potentially DeGale and Groves.
A couple more fights against fringe contenders will do him no harm, all the while giving him time to become more of a mainstream name – something he will need in order to lure boxing's brightest in to a fight. HBO has clearly shown an interest in Ramirez and will be keeping him and his movie star looks on the airwaves.
2015 may not have begun in appropriately impressive fashion for Ramirez, but it could be his breakout year as he joins the forefront of super middleweight transformation.