Green vs Simms on Showtime Tonight, Friday October 2nd
The Allan Green vs. Tarvis Simms fight is tonight on Showtime, headlining their Shobox card. There are also two other interesting fights on the card including several prospects. Take a peek at how Simms and Green weighed in for the fight, and what all the fighters had to say about their fights and opponents.
Simms was able to finally make weight later in the evening at a previously agreed 168.8 pounds while Green weighed in at 167.6 pounds during the afternoon weigh-in for their 10-round main event.
Despite what he called the stress of having to scramble and make weight later in the evening, the southpaw Simms (25-0-1 11 KOs) from Norwalk, Conn., said he will be ready and prepared for whatever Green has in store for him. "I know people aren't picking me to win, but that's why I'm going to go out there and shock the world."
At 6-foot-1, Green (28-1, 20 KOs) has a sizable height advantage over the 5-foot-9 Simms, who is 38 years old. Green has fought a lefthander three times in his career, all victories. "And they were all on short notice too," he said.
In the second televised fight of the night promoted by DiBella Entertainment at the First Council Casino, "The Truth" Antwone Smith (16-1-1, 8 KOs) of Hollywood, Fla., takes on Henry Crawford (22-0-1, 9 KOs) of Paterson, N.J., in a 10-round welterweight battle between two of the division's brightest prospects.
In the opening televised fight, Marcus "Too Much" Johnson (17-0, 14 KOs) of Houston, Texas, battles Victor Villereal (8-3-2 1 NSF, 4 KOs) of Longmont, Colo., in an eight-round super middleweight matchup.
Green vs. Simms Weights:
Green weighed in at 167.6 pounds; Simms at 168.8
Smith at 147.6; Crawford at 146.4;
Johnson at 168.8 and Villereal at 166.2.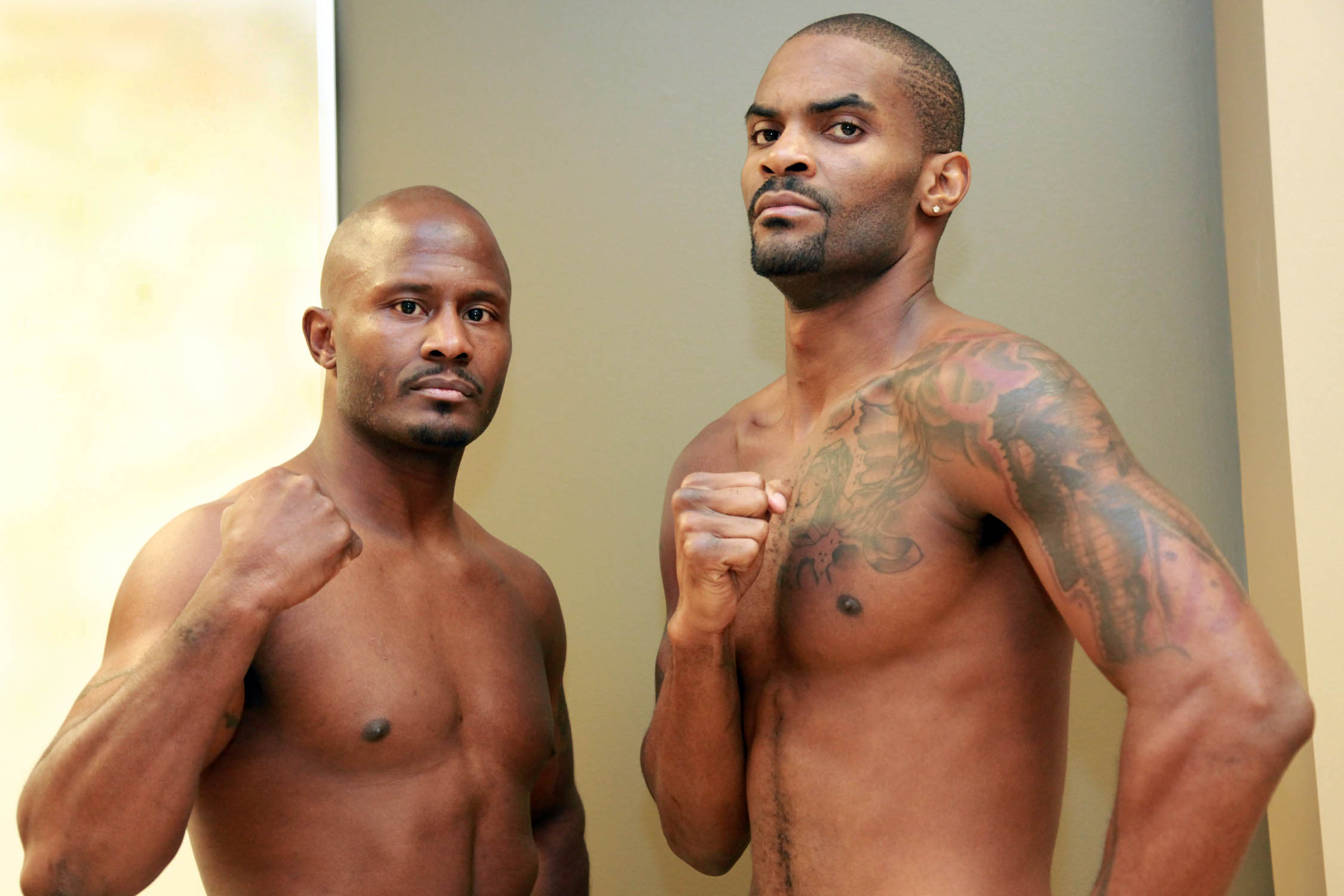 "Sweetness" ALLEN GREEN
"I had to change up my game plan a little bit. At first I was supposed to fight a shorter Russian fighter (Victor Oganov) before he got hurt and now I'm fighting a southpaw. But the outcome is not going to change.
"It's always important to make a statement and Friday night will be no different."
"Marvelous" TARVIS SIMMS
"I know I'm coming in as the underdog. It's kind of like the Antonio Tarver-Roy Jones fight. Roy Jones was expected to dominate the fight. I have to do what Tarver did and pull off the upset.
"My last four fights were against talented young men and I made them look they were the older ones.
This is a big opportunity for me and I want to put on a great performance so hopefully they'll have me back."
On the size difference: "I don't care about that. I don't think Allan's going to show me anything that I haven't seen before. I think he's very talented and should have been selected for the Super Six tournament."
On having only 26 fights at the age of 38: "I can't change the past. What's done is done. I know I can win this fight and I will show everyone that I will win this fight. People think I'm coming in here as a late replacement and I won't give him a good fight. Well, they're badly mistaken because I will come out victorious."
ANTWONE "The Truth" SMITH
"I think I will win by decision. I'm a boxer and a fast-hands fighter but he hasn't fought anyone hard yet. I think the pace of the fight that I'm bringing will tie him up.
"My strategy is to just win. I don't care how I do it or how it looks. I'd rather a sloppy win than a pretty loss."
HENRY CRAWFORD
"There's really no game plan. Because I just adjust to every fight and fighter. I'm just going to take care of business and adjust as the fight progresses.
"I'm not going for the knockout. Whatever happens in the fight, I'll take it. This is what it's all about. As soon as they called me I said, "We'll take it.' I didn't even know what the purse was or anything. This is all about entertaining and I've got to entertain to make the money."
MARCUS "Too Much" JOHNSON
"I think the division we're in (super middleweights) is the best division. We're getting all the publicity and know people are watching us. I'm just trying to add my face to the mix."
VICTOR VILLEREAL
"I have to be the aggressor in this fight. I think it'll go the distance but I'm looking for the knockout. The knockout is always the greatest thing for boxing and I'm going to get one Friday night.
"I would like to go back to seven fights a year. That's when I started to get better and more consistent. My skills are better and sharper when I'm in the ring more."
Photo Credit: Tom Casino/Showtime