Happy birthday Saul "Canelo" Alvarez. The Mexican superstar turns 23 today, as he approaches by far the biggest fight of his career now less than two months away, his clash against the undefeated pound for pound king Floyd Mayweather. It's pretty hard to believe that Canelo is still so young, as he has been around for years already, but he's still a kid. A kid who happens to be the toughest fight out there for Mayweather, and perhaps one of the sternest challenges of his career.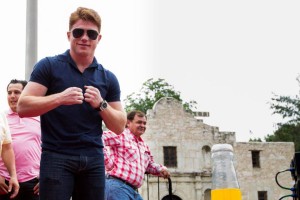 Starting his career as a teenager, Canelo has already amassed a 42-0-1 record, with 30 knockout victories. He's coming off his best win to date, a decision against fellow undefeated Austin Trout, which landed him this mega-opportunity against Mayweather.
Previously, he bested the badly outsized Josesito Lopez, and the badly past his prime Shane Mosley, along with other modest victories which showcased his potential and starpower, but little else. With the win over Trout though, he finally added some legitimacy to his record, and now looks to unseat Mayweather in what is the most highly anticipated fight of the year, and one of the biggest fights in recent memory.
So happy birthday, Canelo. Hopefully you don't celebrate too hard, because you're going to be needing to spend your time in the gym preparing for Mayweather.
Keep on checking back with ProBoxing-Fans.com for more news and updates on Mayweather vs. Canelo, and don't forget that you can find more famous birthdays at FamousBirthdays.com.