In a recent story, Ricky Hatton is quoted as saying that he believes that Floyd Mayweather would earn an easy decision victory over Manny Pacquiao in a fight which could be very anti-climactic should it ever occur. Hatton was quoted in an article by Gareth Davies from The Telegraph. He's certainly somebody who would know a thing or two about it, as Hatton has faced, and lost two, both men, getting stopped on each occasion.Take a look at what Hatton had to say exactly, and who he thinks might have a better shot at beating Mayweather instead.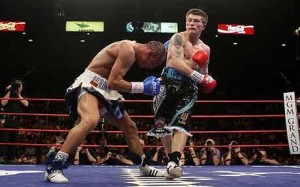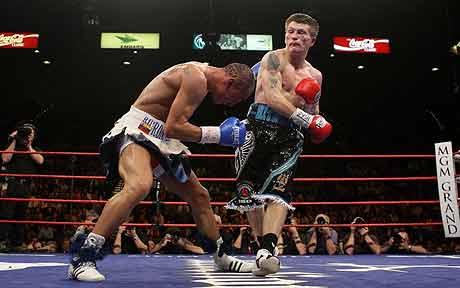 Here's the full quote from Hatton:
"I thought Manny had problems with Marquez's style and maybe he would always have problems with that style. Pacquiao is a pure fighter. On the strength of that contest and performance, it is hard to see how Manny would beat Floyd Mayweather if they actually ever meet in a ring. I know people really talk that fight up, and are really excited about it happening, but I actually think that though people are talking about it as one of the biggest fights of all time, it could actually be an anti-climax because it could be a wide points decision for Floyd over Manny."
Hatton also believes that Juan Manuel Marquez won the most recent fight against Manny Pacquiao, giving him the nod on his own scorecard by two rounds.
So who does Hatton think would give Mayweather a good run for his Money? None other than Amir Khan, recently named British Boxer of the Year, and somebody who Hatton feels has made vast improvements over the past few years since suffering the lone loss of his career.
He points to Khan's size, speed and in-and-out boxing style as factors which could trouble Mayweather, who is at his best when fighters come forward and attack him head on. Meanwhile, he astutely observes that while Khan vs. Mayweather could occur and would be a competitive fight, he doesn't ever see a Khan vs. Pacquiao fight being put together, due to their friendship and shared trainer.
Of course, fighters – even ones with experience facing the other fighters in question – don't necessarily predict fights any better than the rest of us do. Just another opinion to throw into the mix, and another person who has come out since the close Pacquiao-Marquez 3 verdict in support of Mayweather's chances in the potential mega-fight we've all been waiting for.