One Year Welterweight Extravaganza Capped Off by Pacquiao vs. Mayweather
The aftermath of the Floyd Mayweather vs. Victor Ortiz fight still has the boxing world percolating with discussion and debate. The fight generated so much buzz, hand-in-hand with the infamous Mayweather and Larry Merchant post-fight interview/argument, that the main topic of conversation hasn't yet turned to the inevitable topic of Mayweather facing Manny Pacquiao. Still, a Pacquiao vs. Mayweather super event remains firmly entrenched at the top of any boxing fan's wish list.
This article though isn't about drug testing, money demands, who is scared of whom, or even who would win between the two best fighters in the world. Instead, it's a dream scenario for the next 12 months that would give boxing fans everything that they've been clamoring for, with plenty to spare.
What this article does is explain how to masterfully set the stage for the biggest fight of the generation, while providing fans with tons of action and fighters with meaningful, legacy-building matches along the way. It's more than enough to satiate everyone's wildest welterweight desires.
It's a one year welterweight extravaganza to set the record straight once and for all and move towards boxing's destiny… Pacquiao vs. Mayweather on September 15th, 2012, live on HBO pay-per-view from Las Vegas, Nevada.
Phase One – Sort out the Contenders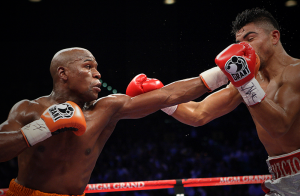 It's now the end of September 2011, and Mayweather has reasserted his status in the sport with a brutal, opportunistic, intelligent, and yes, legal, knockout of Victor Ortiz. Manny Pacquiao has a November 12th bout scheduled against Juan Manuel Marquez, less than two months away.
A Pacquiao win is far from guaranteed against his old rival, but the distance between the two has seemingly grown since their last meeting in March 2008. Pacquiao will be the strong favorite to take care of "Dinamita" in their rubber match and should emerge from the bout relatively unscathed. That leaves Mayweather and Pacquiao with free schedules, apart from court cases and congressional duties respectively.
Meanwhile, in December, Amir Khan will be defending his junior welterweight titles against Lamont Peterson. Khan has made his welterweight aspirations well known, and his intention of landing a fight with Floyd Mayweather even clearer. In Peterson, he'll be facing a talented fighter, but one without the punching power to serve as a real upset threat. It's a fight Khan should win, and after he does, it will be time for him to formally announce his welterweight debut.
Backed by Golden Boy Promotions and anointed a star by HBO, Khan should have the pick of the litter for his next fight, aside from Mayweather and Pacquiao. Young, fresh, riding high and moving up in weight, why not get back in the ring about three months afterwards, and why not do so against Andre Berto, another fighter long anointed a star by HBO?
It was Ortiz who handed Berto his first loss in April 2011, earning a shot against Mayweather as a result. Berto felt scorned that it was the guy-who-beat-him that got the Mayweather bout, while he never landed a mega-fight during his first tenure as a welterweight titleholder. Berto should be thrilled with the prospect of facing Khan and ultimately having the opportunity to finally head in that direction.
Since losing to Ortiz, Berto has gotten back on track with a trinket-winning effort over Jan Zaveck, and a match between Khan and Berto would present an extremely intriguing showcase between two big names, while offering Khan an immediate title shot in his new weight class. Both Khan and Berto have exploitable flaws, adding to the excitement value of the bout, and perhaps more importantly, both men are eager to land the huge money fight which has to this point alluded them.
For his part, "Vicious" Victor Ortiz is a bigger name than ever, and he will be looking to get right back into the bustling welterweight scene as well. Put together a double feature with Khan vs. Berto and Ortiz versus, let's say, undefeated Philly prospect Mike Jones and send it to Foxwoods, the site of Ortiz's upset win over Berto in late February 2012. Air both fights on HBO and announce the agenda: the winners will both have fights on Cinco De Mayo weekend… but not against one another.
Usually a doubleheader like that would match the winners against each other right away, but that's not the game plan here. Remember, the February Foxwoods doubleheader wasn't designed to build a big fight between those fighters, it was just phase one of the year-long welterweight extravaganza.
The Khan vs. Berto and Ortiz vs. Jones card will be raucous, and will likely give boxing fans two wildly entertaining and unpredictable matches.  Regardless of how those two bouts play out, the winners will have survived a legitimate test and earned a date with one of the sport's two luminaries in the process.
Phase Two – Find the Final Pair
Next, it's time for a massive double feature that would recall the heyday of televised boxing in the '70s and '80s when the biggest stars routinely shared bills with one another. It's time for Manny Pacquiao and Floyd Mayweather to co-headline a Cinco de Mayo pay-per-view. Pacquiao will defend his title against the winner of the Ortiz vs. Jones fight, and Mayweather will unify his title with the winner of the Khan vs. Berto bout.
Why these pairings?
It ensures that the Pacquiao and Mayweather fights feature fresh match-ups (i.e; not Mayweather-Ortiz II), while also keeping Khan and Pacquiao, both trained by Freddie Roach, away from a match they would be reluctant to take.
Can it be done?
Why not? Both sides of the promotional puzzle have deployed some progressive strategies as of late to get their names, and their purses, bigger than ever.
Pacquiao promoter Bob Arum has helped to usher in a new age (or the return of an older age) of fight marketing, where a fight on a pay channel can get mainstream exposure on that channel's corresponding terrestrial network, such as when the Manny Pacquiao vs. Shane Mosley fight on Showtime PPV had preview shows on CBS.
HBO then followed suit by offering CNN and other Time Warner properties to help promote Mayweather-Ortiz. On his own, Mayweather has certainly done his part to push the envelope in terms of 24/7 fight promotion (as in, the name of the reality series he helped create, and also the constant bombardment of pre-fight buzz he provides).
It can be a dual-site pay-per-view, as was the Maywether-Ortiz promotion, or it can be any kind of setup that caters to each fighter's financial needs and ego. However it needs to get done, it will get done, and that's because everyone's contract will have a very specific clause in bold print at the top… the winner of these two bouts will fight each other next.
Phase Three – Go Time
At this point, just five months into 2012, boxing fans will already have been delighted with a slew of big fights and promotions unlike any they've seen in decades. There will be two fighters left standing, and predictably those two men will be Manny Pacquiao and Floyd Mayweather.
Yes, it's certainly possible that either could lose his Cinco de Mayo semi-finals bout. But if that happens, then Pacquiao vs. Mayweather never was much of a dream match to begin with. If Pacquiao can't get by the winner of Ortiz-Jones, and Mayweather can't get by the winner of Khan-Berto, then why in the world is everyone so desperate to see them face each other? Pacquiao and Mayweather will be in bouts with risk and legitimate resume-building respectability (gasp, what a concept for a top boxer in 2012!), but bouts they should certainly win.
That brings us to September 15, 2012, Mexican Independence Day weekend, nearly a year to the day since Mayweather vs. Ortiz. Four months will have passed since the Pacquiao and Mayweather Cinco de Mayo elimination matches, the perfect amount of time to build up a massive fight, host robust training camps, embark on a 17-city, 4-continent press conference tour, launch the new HBO 24/7 channel (nothing but Pacquiao vs. Mayweather coverage 24 hours per day!) and who knows what else.
Boxing fans will have seen four high caliber warm-up fights (not including Mayweather-Ortiz, Pacquiao-Marquez III, and Khan-Peterson) which served to sort through the mess, bring excitement to a fever pitch and coax out exposure from every nook and cranny. Ultimately, it will culminate in the awe-inspiring encounter that fans have been alternately praying for and cursing about as more time passes without it getting done.
With a heap of contenders laid out, the preeminent fighters of their generation would finally do battle on a stage which is worthy of them. The winner could happily retire with his legacy secure, all questions answered, or the two could embark on a series of rematches that keeps fans on the edge of their seats for another 12 months to come.
Pacquiao vs. Mayweather: September 15, 2012. It's boxing's destiny.
I'll see you there, and if it happens – you owe me a beer.