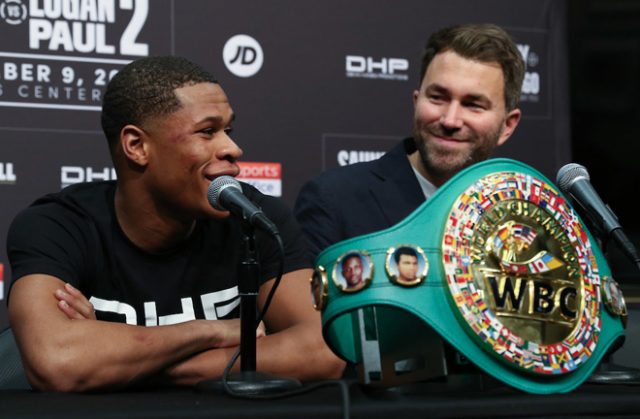 Devin Haney is set to return against either Gary Russell Jr or Yuriorkis Gamboa in November, promoter Eddie Hearn has confirmed.
WBC Lightweight champion, Haney (24-0, 15 KOs) is preparing to fight for the first time in almost a year following a successful first defence of his crown against Alfredo Santiago last November.
Haney's promoter Hearn has earmarked WBC Featherweight titlist Russell Jr (31-1, 18 KOs) and former unified 126lbs champion, Gamboa (30-3, 18 KOs) as potential opponents with a target date of November 7 on DAZN.
The 21-year-old was placed in recess by the WBC after sustaining a shoulder injury, which required surgery, but was reinstated as full champion following his recovery.
"Devin has been doing a great job in keeping his profile active during lockdown but now it's almost time for get busy in the ring," Hearn said.
"November 7 is the targeted date for his return and the two main targets are Gary Russell Jr and Yuriorkis Gamboa. Both are great fights for Devin as he approaches a key stretch in his career to become standout star.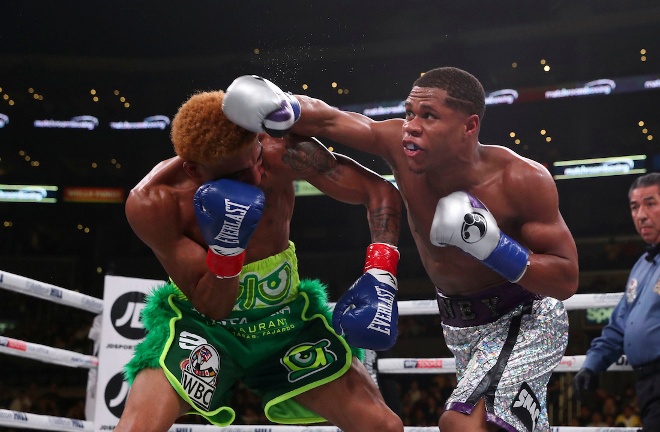 "Devin is ready to defend his WBC titles against all comers and I can't wait to see him back in the ring in November."
Haney and Russell Jr have been embroiled in a war of words on social media, with Russell Jr reportedly unhappy that there had been no official agreement in place with Haney's promoter, Matchroom Boxing and network DAZN to stage the bout.
"The first line of the terms sheet states that this fight will only take place if DAZN and Matchroom picks this up," Russell Jr said on Instagram live.
"That's a red flag, DAZN and Matchroom should have already picked it up and they should have already been included within the contract.
"They sent me a terms sheet without the network or the promotion, which is DAZN and Matchroom without them being included in it all."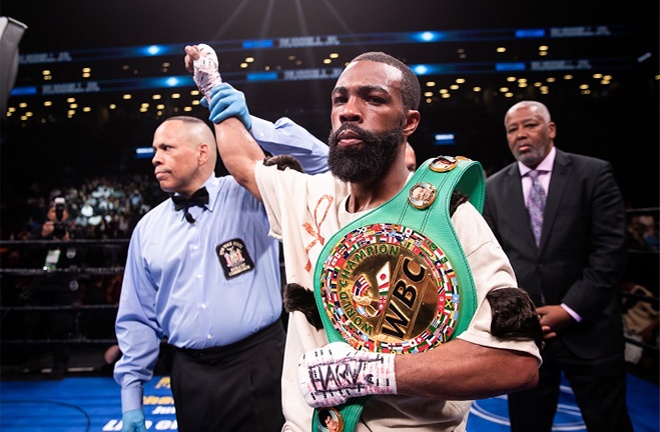 Haney's father and trainer, Bill was aggrieved by the situation and took to social media to urge Russell Jr to agree to the terms of the contract.
"You got the audacity to question or not is DAZN and Matchroom behind the fight," Bill Haney said on an Instagram live.
"You got the audacity to say a term sheet is a contract.
"Those are the terms of the fight, sir! We tapped you on the shoulder.
"DAZN and Matchroom didn't. You know we came looking for you, Mr. Russell!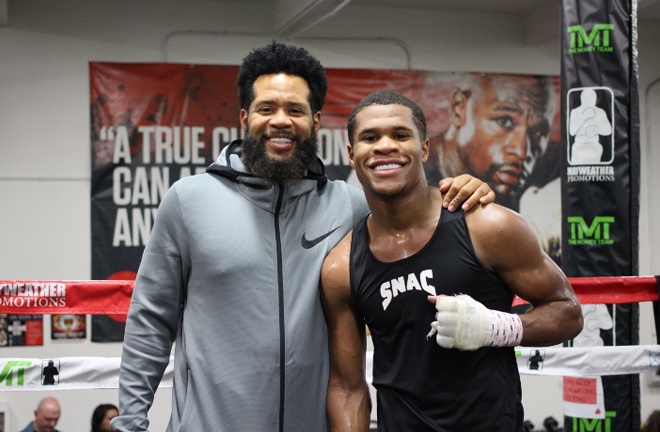 "And I told you before we got down, I said 'Hey, if Al (Haymon) is interested in putting up the money for you and you getting a world title,' you said 'Al's not interested.'
"He said 'If they'll put up the money, then you with it.'
"You said you didn't want mine, you said you didn't want DHP money.
"Yeah, you didn't want that! We told we got $1.5M for you personally.
"You said you didn't like that. You didn't want to deal with us with terms of the $1.5M, so guess what? We found somebody that would agree to your terms. Your terms!"
Gamboa, 38, held the unified WBA and IBF Featherweight belts in 2010 and has had two unsuccessful attempts at Lightweight glory, losing in nine rounds to WBO champion, Terence Crawford in 2014 and most recently in a final round stoppage defeat to Gervonta Davis in for the vacant WBA 'Regular' world title in December.