Hernandez ready to take on Cunningham again:
Newly-crowned IBF Cruiserweight Champion Yoan Pablo Hernandez (25-1, 13 KOs) is eager to get back into the ring with two-time world champion Steve "USS" Cunningham (24-3, 12 KOs). The duo will collide for the second time in four months during Team Sauerland's show at the Fraport Arena in Frankfurt on February 4.
The card also features Enad Licina (21-3, 11 KOs) and Alexander Alekseev (22-2, 20 KOs) clashing for the vacant European Cruiserweight Title and European Light Heavyweight champion Eduard Gutknecht (22-1, 9 KOs) defending his title against mandatory challenger Viacheslav Uzelkov (25-1, 16 KOs).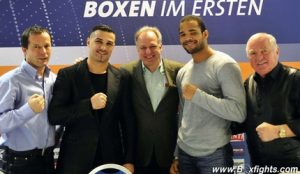 "It is going to be an exciting night of boxing," Team Sauerland General Manager Chris Meyer said at today's press conference in Frankfurt. "The three title fights promise a lot of excitement, especially the rematch between Hernandez and Cunningham. Their first fight was very dramatic. I think it's a 50-50 fight, with Hernandez being the favorite because he is the world champion."
Hernandez knocked down Cunningham in the first round of their meeting in October, but the American veteran recovered and fought back. After six rounds, the fight was stopped on cuts, with Hernandez ahead on the scorecards. "It was a great feeling to become world champion," Hernandez said. "However, the ending was a bit unfortunate. I am the better fighter and I am happy to prove it again to erase any doubts. I have a lot of respect for Cunningham, he is a great fighter, very skilled and very fast, but he will not get his title back."
The decision to stop the fight, as well as the scorecards which gave Hernandez the win, were both controversial, as Cunningham once again found himself on the wrong end of questionable moves which negatively impacted his efforts.
German coaching legend Ulli Wegner believes the 27-year-old Cuban will be the next big thing. "Yoan Pablo is very special," Wegner stated. "Ever since he joined me in 2005, we have had a very close relationship. He has the potential to be a huge fan favourite in Germany. Whenever we have joint public appearances, I realise how popular he is with the fans and the media. He has great things ahead."
In the co-featured main event, former world title challenger Enad Licina, who fell to Cunningham last February, will come face-to-face with former world amateur champion Alekseev. "He is a tough guy," Licina said. "But the fact that I will be fighting in front of my home fans in Frankfurt will give me a big boost. I am sure I will beat him and become the new European cruiserweight champion."