Fighting was in the Frazier bloodline as "Smokin' Joe" built his legacy the punching gene was passed on to his offspring.
Joe was known as a tough taskmaster during his coaching days as he built his stable in Philadelphia which included his son Marvis Frazier.
"The misconception that Joe was so hard on Marvis. I mean, first of all, Joe trained everybody to fight like him. Joe's philosophy was, 'You better fight like me. If you want to be successful, you better fight like me.' And that was really his philosophy.
"He didn't see it as a detriment in any way. Joe wanted everybody to train like him because it worked for him. How can you not advise somebody of something that's worked for you?"
Looking back at a 19-2 record for Marvis Frazier it looks, to many, an average record but to Marvis, it was his opportunity to make his father proud.
A stellar amateur career saw Marvis victorious 56 times from 58 bouts losing only to David Bey via the judges' scorecards and stopped once by James Broad who would play a big role in his Marvis' career.
From the eyes inside the Philadelphia gym, Richard T Slone, a man who trained alongside Marvis and was trained by Joe Frazier himself became a part of the family, an honorary Frazier.
An account of the reality behind a so-called wasted potential.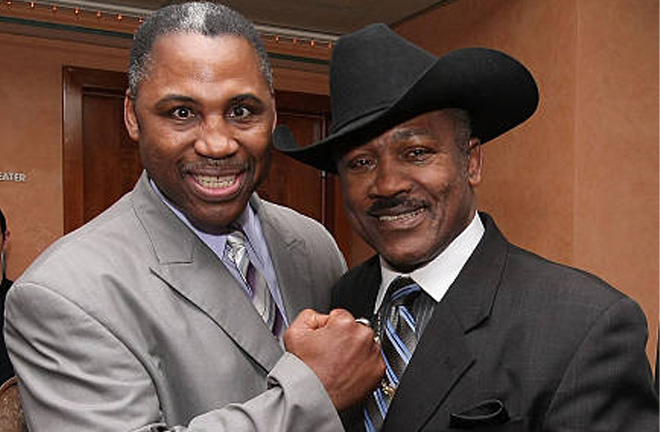 "Marvis was caught with a right hand in the gym that pinched nerves in his neck which caused really bad nerve damage. I believe it was by James Broad.
"He was temporarily paralysed and they had to bring him back from that temporary paralysis. The doctors told him that this could happen again at any time.
"It was good for now, but as wear and tear and some of this, the cartilage or whatever the medical term was, once that started hardening up, he was going to have issues.
"If you look on the back of Marvis's neck, it's visible on some videotapes, there's about a five-inch scar that goes from his skull right down to his shoulder blades.
"If he's going to box, he needs to do it and he needs to get out."
Frazier's career lasted just eight years, half the length of his father's career, due to medical advice it was virtually over before it even began.
The offspring of Smokin' Joe had to be fast-tracked in his desire to reach the pinnacle. A once in a lifetime opportunity of becoming Heavyweight Champion of the World – in addition to earning a handsome fortune.
"Joe figured, if Marvis' passion is to get the world title they'd need to make moves sooner rather than later so Frazier was moved quicker than average towards his ambitions.
"He talked to Marvis and he said, 'You know what? You can walk away here or you can make the million dollars versus Larry Holmes' and whatever it was against Mike Tyson. I don't think it was quite a million.
"Those two losses that he had out of all these great fights. I mean he beat [Joe] Bugner, he beat James Broad, he beat [James] 'Bonecrusher' Smith, he beat James 'Quick' Tillis, he beat all these guys that would probably be World Champion today. He went out on a win, Marvis went out on a win."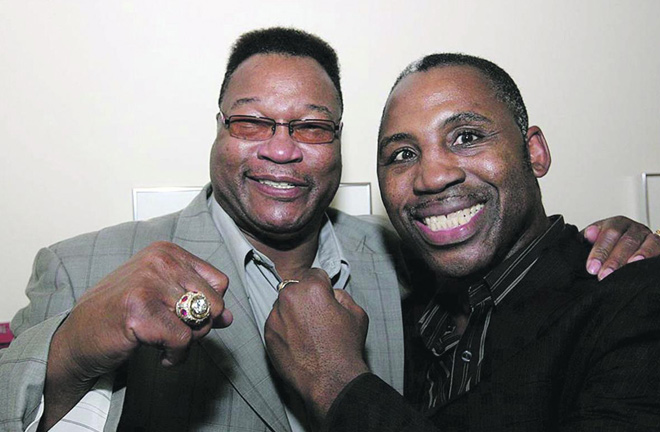 Losses to Larry Holmes and 'Iron' Mike Tyson doesn't make you bad at your craft, these are two legitimate Hall-of-Fame Heavyweight stars.
Like everything in life timing is key. Timing is something Marvis had no luck with.
Prematurely facing 'The Easton Assassin' because it earned him $1,000,000 and in all honesty, nobody was ready for Mike Tyson in his prime, none more so than a 17-fight professional novice.
But, it was a choice that Marvis wasn't fortunate to have, taking these fights early was the only option.
"A decision had to be made and it's something that Marvis wanted, it was a lifetime dream. Joe was like, 'Why prolong it and end up with one of these injuries that already happened in the gym?' I mean, Marvis was temporarily paralysed.
"He had that surgery which is visible on the back of his neck. It's a half-inch thick by four or five inches long. It's visible in every photograph of Marvis from behind that there is. It was serious business. It could have left him paralysed for life.
"But under the doctor's expertise, they said until that cartilage or whatever grew back, he should be fine. But it certainly wasn't going to be a long career. So in '88 Marvis had his last fight against Phil Brown and walked off into the sunset."
Many times we have seen sons trying to follow in their father's footsteps, especially in the pugilistic business, it's a natural occurrence.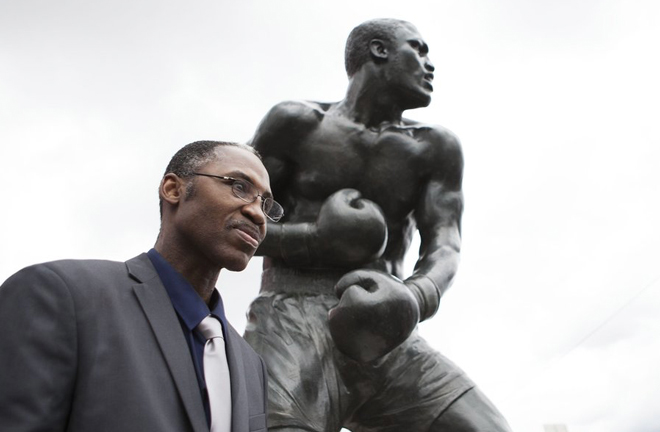 Unfortunately for some they live in the shadows of their parents rather than continuing their path. To an outsider that's how one could view Marvis' career but in truth that is far from reality.
"I think it's been hard for Marvis to be in the shadows of Joe. I feel terrible for Marvis because he's a wonderful human being. To have two losses to Mike Tyson and Larry Holmes, and there's no shame in that at all.
"To beat the Joe Bugners and everybody else he beat, 'Quick' Tillis, James Broad, all the guys I mentioned. To beat all them and just and just to lose to two top heavyweights of all time.
"People make light of Marvis and I think that really hurts him." Slone continued.
"He's light-hearted about it, he'll joke about it. He'll be like, 'Yeah, Mike Tyson hit me so hard I woke up asking for my mama, saying, mama, I need my diaper changed,' stuff like that.
"He's the brunt of his own jokes on it and it's quite a shame because he really shouldn't be. I think he should hold his head up with pride. He did the best he can and he got caught. He got caught."
Any man who steps through the ropes and into a ring commands respect. Marvis should look back at his career with pride, he was an outstanding amateur and a professional who only lost to the best.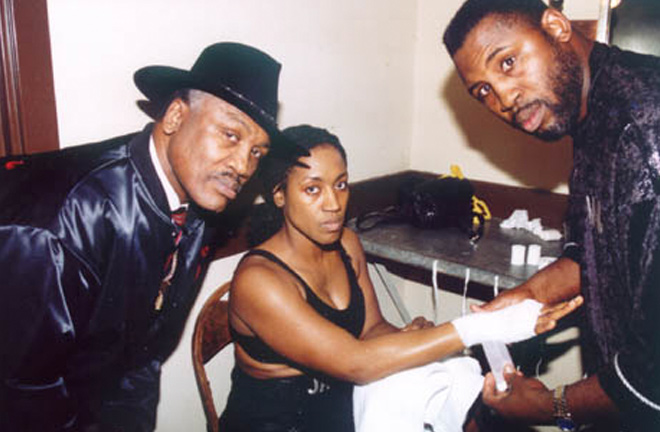 It was from a young age Marvis wanted to become the World Heavyweight Champion. He wanted to take back what he felt rightfully belonged to the Fraziers.
Some would call it egotistical but it was just pride. Marvis was proud to be a Frazier and was proud of his father's achievements.
"But he wanted to resurrect that family name ever since Joe lost to [George] Foreman. Marv wanted to bring that Heavyweight Championship back to the Frazier name. He wanted to prove, 'Hey, I'm a Frazier, I can do it.' He went through a lot of ridicule.
"The fight with Ali, there really were bomb threats at the schools. Marv would go to school and all the other black kids would call him uncle Tom and [say], 'Your dad's just a white man's puppet, he's not a real black man.'
"It bothered Marvis so much that I think he wanted to rectify that by bringing family pride back to the name."
Now, almost 32 years removed from his retirement 'Little Smoke' is still the kind, honest, loving man he has always been. A preacher, like his father's former foe George Foreman, Marvis Frazier donates his time to the troubled youth.