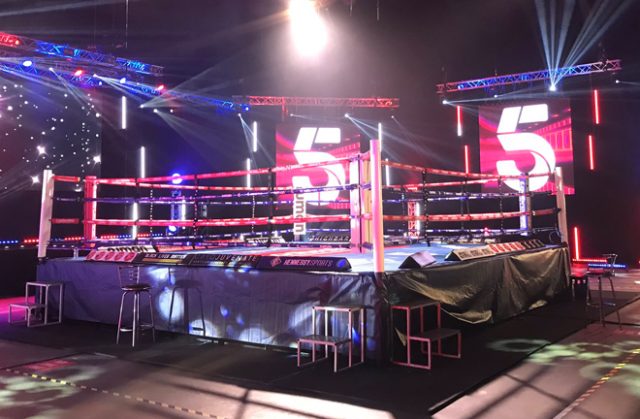 Samir Ziani kept hold of his European Super Featherweight title as he outlasted the brave Alex Dilmaghani in an absolute war in Wakefield. Promoter Mick Hennessy promised fight of the year stuff, and it didn't disappoint as the fight was a phone box classic.
Dilmaghani is no stranger to fight of the year contenders, having been held to a draw in his last fight with Francisco Fonseca in a challenge for the IBO belt.
Both men began as expected, as they exchanged in toe to toe, back and forth action. Ziani landed good left hands to his challenger's head in the opener, while Dilmaghani worked well to the body, but the Frenchman created angles by moving around his opponent, landing spiteful shots.
It was a breakneck pace, with neither taking a backwards step, and Dilmaghani had a much better second with head and body assaults aplenty. Ziani seemed to be getting the better of the exchanges, countering with a hard left hand over the top, but Dilmaghani matched the champion with short crunching body shots in the third.
The pattern for the fight was set, and Dilmaghani was doing well with countering blows to get on top towards the halfway mark of the contest. Just as it looked as though the champion was tiring slightly, he roared back towards the end of the sixth as the pair went toe to toe yet again, with Dilmaghani's eye suffering a cut. This seemed to spur Ziani on, as he got through with piercing combinations in the seventh and set a frantic pace with relentless pressure. Ziani was dragging Dilmaghani into deep waters and the action was non stop, with no quarter being given by either man.
The ninth saw Ziani suffer a cut to his right eye, and this spurred on Dilmaghani to click into gear as he unloaded with heavy shots in a bid to unsettle his foe. The action was so close that this meant that the rounds were close and hard to score, and the fight was surely in the balance going into the championship rounds. The two opened up in the eleventh, as they sense the fight there for the taking, and Ziani hardly stopped punching during the session, constantly coming forward.
He made a breakthrough towards the end of the session as he stunned Dilmaghani with a left hand to the top of the head that dipped the Crayford man's knees. The shot had a lasting effect, as the final round saw Dilmaghani running on empty, and he was backed up to the ropes and dropped to the canvas exhausted, with no knockdown counted.
He got up wearily, and Ziani was relentless in his two fisted assault and a volley of several punches finally put Alex on the floor legitimately, and this time, he was counted. He groggily rose, but it wasn't long before he was again knocked down as Ziani waded in on his exhausted foe and another two double fisted attack threw Dilmaghani to the ropes and then the canvas.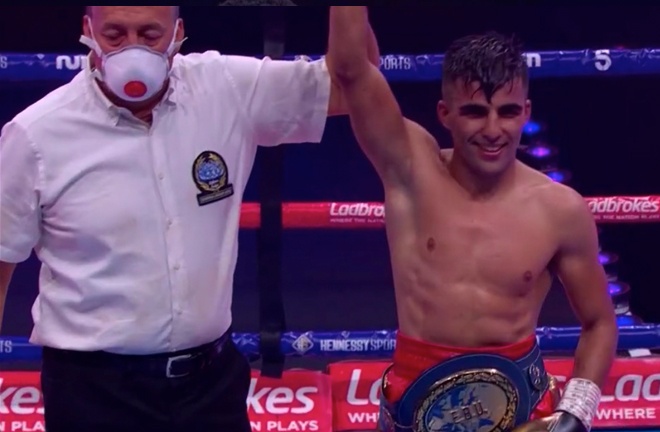 The referee counted, but then wisely stopped the contest in what was a classic. In truth, it should have been stopped way before it was as Dilmaghani had simply ran out of gas.
Isaac Chamberlain made a welcome swift return to action, two weeks after his last assignment, as he blasted out Wolverhampton's Matt Sen inside a minute of the opening round of their Cruiserweight contest.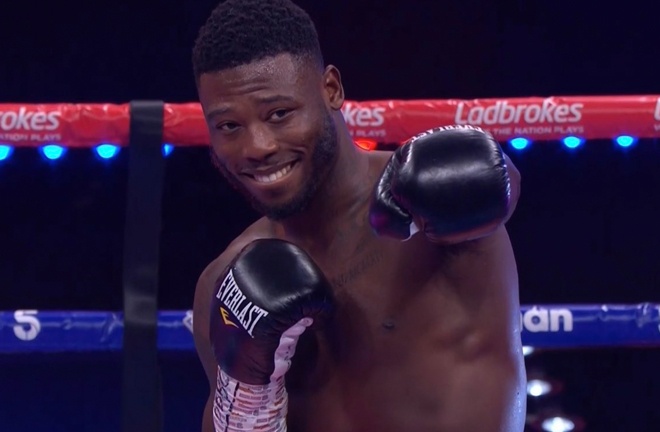 Chamberlain landed a lovely uppercut in the opener, and a left hand jolted Sen on the ropes, from which he never recovered. An uppercut and a follow up assault brought a well timed stoppage from referee Mark Lyson.
Opening the card was the brash former reality TV participant, Idris Virgo, and The Light Heavyweight hurt Scott Williams to the body several times in a 40-36 win over four rounds. Virgo improved his record to 7-0-1, while Williams falls to 0-8 in his professional campaign.

Nice work Stevie looking forward to seeing your career progress, here's some highlights I know some people don't have channel 5. pic.twitter.com/gS1bPcFq42

— Kevin Keogh (@KevinKe25186133) September 5, 2020
Promising California based Irishman,
Stevie McKenna
tore into
Gary Maguire
from the opening bell, and wiped out the Scot in just over a minute to move to 5-0. McKenna dropped Maguire in under 20 seconds, but was warned by the referee for landing blows while Maguire was on the canvas. On the resumption, Maguire was dropped again by an overhand right, and when he rose again, McKenna quickly put him away with a raking left hook that forced the towel to come in from Gary's corner as he dropped to 1-17.
At Super Middleweight, 20 year old Michael Hennessy Junior had his sixth professional outing, and the son of the show's promoter lost his unbeaten record as Stoke's Jamie Stewart took a 58-56 win on referee Mark Lyson's scorecard after six rounds.
This was Stewart's second professional contest as he moved to 2-0, and he was good value for his win as he simply outworked his younger opponent.