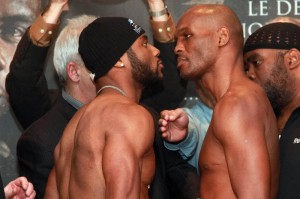 It's official, the rematch between Jean Pascal and Bernard Hopkins is set. The two will meet on May 21st of this year, and the bout will be shown on HBO. The first Pascal vs. Hopkins fight, which aired on Showtime, ended in a controversial draw and allowed Pascal to retain his titles. Many felt that Hopkins had won, and further adding to the controversy were two somewhat suspect knockdown calls, at least one of which should not have been ruled, and could have given Hopkins the win he feels so strongly he deserved.
Meanwhile, Chad Dawson, who was also in the mix to fight both men and was aiming for his own rematch against Pascal, will be fighting on the undercard. He has a deal worked out where he put his rematch aside for the time being, and will be given an opportunity following these fights to meet the winner of the main event. Potential opponents for his undercard bout include Librado Andrade and Adrian Diaconu.
With that deal reached, it appears that Pascal will be able to retain his WBC light heavyweight title for the upcoming match, and it will be at stake once again against Hopkins, along with his Ring light heavyweight title. In the ProBoxing-Fans.com light heavyweight rankings, Pascal, Hopkins and Dawson are numbers 1, 2 and 4, respectively, with Tavoris Cloud holding the number 3 position.
The site for the bout is still unknown at this time, although Montreal and Quebec City are the front runners.