King Khan: Olympic Silver Medalist at 17, Has-Been at 25?
To say that someone is at 'a crossroads in their career' is an overused term in boxing, but aptly describes the spot in which Amir 'King' Khan, Britain's former WBA and IBF Light Welterweight Champion, currently finds himself. He appeared to have climbed his mountain, silencing his doubters (of whom I was one), only to stumble disastrously and fall a considerable distance back down the slope.
The way that he came apart against underdog Danny Garcia may have come as a shock to those who have not followed Khan's career too closely, but for UK boxing fans it carried echoes of earlier encounters and ghosts that the British-Pakistani fighter has been unable to banish. We could go back to the memorable evening in August 2008 when an unbeaten Khan, trumpeted as a World-Champ-in-waiting and riding on the back of huge media hype and a lucrative deal with Sky TV, entered the ring against Colombia's Breidis Prescott.
[Update: Amir Khan chooses Virgil Hunter as new trainer]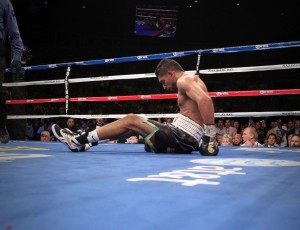 The fight was brief and explosive. Prescott steamrollered Khan and took his WBO Inter-Continental Lightweight title with a spectacular 54 second KO. Yet no sooner had Khan mumbled his way through the post-fight press conference than the spin doctors and money-men went to work. They had too much riding on Amir to let a destructive defeat against mediocre opposition get in the way.
So the disastrous knockout loss was marketed as a blip – 'these things happen in boxing!' – and Khan was carefully managed back into contention with a credible yet safe win over a 35-year-old Marco Antonio Barrera. In the meantime Prescott lost to both Miguel Vazquez and Kevin Mitchell.
However, my own reservations about Khan's ability to really establish himself at the top of boxing's hierarchy were spawned even earlier than that, in July 2007, when he fought the technically tight but light punching Scotsman, Willie Limond. Limond had only recently stepped up from Super Featherweight and had been picked as an opponent by Khan's promoter Frank Warren because he had the experience and technique to provide a real workout, while not possessing enough weight in his fists to pose a serious danger.
However, in the 6th round, Limond pressed Khan against the ropes and landed a big right. Khan was shaken to his boots and lurched across the ring as Limond landed a four-punch combination. The Bolton fighter was down, badly hurt. He got up on shaky legs, his eyes in separate orbits. The referee counted to 8 and Khan flopped back down on one knee.
Instead of counting on, as he should have done, the ref bizarrely told Khan to get back up. Khan stood and the ref let the fight continue. Most observers, myself included, thought that he should have been counted out. It's true that Khan pulled himself back together admirably and went on to stop Limond in the 8th, but that couldn't banish the fear that if he struggled to cope with the power of a light hitting super featherweight, what would somebody like Manny Pacquiao do with him?
So there seems to be more than a touch of fate to the fact that despite collecting two world titles and wins against big names like Zab Judah, Marcos Maidana and Paulie Malignaggi, Khan now finds himself on the wrong end of two consecutive defeats with the last of them another emphatic knockout. Carl Froch suggested he should retire, but 'King' has reacted by parting company with trainer Freddie Roach who he feels, perhaps correctly, is too absorbed in his work with Pacquiao and Julio Cesar Chavez Jr to give him the individualized attention that he needs.
There are rumors that he may hook up with Virgil Hunter, trainer of many boxing fans' pick for pound-for-pound champ, Andre Ward. Whether he works with Hunter or anybody else, (Emmanuel Steward and Adam Booth have also been mentioned) the worry is that Khan's weakness, namely punch resistance, is not something easily addressed in the gym. The major task will be to shore up Khan's defense to protect his fragile chin. It has been exposed too often to be ignored.
There is also the question of who he can line up as an opponent in order to advance his career from this point. There has been some talk of a rematch with Malignaggi, but it would be fair to assume that after such a heavy defeat, Khan will need to prove himself in at least one eliminator before he gets another title shot.
A fascinating possibility being floated in the UK media is for a domestic match-up with another British ex-champ gunning for redemption – Ricky 'The Hitman' Hatton, who has just announced his return to the ring. How much Hatton's three year hiatus of ballooning weight and cocaine use have diminished him remains to be seen, but a peak Ricky Hatton would have every chance of capitalizing on Khan's vulnerability.
I expect Khan to have a warm-up fight against someone just outside of world title contention, before stepping in to challenge one of the Welterweight champions. He is still a big draw in Britain and while he has that kind of fan-base, there will always be promoters eager to do business on his behalf. My preferred option for Khan would be Tim Bradley, but whoever he faces, the reality is that he has a reasonable chance of winning.
His hand and foot speed coupled with knockout power make him a dangerous opponent for anyone. Unfortunately, his frailties mean that even if he does regain a championship belt, he is unlikely to hang onto it for very long.