The Julio Cesar Chavez Jr vs. Sergio Martinez HBO Pay-Per-VIew on Saturday, September 15, did about 475,000 buys, according to a report on ESPN, citing HBO's official statement. That equals about $25 million of television revenue for the bout, and the buys greatly exceeds the original expectations of the promoters and networks.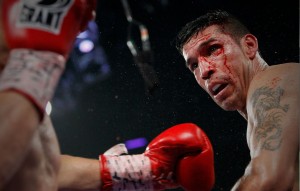 While Chavez Jr. vs. Martinez fell short of anything in the Floyd Mayweather or Manny Pacquiao stratosphere, these certainly are very healthy numbers on their own merits. Let's not forget, it wasn't all too many years ago when Mayweather and Pacquiao fights were in the 300-400k range themselves.
[Also See: Chavez Jr vs. Martinez Highlights Video]
With that kind of backing, and the notable 12th round, it wouldn't be a surprise to see Chavez Jr vs. Martinez II in our future. Of course, I for one have no interest in seeing the bout. JCC Jr. got dominated for about 34 of 36 minutes, and I'd expect the same kind of performance the next time, only without the dramatic 12th. Not to mention that Chavez Jr. is likely facing some kind of suspension following his failed post-fight drug test for marijuana.
I'd rather see a juicy catch-weight bout between Maravilla and Andre Ward. With the solid ratings for Ward vs. Dawson on HBO, and these PPV figures, Ward vs. Martinez does only make sense from a fight fan's perspective, it makes sense financially too.