Ever since Muhammad Ali declared himself to be "The Greatest," if not before, boxing fans have been debating who boxing's Greatest of All-Time (GOAT) is. Until recent years, the competition for the legendary status as the greatest fighter in the history of pugilism has revolved around two men: the aforementioned Ali and Sugar Ray Robinson. That changed with Manny Pacquiao's successful invasion of the welterweight division and his status as boxing's only eight-division champion. After all, all three men enjoy careers marked by great talent, record-breaking achievements, longevity and a willingness to fight anyone. Yet there might be a fourth contender for standing as boxing's GOAT, namely Bernard Hopkins.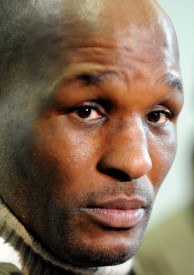 In defeating Jean Pascal on Saturday, B-Hop became the oldest man in boxing history to ever capture a world title. An accomplishment like that needs to be put into perspective, and to do that let's look at what winning the WBA-IBF championship did for George Foreman, the previous record holder. Foreman was an intimidating force in the early 1970s, but following his loss to Muhammad Ali in the famed "Rumble in the Jungle," his career fizzled. When Big George began his comeback in 1987, he was thought of as a footnote champion and widely mocked right up to his 1991 challenge of Evander Holyfield's championship. Without Foreman's record-setting win over Michael Moorer in 1994 he would be regarded as a great puncher, but not a great heavyweight. With that win at the age of 45 and the achievements of his 1970s career, Foreman routinely appears on Top 10 lists of great heavyweights.
Hopkins beat Pascal at age 46, and in a division less forgiving of age than heavyweight to boot. Also, whereas Foreman was on the receiving end of a beat down and losing the fight by a huge margin when he exploited Moorer's mistakes and kayoed the southpaw, Hopkins dominated Pascal. Whereas Foreman was not especially competitive against world class opponents in his second career, Hopkins has beaten some top fighters, and has remained a stern challenge even to those who defeated him in his middle-aged years. In terms of longevity, no one has out-performed Bernard Hopkins. In beating Pascal, Hopkins has eclipsed even the legendary Archie Moore.
In the field of career accomplishments, Hopkins also shines at least as much as other GOAT entrants. True, Hopkins is only a two-division champion, a point I'm sure the Pacfans will repeat ad naseum in response to even the suggestion that B-Hop and not Pacman is either the GOAT or the current P4P King. I think such a comparison is unfair, since even if Hopkins won every conceivable championship open to him, he would still only be a five-division championship. In reverse, it would be just as unfair to compare Hopkins' 20-defense, decade-long middleweight world title reign to anything Manny Pacquiao has ever done, since the Filipino could never have stood still for several years in any division south of 140 lbs, due to the difficulties of making weight. The point here is that where a fighter like Pacman sets a record for most divisions conquered, a fighter like Hopkins sets a record for title defenses (including being the only man to have ever defended the WBO, IBF, WBA, WBC and Ring belts all at the same time). One is an apple, one is an orange, and both are very sweet.
Finally, look at the host of contenders and champions beaten over Hopkins' career. John David Jackson, Glen Johnson, Andrew Council, Atwun Echols, Simon Brown, Keith Holmes, William Joppy, Felix Trinidad, Oscar de la Hoya, Howard Eastman, Antonio Tarver, Winky Wright and Kelly Pavlik. Even in defeat, Hopkins has always looked impressive, because while the man has lost a few fights he has never been beaten. That is a better record than Ali, and almost as good as Robinson (and Hopkins eclipses both men in terms of longevity). No statement about Hopkins' prowess could be clearer than that of Roy Jones, Jr. Even at the peak of his powers, Jones avoided a rematch with Hopkins. The two men would not meet again for 17 years, and then it only happened because Jones's career was spent and he had few other choices for a high profile bout.
I'm not arguing that Bernard Hopkins is the GOAT, at least not yet. One facet of the two big GOAT contenders — Ali and Robinson — is that they have permanently captured the world's imagination. Pacquaio has captured the world's imagination too, but whether he will retain it after retirement remains to be seen. Yet Hopkins remains a boxer's boxer, and woefully unappreciated by the public at large. In fact, I think even boxing fans fail to appreciate just how special the sport's great warrior monk really is. Everyone nods and acknowledges the man, but few speak of him the way one should speak of a true living legend.