Carl Froch set off a hullabaloo in British boxing circles when he boasted that he was, in effect, the greatest British middleweight (160/168 lbs) of all-time. In the wake of Froch's stoppage victory over undefeated, established champion Lucian Bute, Froch was quoted as saying:
"If you're asking me how I compare, I've eclipsed them, gone past them, it's as simple as that. I've had eight big fights on the spin, all for world titles. You've got to put me up there with the others, at least."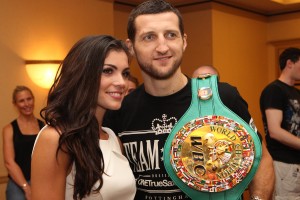 The UK consistently produces some of the best middleweight and super middleweight fighters in the world, but it is particularly synonymous with the 168 lbs division. While the best super middleweights might not necessarily reside in the UK at any given moment, the UK is always bound up in some of that weight class's best fights. Carl Froch is without a doubt the current standard bearer of that glorious tradition.
Froch's claim to greatness is his impressive, Ironman record over the last four years. During this time Froch has fought Jean Pascal, Jermain Taylor, Andre Dirrell, Mikkel Kessler, Arthur Abraham, Glen Johnson, Andre Ward, and the aforementioned Bute. Froch didn't win all those fights, but he won most of them. Of the two losses, he was competitive against Kessler, and has only ever been well and truly whipped by Andre Ward. Kessler's eye problems and Jermain Taylor's steep decline were both attributable to clashes with Froch, at least in part, and Froch is now enjoying his third world title reign.
The Cobra is a throwback, the type of boxer fight fans adore. He fights everybody and never says "die." Yet does that alone make him his country's greatest. If such a thing were measured by how hot your girlfriend is, Froch would win hands down. But such things are measured in terms of accomplishments and opposition, so how does Froch stack up against the other two main contenders for the title of "Britain's Great Middleweight?"
Chris Eubank
The UK's defining boxer of the 1990s, Eubank accomplished some great things at 160 and 168 lbs. His record shows a 1-0-1 record with the Dark Destroyer, Nigel Benn; two wins over Michael Watson; and a win over an undefeated, prime Graciano Rocchigiani. In terms of second-tier contenders, Eubank beat Sugar Boy Malinga and Tony Thorton. On the loss side, he gave Steve Collins a couple of close fights, and Joe Calzaghe maintained through his career that his win over Eubank was the toughest win he ever earned. Simply the Best's pair of bouts with Carl Thompson saw him give a much bigger and quite capable cruiserweight a very hard time. Throw onto that pile the distinguished consistency of a three year, 14-defense reign as WBO Super Middleweight Champion.
Eubank was never quite the same after he crippled Michael Watson in 1991, but ultimately that must be held against him. I believe that even on the off-side of his career, a Eubank with his killer instinct intact would have broken Steve Collins and beaten Benn twice, but a comparison like this one is not about what Eubank might have done. "What might have been" is the realm of fantasy fights, and not serious career evaluation.
On the face of it, I'd say Eubank and Froch are just about equal at this point in Froch's career, so the Cobra might well pull ahead of him in the next two or three years. Avenging his defeat at the hands of Mikkel Kessler would do it.
Joe Calzaghe
Froch bears a special antipathy for Joe Calzaghe, stemming from the days when Froch was a rising and unproven contender, trying to make a name for himself. Froch called out and mocked Calzaghe repeatedly, only for the Welshman to ignore him. In this most recent spat, Froch ridiculed Calzaghe's long stint as an undefeated champion, and stated plainly that his win over Bute was vastly superior to Calzaghe's win over Jeff Lacy.
Froch is right: Bute is more formidable than Lacy, although both were exposed as fighters who remained undefeated due in large part to strategic matchmaking. However, it's not like Jeff Lacy is the only guy Joe Calzaghe ever fought.
Joe Calzaghe's long title reign began in 1997, with a win over a still potent, but past-his-best Chris Eubank. Too dangerous and not lucrative enough to draw in bigger names, the Welshman made due for many years on second-tier contenders: Robin Reid, Omar Sheika, Richie Woodhall, Mario Veit twice, Charles Brewer, Byron Mitchell, Jeff Lacy and Saiko Bika. None of these guys were world beaters, but before any Froch fans dismiss a record like that, let's not forget that Lucian Bute's own claim to fame is based on exactly and entirely the same level of fighters.
Calzaghe then went on to do something Froch couldn't, namely defeat Mikkel Kessler. He also managed to out-point Bernard Hopkins at light heavyweight, and keep in mind that Hopkins would later go on to win the title and become the oldest champion on record.
This record puts Calzaghe ahead of Eubank, and therefore ahead of Froch as well, at least insofar as where Froch currently stands. Calzaghe defeated a lot of first- and second-tier contenders; he had a perfect record for consistency; and most importantly, he never lost a fight.
Froch as the UK's Greatest?
Froch is right to claim a place among his country's greats, just not ahead of them at the present time. I doubt any reasonable observer would disagree with that claim (judging from the press I've read, most support it). Yet Froch shouldn't worry. He is 34 and seemingly bears few scars from his many struggles. From the looks of it, Froch has a few good years left in his career, enough time to lengthen his record and perhaps cement that claim as the UK's greatest-ever middleweight yet.