Deconstructing The Impact Of Tarver's Test
You've got to be kidding me.  Another?!
First, Lamont Peterson, then Andre Berto, now Mason "The Line" Dixon?  The world doesn't makes sense anymore.  Actually, the more I think about it, the more an Antonio Tarver positive test for performance enhancing drugs makes complete sense.  At least far more sense than Peterson and Berto, if that's any comfort.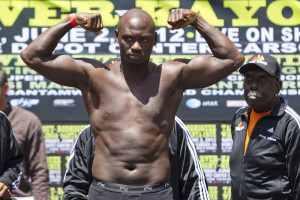 With the announcement this past weekend that the "Magic Man"—easily one of the more congenial fighters-turned-analysts in the game today—tested positive in his pre-fight sample for the anabolic steroid drostanalone—described as a weight-cutting agent—a sport that seemed unable to fall any further from grace slipped even deeper into the chasm of ridiculousness.
There's really no point in rehashing what a banner summer 2012 has been for boxing's self-inflicted injuries, be it prison sentences, questionable decisions or PEDs.  Although it's too early to tell whether casual fight fans who swore off the sport—as some tend to do—really haven't tuned in since the controversy du jour soured them forever, it's safe to say that the sport can hardly afford any more bad publicity (yes, journalism students, there is such a thing).
As predictably as expected, Tarver's camp immediately released a statement denying any culpability in the positive test and extolling Antonio's career-long trumpeting of drug testing in boxing.  Even more predictably, "Magic Man" was nowhere to be found at ringside during Josesito Lopez's upset of Victor Ortiz this past Saturday night.  In a released statement, Showtime took the proverbial highroad by indicating that in deference to the fighters in the ring, Tarver would step aside for the broadcast.  It was the right move for the time, although it's hard to fathom a situation in the near future where they can comfortably bring Tarver back into the fold without controversy.
Still, in the grand scheme of things, just how damaging is Tarver's positive drug test to the overall health of the sport?  We're talking about a 43-year-old fighter with little-to-no upside as far as resurrecting the Cruiserweight division aside from affability and a name.  If Antonio Tarver weren't Antonio Tarver but, rather, any other 43-year-old fighter with less of a resume, would this positive test even be part of the overall discussion?  There's a very good possibility the answer is "no."
Further—again, removing name recognition from the discussion—how shocking is it to see a positive test from a fighter who hasn't competed regularly in nearly four years and gives-up 14 years to an opponent?  In the cases of Peterson and Berto, we're looking at two 28-year-old men in their primes; Tarver very well may have been more concerned with not looking his 43-years on fight night than gaining some sort of physical advantage. Let's not forget that Tarver was fortunate to leave California with a draw against Kayode.  While the fight was close, Tarver did nothing to sway the judges' nor popular opinion in his favor.  In that regard, just how enhanced was his performance given what was later revealed to be in his system?
Is it disappointing as boxing fans that we are forced once again made to suffer the fools, never mind appear to be such to the detractors in the sports world? Yes, of course.  But, in the grand scheme of things, Tarver's positive test is probably the least damaging to the sport of all the nonsense that it has been yoked with to date in 2012.  With apologies to Gary Shaw: Be angry, be disappointed, just don't be surprised in this mess of a boxing year.