This past Friday night, many new eyes were opened to the compelling storyline that is Deontay Wilder when he brutally knocked Sergei Liakhovich, the overmatched one-time WBO titleholder, in less than one round. Perhaps not since Mike Tyson was blowing up the likes of Mark Young and Sterling Benjamin, have we seen such a destructive force utterly dominating the lower ranks of the Heavyweight division. 29 have tried and 29 have REALLY failed versus Wilder. This rampage has caused the casual boxing fan to sit up and take note, while the boxing "intelligencia" reach for their cautionary Michael Grant and Tyrell Biggs tales.
So what should we be thinking of Wilder at this point? Certainly his record to date (29-0 with 29 KO's) reads like something conjured up by a script writer for Rocky Balboa's opponent in the next Rocky movie but, is he for real?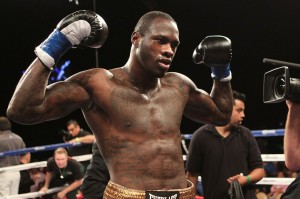 He is an imposing, muscular, 6'7" figure with dynamite power. 29 straight knockouts, all within 4 rounds, cannot be easily disregarded. He appears to have a somewhat awkwardly effective stance and good hand speed, to go along with the unearthly power.
At times, I notice willingness to box behind a quick, stiff jab. He is still learning distance, movement, angles, etc,. and is still raw. He is learning on the fly under the tutelage of former amateur legend and WBA Welterweight Champ, Mark Breland. Breland can likely add valuable perspective as he himself was once a highly touted phenom dealing with enormous expectations, early in his career.
His camp has done a great job of slowly building a resume while keeping him out of harm's way. Most of Wilder's opponents have been unknowns willing to stand in front of him to be hit. Even the two "known" opponents of late, Liakhovich and Audley Harrison, have both seen better days. Despite that, his results are spectacular, as they should be versus this crop of competition.
His power is a weapon versus anyone. He can detonate an opponent in an instant, that much we know. His hand speed seems to be at an upper echelon level and he always appears to be in good shape. He shows some decent movement, and he snaps back to avoid the few overhand counters he has seen, moves in and out well and fights at a beneficial distance.
However, he hasn't seen a true counter-puncher. He hasn't seen a guy who can match his hand speed nor a guy with championship level power. He hasn't been pushed in a fight nor extended to test his endurance. He hasn't faced a guy who moves well nor one who fights with a troubling style. How much then can we derive out of what we have seen so far?
Enough, I think, to cast him up against a higher profile Heavyweight. It is time for Golden Boy to push him a bit and get him a notable opponent against whom, with a convincing win, he can accelerate his growing legend. It is likely that the winner of the Seth Mitchell vs. Chris Arreola fight will fit that bill. I think Wilder would handle either of those two and deliver an impressive outcome in doing so, which will help to fuel the hype surrounding his rising stock. There has also been talk of a fight against fellow American heavyweight prospect Bryant Jennings, however, that matchup seem better suited for a time where both have a more high profile win or two under their belts.
To be sure, Wilder is an exciting prospect with potential. However, he will need to move up the ladder of Heavyweight opposition at this point in order to keep his legitimacy moving in the right direction. To quote legendary basketball guru Phil Jackson, "Potential has a shelf life." Whether Wilder's potential is revealed before its shelf life expires, remains to be seen. But you can bet we will all be entertained along the way.