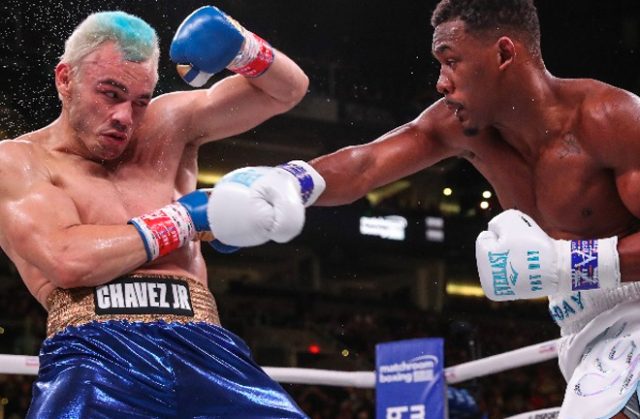 Julio Cesar Chavez Junior again brought more controversy upon himself when retiring himself after five completed rounds of his Super Middleweight contest with Daniel Jacobs in Arizona.
If it wasn't bad enough that the Mexican came in five pounds overweight, reportedly refused to comply with a pre fight drug test, and then he the turned in a performance and ending that disgusted the fans that had cheered him into the ring.
Sporting a dyed white and blue hairstyle, Chavez looked huge compared to his opponent, and the action in the first couple of rounds was competitive. Rounds three four and five though saw Jacobs take control, as he began to land with regularity. The fifth saw Chavez land a hard right hand, but Jacobs had again seized control by the end of the session, with blood pouring from his nose. The Mexican seemed to say to his trainer, Freddie Roach, that he had broken a hand, but then he motioned that he couldn't breathe properly, and that his suspected broken nose was the reason for withdrawal. Post fight though, Chavez intimated that he had broken a hand, and chose to blame Jacobs for leading with elbows and headbutts during the fight, for which there wasn't much substance to back this claim up.
"It was a very good fight," Chavez said. "I was getting close but got headbutted above the left eye. Then I had problems because of all the blood. I came over to the corner and couldn't breathe. He elbowed me, and headbutted me. Very tough fight, I felt I couldn't go because I couldn't breathe properly. The ref wasn't calling anything. I apologize to the fans. I'd love to have a rematch. I got headbutted, he fought a dirty fight, and didn't even take a point away. He would have been able to continue doing the dirty work."
The fans were clearly disgruntled, and took to throwing objects towards the ring as they showed their disgust at what they had seen. Chavez Junior was escorted backstage by the actor, Mickey Rourke, and his legendary father looked crestfallen as to what he had witnessed.
The chief support saw Julio Cesar Martinez claim the vacant WBC Flyweight title with a dominant ninth round stoppage win over former champion, Cristofer Rosales.
Martinez was heavy handed throughout. The first two rounds were exciting toe to toe action, but Martinez took control from the third onwards, and the ninth saw him blitz Rosales to the body, before switching to the head with rapid hard shots, forcing the referee's intervention.
Both Brits on the card enjoyed comfortable points wins.
Former WBO Super Welterweight champion, Liam Smith eased past Roberto Garcia on points after ten rounds, and Josh Kelly did the same, impressing and getting back to his dazzling best with a wide points win over Wiston Ocampos.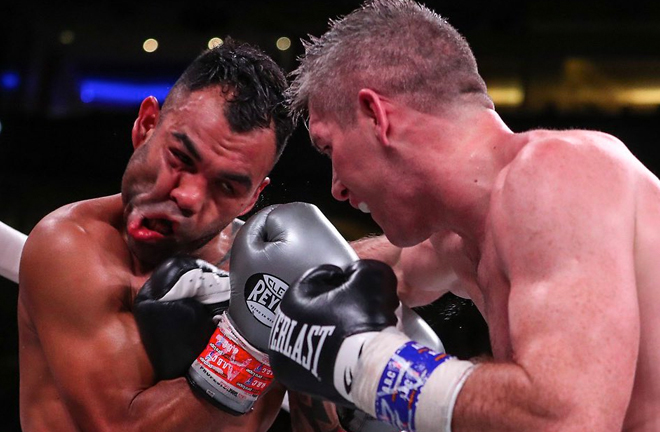 Maurice Hooker returned in style, blowing out Uriel Perez inside a round. He then proceeded to call for a meeting with WBA (Super) and IBF Super Lightweight champion, Josh Taylor.