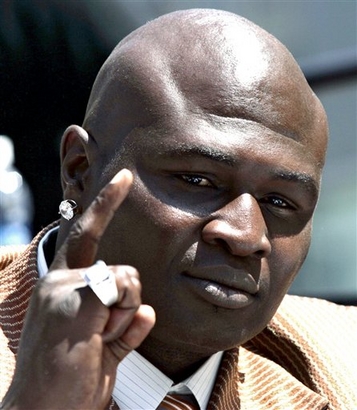 At age 43 and weighing in at a flabby 248 lbs, James Toney began his comeback by stopping Bobby Gunn in Southaven, Mississippi. Some bloggers and Toney supporters are already crowing that "Light's Out" is back and praising Toney's supposed knockout power, a highly questionable assertion at best. The truth is that the fight, just like all of Toney's recent outings, point straight to Toney's diminished capacity.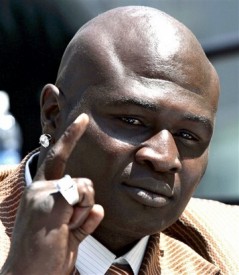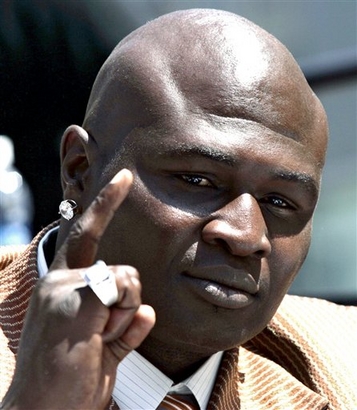 Let's look at the facts. Bobby Gunn is a 38 year old cruiserweight tomato can who started as a junior middleweight, was retired between mid-1993 and late 2004, and retired again from 2009 until he was contracted to fight Toney. Gunn has lost big time in all three of his fights against major opponents (Toney included). I have no doubt Toney's handlers had to dig deep to find a guy with a reasonable record who was willing to come up to heavyweight to fight Toney, and yet posed so little threat and was actually smaller than Toney to boot!
That some of Toney's supporters live in a fantasy land is currently on display in the articles claiming Toney's win shows he has heavyweight knockout power. These show, if nothing else, that some of the bloggers and writers in question did not bother to find out what actually happened in Mississippi, because Gunn was stopped due to a broken hand, and the win had nothing to do with Toney's supposed fistic power. Given how little opposition Gunn was slated to provide, Toney's RTD5 win under these circumstances proves absolutely nothing. That the fight was over the IBU title further proves how meaningless it was, as fringe organizations like the IBU are the refuge of has-beens, also-rans and over-hyped never-will-be's.
James Toney is not the second coming of Archie Moore, and for proof of that one need look no further than a comparison with his contemporary, Bernard Hopkins. While Toney has a deep tool kit, he doesn't take good care of his body and it shows every time he gets in the ring these days. Although he got down to 199 1/4 lbs for the Lebedev fight, Toney still looked flabby, and in the five months since he ballooned back up to 248 lbs. Toney's last remotely meaningful outing was an NC against Hasim Rahman in 2008, and we can safely say his heavyweight renaissance has been over for six years now.
So to James Toney, I say "please retire." No more fights, no more MMA farces. You have a lot to give back to the sport in the form of becoming a trainer, and if you do that well, it could become very lucrative for you. However, to be a trainer you'll need your noggin intact, and you'll risk that the next time you fight a guy like Denis Lebedev.
To James Toney's fanatical fans, I say "give it up already!" A lot of Toneybots are in complete denial about just how badly their man has faded physically over the last few years, something that ought to be obvious to anyone who isn't wearing blinders. By being so devoted, you give Toney justification for carrying on, and to what purpose? So he can become a heavyweight gatekeeper for a couple of years, taking some serious hurt in the process? Boxing fans who really like and admire James Toney ought to be calling for him to get out while the getting is still good, and not living in a fantasy world regarding his future prospects.