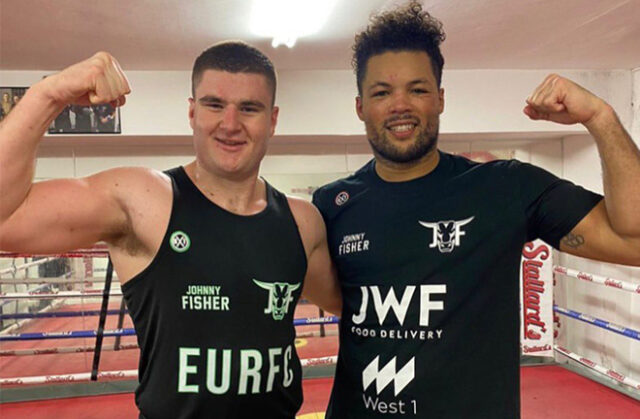 Heavyweight Johnny Fisher says he is aware of the attention surrounding his professional debut, but has vowed to focus solely on the task at hand.
Fisher makes his much-anticipated first bow on the undercard to Josh Kelly's European Welterweight title bid against David Avanesyan at the SSE Arena on Saturday.
The 21-year-old, a university graduate turned professional under management company, SJAM Boxing before signing a promotional deal with Matchroom Boxing in September.
'The Romford Bull' has raised his profile, through his high-level of sparring with the likes of S-JAM stablemate Joe Joyce, whilst WBC Heavyweight champion, Tyson Fury recently wished him well on social media.
However, Fisher who linked up with trainer Mark Tibbs says he will not let that distract him from attending to business on Saturday night.
"I can tell there's lots of eyes on me already from my local community and people on social media," Fisher said on a media Zoom call on Tuesday.
"But, listen I've never made no bones about where I am. I'm a young kid who's been given a good chance.
"I know I've got a bit of potential, I've got power and I've got athleticism, but I've got to now I've got to put it all into practice and this is what it's all about, when you're a professional boxer you've got to do it on the biggest stage."
"Sparring is only sparring. It's great to get experience and it does help you in the long run, but at the end of the day you can spar as much as you want, you've got to get in there and learn on the job, for me especially I've got to learn on the job and get the fights in."
View this post on Instagram
However, the Romford man insists he has not overlooked his opponent.
"It was decided by Sam Jones, my manager and Eddie Hearn," Fisher added.
"I know Matt Gordon is a strong, durable man and he's been in with some good guys, so I've got to take it very seriously and Ive taken it extremely seriously.
"I've been training non-stop since August anyway and he's a southpaw as well and I've got the privilege of sparring Joe Joyce, who's a southpaw which was good and it's going to set me up well and I know what I've got to do and it's not going to be an easy task.
"So, I'm not taking anything lightly at all."
Asked if there was any extra pressure heading into this fight, Fisher added: "Of course.
"I'm putting it to the back of my mind, but I know I'm going to have a lot of eyes on me.
View this post on Instagram
"Very few debutants get this much attention and I'm really lucky and grateful, it's a good thing, I'd rather have it then not have it, but at the same time I know that can't step in the way.
"I've got a lot of people watching me, but I've got to stick to what I've got to do and I've got a tough test on Saturday I know that, because Matt Gordon's a tough man and he comes to win as well, he doesn't just roll over, so I've got a tough job on my hands."
Watch the full interview with Johnny Fisher below: