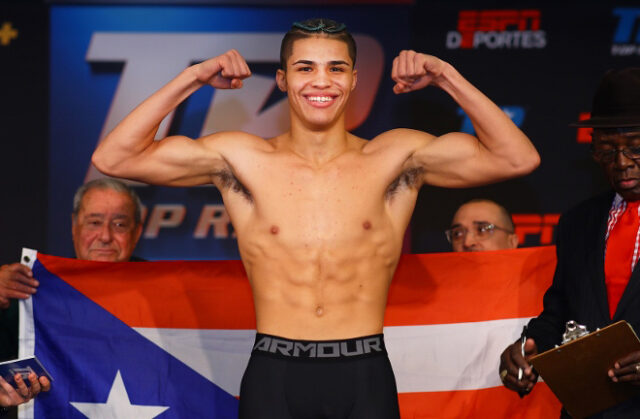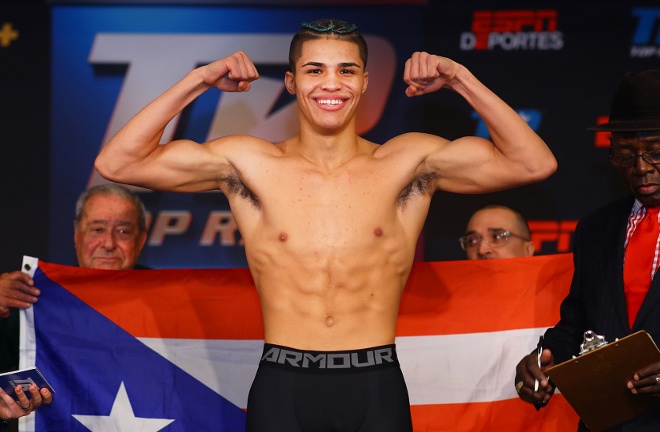 Over the last four decades, Puerto Rico has produced some of the most naturally gifted fighters seen in a ring.
Wilfredo Benitez, Felix 'Tito' Trinidad, Hector Camacho and Miguel Cotto all proudly represented their country, ending their decorated careers as multi-weight world champions, whilst three of the four mentioned have been inducted into the coveted, International Boxing Hall of Fame.
The trio took onus from those that preceded them most notably, from Wilfredo Gomez, another Hall of Fame inductee and former three-weight world champion.
With their unprecedented success, those that follow are met with the task of living up to their achievements and a new crop of Puerto Rican talent are looking to do just that.
In the last year, Edgar Berlanga has emerged as one of the brightest stars of the next generation. The 23-year-old, New Yorker who is of Puerto Rican descent, has raced to 16-0 (16 KOs), with all of his victories coming inside the opening round, a feat that saw him earn prospect of the year by Sports Illustrated and by a number of other outlets.
Welterweight prospect, Xander Zayas is rising to prominence and is aiming to take the mantle from Berlanga by winning prospect of the year for 2021.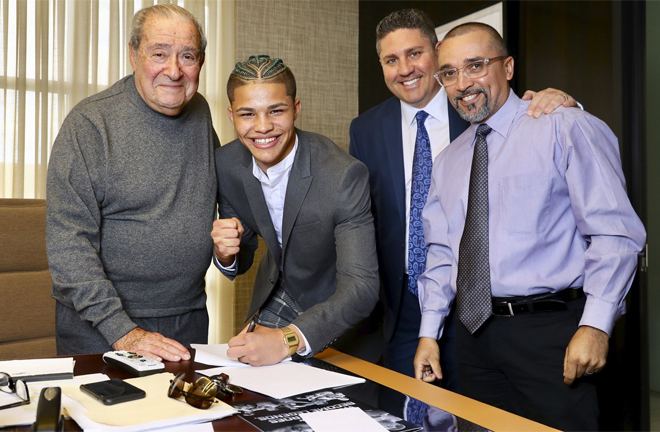 The 18-year-old became the youngest signing in Top Rank's illustrious history when he signed a promotional deal with Bob Arum's firm in 2019, having been introduced to the Hall of Fame promoter by his manger Peter Kahn.
Zayas (6-0, 5 KOs) started boxing at just five-years-old, convinced by his mother to take up the sport after experiencing bullying.
Moving to the USA at 11-years-old, Xander's amateur career saw him compete in over 100 bouts, picking up 11 national titles and was surrounded by greatness almost immediately, with a certain Puerto Rican legend overseeing his first bout.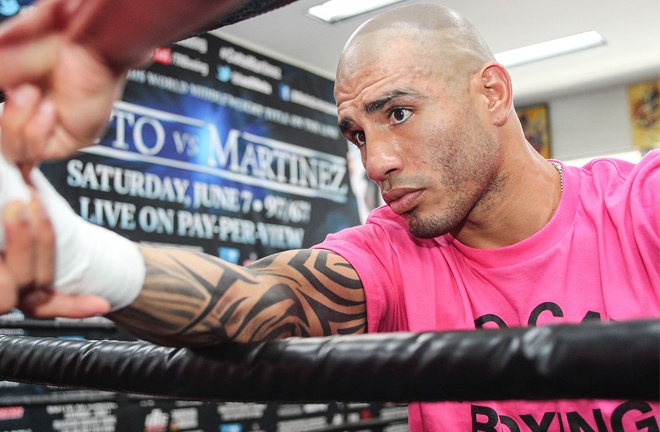 "Tito Trinidad I met him when I was six or seven-years-old, that was my first fight and he was there," Zayas told proboxing-fans.com.
"That was a great pleasure that was amazing. The person that inspires me in boxing, the person that I looked up [to] in the ring was Miguel Cotto.
"He's somebody that was the champion of my generation for Puerto Rico, everybody used to watch him go and put Puerto Rico on hold. That's the fighter that I look up to and inspires me to work hard and wanting to be like him."
Zayas, who returns on Saturday night on the undercard of the all-Mexican showdown between WBC Super Featherweight champion, Miguel Berchelt and Oscar Valdez in Las Vegas, has already drawn comparisons with former six-weight world champion, Oscar De La Hoya.
The undefeated prospect admits he is aware and flattered by the correlations, but is keen to keep himself grounded, as he looks to establish himself in the coming years, with his versatile style.
"I've heard those comparisons," Zayas added.
"Maybe because I'm young, because of how I'm always smiling. It's an honour to be compared with those legends like Oscar De La Hoya, but at the end of the day, it's all about me staying focused, staying dedicated and keeping the hard work going.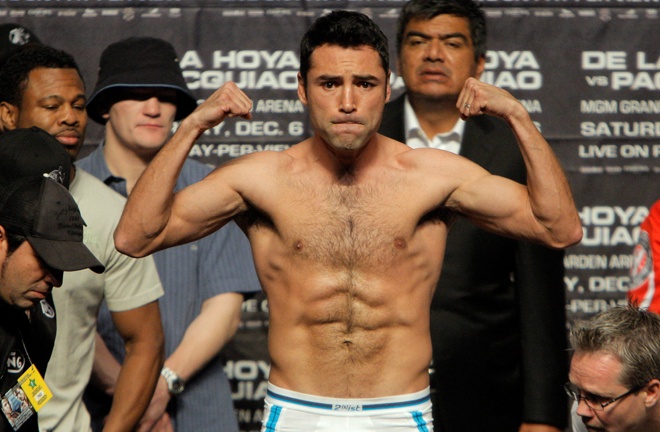 "I'm an aggressive fighter, that likes to come forward, with good footwork, good head movement, good combination power shots to the body and head.
"Somebody that can make that adjustment in any rounds [to] be able to win the fight and just overall somebody that throws punches and is able to slip and counter back, just an aggressive fighter overall."
Zayas, who has been sparring with the returning Adrien Broner in preparation for his seventh fight, takes on James Martin (6-1) at the MGM Grand Conference Center, as part of Top Rank's Bubble and the Florida resident is expecting the Philadelphia man to provide the stiffest test of his career.
Should he overcome the 23-year-old, Zayas is hopeful of fighting up to five more times this year, as he looks to accelerate his career.
View this post on Instagram
"In paper, he's my toughest competition," he added.
"Saturday night I expect a lot of fireworks from the body to the head, a lot of movement, with good defence, being sharp, being slick, being strong.
"I've been working really, really hard throughout camp and I can't wait to showcase my talent this Saturday night, so make sure you don't miss it on ESPN+ here in the USA and BoxNation in London, make sure you don't miss it, because I'm going to put on a show.
"Saturday night I will show that we're ready and this is my year. I'm ready to takeover this year.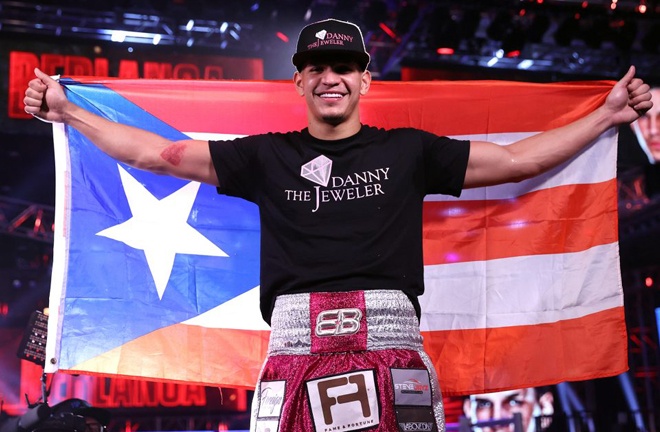 "The goal for this year, I want to fight at least six times this year. I want to end up the year fighting eight rounders. I also want to step up in competition every time I step into the ring and lastly and the most important one win prospect of the year 2021."
Zayas is a close friend of Lightweight world champion, Teofimo Lopez, who he describes as a "big brother" to him.
Lopez dethroned Vasiliy Lomachenko in October to add the WBA 'Super', WBO and WBC Franchise belts to his IBF crown, in just his 16th bout and Zayas says just like the Brooklynite, he will be ready to seize the opportunity on the biggest stage, when the opportunity arises.
View this post on Instagram
Asked whether he takes inspiration from Lopez's accelerated progress, Zayas replied: "100%. This generation is here to stay, like he said.
"Again, I want to take everything step by step. When the opportunity is right, I know my team and I will make the decision happen and we will be ready to step in the ring with whoever they put in front of us.
"I want to fight the best when the time comes and I will do my best and I will do what I've got to do to obtain the victory."
Zayas is in the early stages of what many people expect to be a long and highly successful career. At just 18-years-old he has plenty of time to develop his game and Saturday night can take him one step closer on that journey to forging his own legacy as another Puerto Rican great.
Watch the full interview with Xander Zayas below: