This past Saturday, undefeated Colombian boxer Jonathan "Momo" Romero (23-0, 12 KOs) conquered the IBF Jr. Featherweight title by defeating Mexico's Alejandro Lopez 24-3 (7KOs) in a sew-saw battle at the Auditorio Municipal in Tijuana, Mexico.
The 12-round fight had Romero dominating most of the rounds and being the aggressor throughout the night but the judges scored the bout 116-111 and 115-112 for Romero and 115-112 in favor Lopez for a split decision.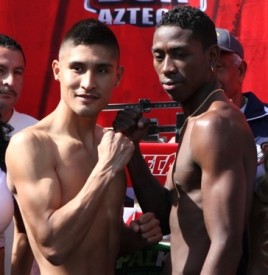 With the victory "Momo" becomes the first-ever Colombian champion that comes from the department (state) of Valle del Cauca, and the city Cali, the third largest in the South American country. The magnitude of the occasion has prompted at media frenzy (see media links below) and Cali's Mayor Jorge Ivan Ospin to offer a free house to "Momo" and his family.
In addition, Colombia's president, Juan Manuel Santos, also sent out a congratulatory message via Twitter, saying "Congratulations to Jonathan Romero, boxing's junior featherweight champion. Cali and all of Colombia are filled with pride."
Said Romero, "I had a really rough patch in my life, I lost siblings due to the violence of my hometown," said Romero immediately after the fight. "I am proud to be the first champion for Cali, Colombia. I asked God to make sure that the judges were right on their decision. I never ask for favors but I was hoping not the get the short end of the stick."
Romero continued, "I came to pressure Lopez and to make my fight, I consider myself an intelligent boxer and I was determined to figure Lopez out. I gave my family a moment to remember after so much sorrow, I don't know how to express how I feel at this moment, this gives me new air after being in the sport for the past 17 years of my life."
Thompson Boxing Promotions followed their rising star on his path to glory and captured the action packed fight and the well-deserved victory celebration!