From Joe Louis to Muhammad Ali, Sugar Ray Leonard to Mike Tyson, boxing has always had an iconic figurehead recognized in every corner of the world. But following Manny Pacquiao's recent devastating loss to Juan Manuel Marquez and Floyd Mayweather's career also moving into its twilight years, despite the recent blockbuster announcement of his move to Showtime, boxing is searching for its future star.
Adrien Broner's recent demolition of Gavin Rees has seen him move to the top of the pecking order in boxing's hunt for its next and newest brightest star, with comparisons being made between the youngster and Mayweather himself. However, Broner isn't the only fighter with the potential to become the face of boxing, and in this article I look at the 5 most likely contenders to be the sport's next global icon.
Also see: Who Will Be Boxing's next pound for pound?
Adrien Broner: 26-0 (22KOs)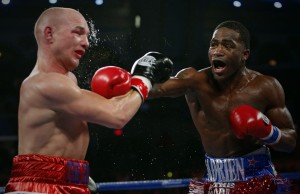 Ability: Only 23 and already a two-division world champion, Broner is more than a bit special. Not only has The Problem been a champion at both super featherweight and lightweight, he has also been the top dog in both divisions. Having shown the ability to fight either on the inside or outside, and combining blistering hand speed with heavy punches, it seems like Broner is destined for greatness. The only question mark is will his power be maintained up the divisions. (9/10)
Starpower: While it's not a prerequisite for stardom, punching power always helps attract viewers and with an 85% KO rate The Problem certainly packs a punch. Broner's confidence should also mean self-promotion is no problem and he is backed by the powerful Golden Boy. However, it can be argued that he is trying too hard to be another Floyd Mayweather which may become tiresome, while his antics may also put off as many fans as they attract. (9/10)
Longevity: As previously mentioned, Broner is still only 23, so love him or loath him he'll be around for a while. Also expect to see him move up a few weight classes over the following years and if he can dominate them to the same extent as the 130 and 135lbs divisions, he will be well on his way to superstardom. (10/10)
Overall: Young, confident,  with KO power and overall supremely talented, he has all the hallmarks of a future star. Possibly the only man who can stop Broner becoming a star is Broner himself. (28/30)
Saul Alvarez: 42-0-1 (30KOs)
Ability: Saul Alvarez is undoubtedly a huge talent but you can't help but feel that Golden Boy has to some extent protected their most prized asset in the early stages of his career. However, having recorded impressive victories already against the likes of Shane Mosley and Josesito Lopez, he is operating only just below the division's elite. With Austin Trout looking highly likely to be his next opponent, that bout should tell us whether or not Canelo really is a top P4P candidate. (8/10)
PPV Rating: With the Golden Boy juggernaut already firmly behind the youngster, the promoting of Alvarez will be no issue. Alvarez also already has a large passionate Mexican fan-base in place and when you add into the equation Alvarez's aggressive fighting style it shouldn't be too long until Canelo matches the PPV figures of another Mexican legend, Oscar De La Hoya. (10/10)
Longevity: At only 22, age is most definitely on the Mexican's side. A short amateur career and no particularly tough fights so far in his pro career have left Alvarez fresh. His aggressive style will undoubtedly lead to some wars over the next decade but Golden Boy will be careful with their matchmaking. (9/10)
Overall: Already the poster boy of boxing in Mexico, with the right matchmaking could become the poster boy of boxing across the globe. With a fight against Mayweather looking like a distinct possibility for September, if Canelo manages to dethrone Mayweather he will see his stock sky-rocket overnight and instantly become the sport's biggest star. (27/30)
Andre Ward 26-0 (14 KOs)

Ability: A former Olympic gold medalist and our current P4P number 2, whose pro career features emphatic victories over Carl Froch, Mikkel Kessler, Arthur Abraham and Chad Dawson. Need we say more? (10/10)
Starpower: Having already cleaned up the super middle weight class, along with dismantling Chad Dawson, the best the light-heavy weight division could offer, you would think Andre Ward would already be a huge PPV star, and yet he's not. Maybe it's down to a lack of charisma compared to some of his current counterparts, or possibly his less than exciting fighting style. Whatever the reason is, if he doesn't have that extra starpower now, he probably won't ever. (7/10)
Longevity: At 28 still has a number of years at the top left and his defensive prowess should prevent him from taking too much damage for the foreseeable future. However, having injured his shoulder in the build-up to his fight with Kelly Pavlik and subsequently undergone shoulder surgery, it will be interesting to see if the self-proclaimed Son of God will be able to return to the same levels as before. (8/10)
Overall: Set to become the next P4P king but doesn't have the charisma or boxing style to become a global icon. (25/30)
Gary Russell Jr: 20-0 (12KOs)
Ability: Having had stellar amateur career which culminated with a place on the USA Olympic team for Beijing, Russell's pro career has continued in much the same vein and in 2011 was named our prospect of the year. With arguably the fastest hands in the sport along with decent pop in his punches his stock should continue to rise, while being a southpaw adds the element of awkwardness to the Maryland native. However, he hasn't yet challenged for world honors and until then can't be truly judged.  (8/10)
Starpower: In boxing it seems like the general rule is that the lower the weight-class, the less exposure, which will make it tough for American to attract the same attention as the other fighters on the list. However, he does have the backing of Golden Boy and an exciting boxing style, both which will help sell Russell Jr. There are also a lot of big names at Featherweight right now, offering potential showdowns in the future. (7/10)
Longevity: At 24 and without having been in any particularly tough fights so far, Russell could easily dominate the 126 and 130lbs divisions for the next decade. However, being only 5′ 5″ and with a reach of 62" moving to the higher divisions might be a struggle and he may run out of legitimate opponents at featherweight and super featherweight. (8/10)
Overall: Expect Russell to become the lower weight division's top dog but probably not the sport's next superstar. (23/30)
David Price: 15-0 (13KOs)
Ability: Having been endorsed by Lennox Lewis as the heir apparent in the heavyweight division, fans have to sit up and take notice of the giant Liverpudlian, who was named as one of our five boxers to watch in 2013. Has a strong amateur pedigree having won a bronze at the Beijing Olympics, and in his short pro career has destroyed all those placed before him. However, those placed before him haven't exactly been the cream of the crop and Price could turn out to be just another hyped up prospect. Question marks also remain about his chin. (7/10)
Starpower: Boxing needs a new heavyweight star with the Klitschkos having failed to capture the imagination of the American market, and Price is arguably the most likely of the current crop to end their dominance. If he can capture a portion of the title, overnight he could become a superstar. While in his native Britain he is already filling arenas and this support will only continue to grow. (8/10)
Longevity: He will be turning 30 later this year but the heavyweight division is increasingly becoming an old man's games. Factor in that Price has only had 15 fights – only 2 of which have lasted past the 4th round – and the Brit is still relatively fresh. However, Wladimir looks like he will be around for a while yet and will be tough to topple to become the division's top dog.  (8/10)
Overall: Likely to be Britain's next superstar, but needs the talent in the heavyweight division to improve if it's to become the pinnacle of the sport again, and propel him to superstardom. (23/30)