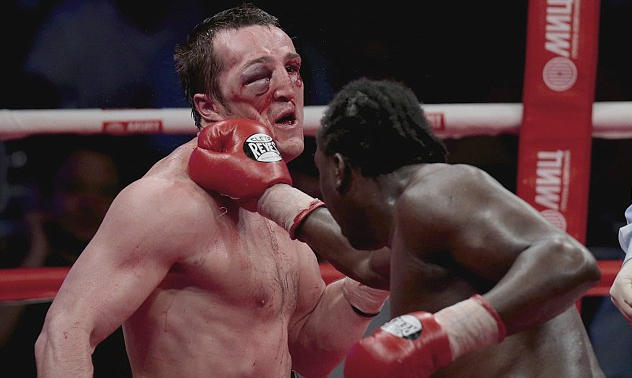 On May 17, Guillermo Jones scored a major upset with an 11th-round knockout of WBA Cruiserweight Champion Denis Lebedev. Jones, 41, has enjoyed a bizarre, but successful career and he is now back in the mix along with promoter Don King–despite the fact that both fighter and promoter had been written off recently.
Jones is a fighter with a world-class pedigree that stretches back over 15 years. His success encompasses a mind-boggling range, from junior middleweight (154 pounds) all the way to cruiserweight (200 pounds). Yet in spite of all that, he's not even the most popular guy in the sport named Guillermo.
Much of the blame falls on Team Jones. After the 6'4" stringbean lost in two close title shots to a good 154-pound champion in Laurent Boudouani, it would be another 4 years until he resurfaced in a TV bout. For most of us, we had to do a double-take when we saw that Jones was fighting at cruiserweight. It was like "Isn't that same tall skinny guy who fought Boudouani twice?" Indeed it was.
Beginning in 2002, Jones began furthering his case as a cruiserweight. It was an unprecedented jump in weight. Standing a freakish 6'4" at junior middle, one had to figure Jones would rise in weight, but this was ridiculous. Yet, he was pretty good. He has only lost one fight (to Steve Cunningham) since his two losses to Boudouani 15 years ago. He's been a top player at cruiserweight now for over a decade.
In beating Lebedev, he beat a quality fighter–one who some considered the most dangerous cruiserweight in the world with the possible exception of Yoan Hernandez. Many felt Lebedev deserved the nod against Marco Huck in their 2010 fight and since then, he had beaten Roy Jones, James Toney, and unbeaten contender Santander Silgado. He was favored to beat Jones, but came out on the wrong side of a back-and-forth war that saw the "El Felino" score an unlikely victory.
Jones' career has been frustrating to watch. He scored some good wins, over Kelvin Davis and Wayne Braithwaite, before earning a shot at the vacant WBA belt in 2008. He then knocked out tough Firat Arslan to bag his first title. It would be over two years before Jones would appear in the ring–a strange way to capitalize on winning a title.
Another year passed before Jones fought Don King-special Michael Marrone in 2011. All the while, he was allowed to keep the belt, which was preposterous considering the length of his layoffs. That was 18 months ago. His knockout of Lebedev was his first fight since. Fighting as something the WBA likes to call "champion in recess," he beat Lebedev, who had since become the "full" champion. If it seems confusing, you're not alone. The world title situation with the sanctioning bodies has become one of the most farcical things in all of sports. In any event, he is now the recognized as "full" WBA Cruiserweight Champion.
Let's not get bogged down in technicalities. The Panamanian's career is an anomaly–plain and simple. Once fighting as low as 145, the guy is able to come from behind on the scorecards to beat the best 200-pounders in the world at age 41 with 20 years of professional ring mileage on his tires. Against a Russian in Moscow, no less.
He's sort of jiggly and so old and dormant that you don't expect him to spring wins like this. Despite the fact that he began his career almost 60 pounds south of the cruiserweight limit, he seems to have become even more of a puncher. You see his body that looks like Jimmie Walker after he got fat and it's surprising that he has scored knockouts in 11 of his last 12 wins, the only exception being a heavyweight bout against cagey survivor Zack Page.
Let's hope he doesn't resurface at age 44 in a bout that will somehow be billed as a WBA Cruiserweight Championship. Jones is an interesting story and this was a big win against the odds. With so many fighters having careers that fall into a typical pattern, fighters like Jones show there are many routes to the top, however strange and unconventional they might be.
Anytime a fighter of 41 years whose been on the shelf for an extended period of time beats a top guy, it's noteworthy. What makes the strange case of Guillermo Jones so interesting is the bizarre trajectory that landed him in this spot. Sometimes, it's just fun to see a fighter do things differently.
Comments
comments