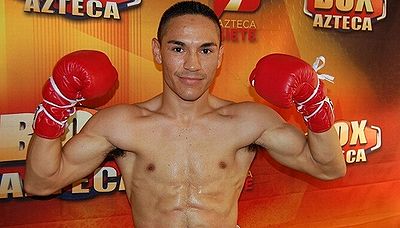 Fight pick & preview – Estrada vs. Segura:
In the second of this weekend's big flyweight contests, our 112 lb champion Juan Francisco Estrada (26-2, 19 KOs), takes on experienced slugger Giovanni Segura (32-3-1, 28 KOs) in a fight that is not merely for titles, but also Mexican pride. The two men have styles that could barely contrast more in what will probably make for a fight of great entertainment. This one isn't just important, but exciting too. Read on to find how the fight will go, and who will win.
Physical
The pair are of similar size, though Estrada is the younger, fresher man in this particular duel. He became a champion early last year and has had two fights since without encountering too much difficulty. His toughest assignment came in defeat to Roman Gonzalez at light flyweight, where he traded with the heavy-handed Nicaraguan for twelve give and take rounds only to come out the loser.
He showed his endurance to last the distance in that fight, as well as good hand speed. That speed was on show again in his next fight, a career best win against Brian Viloria and a fight that also bore witness to Estrada's strong punching power. There is very little about Estrada physically that could be questioned.
Segura's body deserves more scrutiny. He has never really appeared as strong, relatively, at flyweight as he did a division lower, the weight in which he made his name. Added to that, he is now 32, an old age for a small weight fighter. Further his open and at times reckless style has led to a significant amount of shots being taken. Over the course of a career as long and successful as Segura's, the amount of shots he has received are bound to mount up, and he has already suffered the brutal consequences of facial impairment in an eight round defeat to Brian Viloria in 2011.
Segura did not return to the ring until February 2013 following that fight, but he continues to receive punishment. On the plus side, he is a huge hitter and has a frenzied relentless energy that most of his opponents struggle to cope with.
Mental
Estrada has fought and beaten the one man to stop Segura within the distance in Brian Viloria. That he did with aplomb, boxing and gradually taking apart Viloria's defenses, to the point that Viloria had very little left towards the end of that fight. Estrada had shown his fearlessness in fighting Gonzalez prior to then, but his win over Viloria proved that he was not just another tough young Mexican, and that he genuinely was of significant talent.
That win will have boosted his confidence, and there is a feeling that Estrada is destined for great things. He wants to gain revenge over Gonzalez, and he will be gunning to beat Segura to set that rematch up. He must not, however, get drawn into Segura's type of fight in the midst of what is likely to be a heated, emotional all-Mexican battle.
Segura will be trying to do the opposite, chasing down Estrada and goading him into his web of constant punching, for that is the only way he can win this fight. Segura will know deep down that defeat here will push him into the box marked 'contender'. If he were to be out-boxed or stopped, many would consider him to be past his best.
Therein lies the motivation for Segura, but he barely needs it. Known as 'El Guerrero Azteca' or 'The Aztec Warrior', Segura relishes beating down his fellow Mexican man, as he did with Hernan Marquez late last year. That was a sensational fight, our 2013 Fight of the Year, and Segura was at his forthright best. It is important Segura takes that momentum into this fight and vanquishes all doubt, because he cannot afford to waste a round against Estrada, the better pure boxer and younger man.
Technical
Estrada is a boxer-puncher capable of throwing nice combinations and countering with speed. It is not just his speed that makes him an excellent counter-puncher though, but his timing and intelligence. Estrada knows when to circle the ring and use his feet and when to engage punch for punch. It is an inherent knowledge that makes him hard to predict and very difficult to pin down. He is always well set to attack and fights with almost mechanic consistency, preferring to gradually assert himself over the course of a fight rather than throw wasteful punches.
Segura is almost a complete opposite to Estrada stylistically. He throws punches in combinations alright, but doesn't do so with the same method. The end justifies the means in Segura's way of fighting, and if he has to throw a shot from behind his head he will do just that. It's a ferocious style that does away with less durable or generally less willing combatants, but often leaves Segura open to the more educated boxers.
Brawling, mauling and threshing away with abandon isn't his only trait though. Segura is capable of switching stance mid-fight and also works away well to the body with long-distance ambitions to slow his opponent down.
Estrada vs. Segura Prediction
Estrada holds advantages over Segura in both defensive and offensive aspects. His footwork and punch-picking is of a much higher level — he is generally a technically more polished pugilist. Segura will want to go toe to toe with Estrada and force him to wilt, but he is likely to find a strong and willing repellent in the younger man. Estrada will not be dissuaded by Segura's ongoing assault, and will pick his spots to land clean, hard punches throughout the fight.
Segura is likely to be out-thought and out-boxed here, and it could end within the distance. My pick is for the older man's savvy and experience combined with immense pride to see him through to the final bell, but it could be a ropey finish.
Prediction: Estrada UD12
Comments
comments