Judge C.J. Ross has stepped down from the Nevada State Athletic Commission following the outrage at her scorecard for the Floyd Mayweather vs. Saul "Canelo" Alvarez fight. Ross scored the fight 114-114, or six rounds apiece for each man.
ProBoxing-Fans.com scored the fight 118-110, and the majority of observers agreed that Mayweather won at least 10, if not 11 or 12, rounds in the fight (It's also worth noting that the other judges scored the fight closer than that, although not as ridiculously as Ross).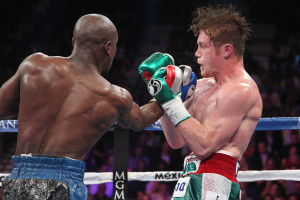 This isn't the first time Ross has been in the limelight for all of the wrong reasons. Last year, she was one of the judges who absurdly scored the Manny Pacquiao vs. Timothy Bradley fight in favor of Bradley. Once again, the majority of observers felt Pacquiao had won at least 10 rounds in the contest, and the loss stands as one of the more outrageous high profile robberies in boxing history.
In looking at her track record over the years, she has been involved in numerous other questionable decisions as well.
Also see:
As far as her stepping back from judging for the NSAC, that's certainly a good move on her part to remove herself from the picture. Judges in Nevada have to apply for a license each year, and at this point she doesn't know if she'll reapply at all following her self-imposed hiatus.
However, where exactly was the NSAC in all of this? How did Ross get such a high profile gig to begin with, one which happened to pay her a sweet $8,000? How come judges aren't held responsible by the commissions for doing their jobs poorly and inaccurately? How come there's absolutely nobody holding CJ Ross and other judges accountable for their scorecards?
She's voluntarily stepping away due to the maelstrom of controversy and negativity surrounding her involvement, but nobody fired her, or prevented her from being in position to judge the biggest event of the year.
It's one of the most pressing issues in the sport of boxing today, and it needs to be addressed.