After pounding out his win over Marco Antonio Rubio in February, Julio Cesar Chavez, Jr. was supposed to go straight on and fight Sergio Gabriel Martinez, settling once and for all who has the right to wear the WBC's (semi-irrelevant) middleweight title belt around his waist. As with so much else surrounding that green strap since WBC President-for-Life Jose Sulaiman chose to strip Martinez and give the title to Chavez, nothing is going quite according to plan or the usual standards of normalcy.
Junior apparently feels he needs a tune-up prior to fighting Martinez, and has accordingly signed to fight prospect Andy Lee. This points directly to short confidence on the part of Chavez and his camp going into a clash with pound-for-pound contender and people's champ Martinez, not only because Chavez apparently feels the need to duke it out with a Martinez stand-in, but also because the fight is slated for El Paso, in the infamously dodgy (from a boxing point of view) state of Texas.
It seems whenever Junior fights someone even remotely challenging, he stays safe and secure with the favorable judges in the Lone Star State, and the same applies to his June 16 clash with Lee.
Andy Lee (28-1, 20 KOs)
6'2″ tall, southpaw, 27 years old
Irish, living in Detroit
Former NABF-NABA Middleweight Champion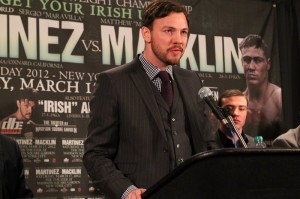 On paper and on the surface, Andy Lee doesn't look like much. Past some of the sterner journeymen in the middleweight division, there are no big names on his resume, and the most noteworthy thing the Hibernian has done is win the NABA-NABF regional belts, which he promptly dropped.
However, Lee comes from a reasonably distinguished amateur background. He won a couple of European amateur titles, and Lee was only very narrowly edged out of winning a bronze at the 2004 Athens Olympics. ESPN named him as a man to watch back in 2007, and for good reason. His sole loss was back in 2008, and he avenged it last year.
Lee is a tall, rangy middleweight, with fast hands, good mobility and good power. Trained by Manny Steward, Lee has developed a two-fisted offense that mixes rangy head shots with vicious body punching, all based on capable side-to-side movement. The Limerick Assassin has only an average chin, but he is certainly no stranger to hard power shots – the man spars with cousin Tyson Fury and the Klitschkos!
Julio Cesar Chavez, Jr. (45-0-1, 31 KOs)
6′ tall, 73″ reach, orthodox, 26 years old
Mexican
Current (fake) WBC Middleweight Champion

Overcoming much criticism, JC, Jr. solidified his place as the genuine article in 2011. He has gone from feasting on the likes of overrated John Duddy to pounding guys like Marco Antonio Rubio into submission. He has a busy, come-forward style that maximizes his physical strength and hitting power, supported by able footwork.
Chavez's strength in particular is a big deal, as every time I see the man he seems to have gotten bigger and more muscular. I suspect he walks around on the street at 190 lbs these days.
Although his defense isn't the best, Chavez has shown a durable chin thus far. He gets hit, but not by anything that has shaken him to the ankles yet. The Zbik fight in particular proved that good boxers won't stall him (at least not coming from the stand-up Continental school).
Chavez Jr. vs. Lee Analysis and Preview
The reason Chavez is fighting Lee is obvious: Chavez and Co. feel that they need more practice taking on a quick, highly mobile, aggressive southpaw before they get in the ring with Sergio Martinez. Since Lee has been hurt in the past by guys who aren't exactly Earth-shaking punchers, clearly the idea is that when Chavez gets to Lee, he will put Lee down for the count.
I wouldn't put too much into that line of thinking. While Lee was stopped by Vera, it was due as much to Lee having blown his gas tank than to anything Vera hit him with. Lee has shown little fragility since then. It's best to think of the Vera fight as a thing of the past. I therefore think Chavez's people have chosen a very live opponent to prepare for Martinez, are badly underestimating Lee.
Both of these guys are big middleweights, and while Chavez will be the larger, heavier man that night, Lee will have the height and reach advantage. While Chavez has fought some guys with boxing ability, Lee puts the whole package together and is probably the best opponent Chavez has ever had, despite Lee's lack of big fight experience.
Chavez faces two challenges in this fight of implementing his game plan: finding his footing against a highly mobile, southpaw opponent, and getting his range against a guy who is almost as big as he is and has a solid right jab. It is a great unknown if Chavez can do either of those two things, let alone both of them. Chavez has never fought a guy who had height and reach on him, had the edge in speed and mobility, and was a southpaw. Lee is no slouch in the power department, either. All of that screams "uphill struggle" for Junior.
For Lee's part, he has never challenged a world class middleweight before. Chavez is the hardest hitting, strongest, physically toughest opponent the Limerick Assassin has ever seen, and to top it all off, Chavez has good offensive boxing ability. If Lee is a step up for Chavez, then Chavez is leaping three steps up for Lee.
Chavez Jr. vs. Lee Prediction
If Chavez can find his range and footing, then he has the anti-tank missile of a straight right to capitalize on it and make the night very painful for Lee. However, I think the Limerick Assassin has the stuff to make JC, Jr. eat plenty of leather on the way there, and let's face it, Chavez is there to be hit. Also, one has to wonder just how much stamina Chavez can possibly have when he must be dropping 30+ pounds to make weight.
I see Lee, not Chavez, building the momentum as the fight progresses. With the Limerick Assassin lacking in big fight experience, it will be Chavez who applies his strengths best in the early rounds, and bags them on the basis of drilling Lee. The Hibernian might even go down, but probably not out. However, as the fight drags on, Lee's considerable amateur schooling, Steward's training, and his great basket of assets will enable him to blunt Chavez's attack.
Chavez's lack of a defense will allow Lee to tattoo him with jabs and hooks to the body, grinding the Mexican down and making him ever more sluggish as the fight progresses. The championship rounds ought to be all Lee, barring a late rally by Chavez.
But frankly, Lee will need a knockout to win this fight. Between the WBC picking the judges and the fight taking place in Texas, there is no way Lee walks out of the ring with the WBC strap. It just ain't happening.
Prediction: Julio Cesar Chavez, Jr. wins by somewhat controversial Split Decision
Comments
comments