Julio Cesar Chavez Jr. is tentatively slated to return to the ring on June 29, in an HBO-televised event which would mark his first fight since losing to Sergio Martinez last September, and his return from a 9 month suspension which also docked him $900,000 in fines.
At this point in time, there's nothing official in terms of opponents, or the exact site of the fight.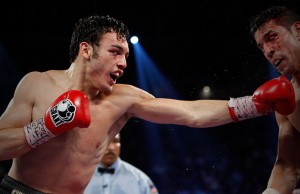 According to RingTV.com, Bob Arum had also been considering June 22 for Chavez's return. However, that date now looks like it belongs to the Adrien Broner vs. Paulie Malignaggi clash.
These things are fluid though and the rival promoters Golden Boy and Top Rank could end up dueling it out over the date just to mess with the other.
For Chavez's return, I'd expect a middling opponent, and a fight likely to be held in Texas. When you look at the bottom half of the middleweight division, and considering the style the two fighters have and the potential locale of the fight, I think that Brian Vera looks like a very likely opponent. But that's just a personal prediction on my part, and nothing official.
Either way, Chavez will be looking to come back with a vengeance and make a statement in the fight, and still angle for a rematch against Sergio Martinez in the fall. It's a rematch I've never had any interest in seeing, and I believe it makes more sense for both parties to move in a different direction.