154 lbs & 160 lbs Rankings Update Following Big Weekend's Boxing Results:
This weekend was a busy one in the boxing world, and all of the action was focused around the junior middleweight division and middleweight division. The big fights from this weekend and their results – Cotto vs. Mayorga, Martinez vs. Dzinziruk, Foreman vs. Wolak and Lee vs. McEwan, all took place in these weight classes. Therefore, there's plenty to update and revisit, and we've done just that with our weight class rankings for both 154 lbs and 160 lbs.
See the Updates Here: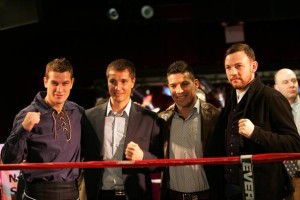 The most impressive performance was undoubtedly Martinez's knockout win over Dzinziruk. However, Dzinziruk was moving up from 154 lbs, and will still be campaigning there, so how does that affect his standing? Meanwhile, Andy Lee came back to score his own big KO, however, was losing to an unheralded fighter prior to turning things around. Does he get to crack the top 10 of the middleweight ranks?
Cotto did what he was supposed to go against Mayorga, and he's further solidifying his place at junior middleweight. However, Yuri Foreman lost his second bout in a row – the first was to Cotto last June – to Wolak, and Wolak therefore rises up the ranks.
This is all after some other results in the past few weeks which have impacted the division, like Saul Alvarez grabbing a strap at 154 lbs, and the return of James Kirkland to professional prizefighting after a two year absence.
You can read our full Cotto vs. Mayorga results and Martinez vs. Dzinziruk results here, then peek at the rankings and keep on checking back with ProBoxing-Fans.com for the latest and best boxing news on the web today.