Following the surprising Miguel Cotto vs. Austin Trout results, it's time to revisit the rankings in the loaded junior middleweight division. How high does Austin Trout climb in the top 10 at 154 lbs, and does he deserve the number 1 position? How far does Miguel Cotto fall? Where's Saul "Canelo" Alvarez in all of this? Take a look at our updated divisional rankings right here.

—> Updated junior middleweight division rankings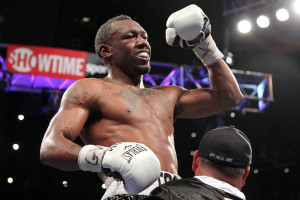 The top 10 in this division is loaded, and has been for quite some time. Trout had been on the outside looking in, without many notable wins on the ledger. The dominant showing over Delvin Rodriguez to the top 5, and now he'll climb even higher. Is he the best guy at the weight though? That's tough to say, but he's starting to build the kind of credentials which warrant a top spot.
As for Cotto, he's certainly far from done. He should still be recognized as one of the better guys in the division, although he's coming off two straight losses and may be nearing the tail end of his days in the ring, which should all be considered.
Then you have guys like Canelo Alvarez – a potential opponent for Trout, or still Cotto even – Erislandy Lara and on down the line, such as the returning Alfredo Angulo, beltholder Cornelius Bundrage and more.
So take a look at our updated top 10 in the junior middleweight division rankings and be sure to chime in with your thoughts.
Comments
comments