On Saturday night, Puerto Rican great, Miguel Cotto decisively defeated Japan's Yoshihiro Kamegai for the vacant WBO title, at the StubHub Center, in Carson, California.
Cotto, 36, who won his sixth world title of his career and plans to retire at the end of the year, had to deal with plenty of pressure from his opponent early on but was able to step up and was victorious by unanimous decision.
Cotto had respect for Kamegai and knew his opponent wasn't going to go down easily. "It was a tough fight, but we did what we came here to do," Cotto said. "We have another champion for Puerto Rico."
Kamegai may have lost the fight but was tough and spirited throughout, and even though he was unable to get past the Puerto Rican, Freddie Roach, Cotto's trainer, had some positive words towards the Japanese boxer.
"I've never seen a guy like that," trainer Freddie Roach said. "He really doesn't know what's good for him, I think. He's the toughest guy I ever saw in my life. Miguel's a good puncher, believe me."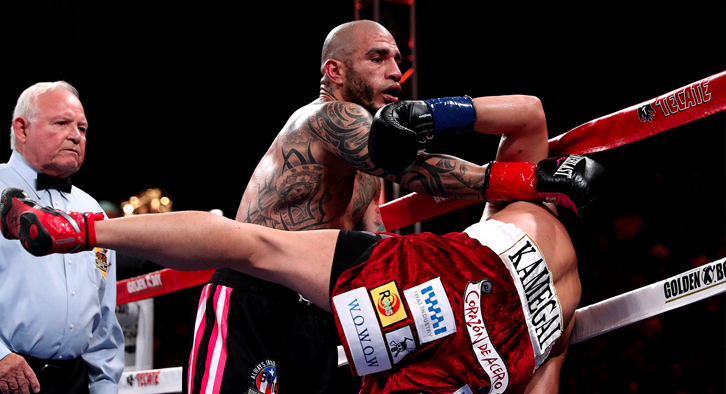 After the fight, Kamegai released a statement with some kind words for his opponent.
"First of all I want to thank HBO, Golden Boy Promotions, Teiken promotions, The StubHub Center, the sponsors and my competitor, Miguel Cotto. Last night I fought with one of my idols in boxing, Miguel Cotto. I knew that for myself to win was to pressure him but with his experience and excellent defence I couldn't land a big punch and a win.
All I had in mind was winning and I was disappointed that I couldn't. But after this fight, I will become stronger and hope this experience will make me a stronger boxer.
I was told that HBO and Golden Boy will give me another chance so after I get a little rest, I'll hit the gym and start training again. For all the Californians that came or watched the fight on HBO, thank you for all the support.
To all the fans from all around, thank you for giving me strength and all the support and hope that I can show a better fight next time.
I'll be back and hope to see you all back in the states! – Thank you! Gracias!"