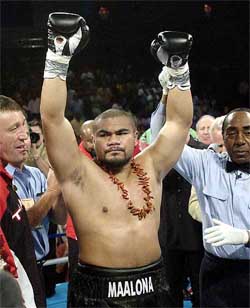 When I read last week that David Tua's umpteenth comeback was postponed yet again by a calf injury, I soon found myself reminiscing about the rest of Tua's generation of heavyweights, and pondering where they all stand today. These were the up and comers of the late 1990s and early 2000s. These were the men who marched into contention as the boxers of the Bowe-Holyfield-Lewis era began to fade from the scene, a series of declines and departures that ultimately left Lennox Lewis as the last man standing tall from his generation, and to a large extent Lewis feasted upon them.
What my reverie showed me is that the generation could be best called the Byrd-Ruiz-Klitschko-Klitschko generation, a rather mixed statement if ever there was one. Also, as was the case 10 years ago, the generation is now nearly out of steam, with Wladimir Klitschko the only one still standing tall.
David Tua's bout with Ustinov attracted attention due in large part to Tua's allure as a power puncher, and that his inconsistent career over the last decade has had the ironic twist of preserving his reputation. The Tuaman's image doesn't suffer from a backstory of regular, embarrassing defeats like his old arch-rival Hasim Rahman. Being inactive means no recent defeats to cloud the popular memory.
Fading Out and Hanging On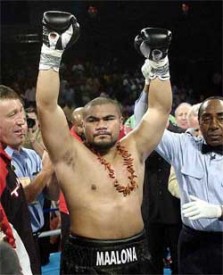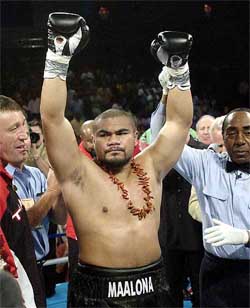 Both at the time and in retrospect it seemed Chris Byrd had enjoyed a good run as a legitimate contender and as IBF champion, but his time at the top effectively ended when Wladimir Klitschko took his IBF belt in 2006. Yet even though Byrd was still relatively young, his generation had already seen men fall out of the picture for a variety of reasons, as happens with every crop of world class boxers. Some were misfits, like Ike Ibeabuchi. Some lacked focus, as was the case with the late Corrie Sanders and Kirk Johnson. Some fizzled out or were never meant to be better than fringe contenders in the first place, like Jameel McCline or Fres Oquendo. Ultimately, only a handful of fighters had the mix of consistency and talent to withstand the test of time.
Even more so than Byrd, the single most successful fighter of Wlad Klitschko's generation whose name isn't Klitschko was John Ruiz. "The Quiet Man" suffered a humiliating knockout at the hands of Tua, but got back in the game and stayed there. Although many shook their heads at the mere mention of his name, Ruiz figured in the WBA title picture from 2000 to 2010, and was competitive in that picture as late as 2006. He was never flashy, always awkward, and forever dull, but Ruiz was very, very consistent, and that was what kept him going for more than a decade. Compare his record to those of contemporaries David Tua, Hasim Rahman, and Shannon Briggs, and the results sparkle.
Wladimir Stands Tall
As with Ruiz, consistency is the byword that has left Wladimir Klitschko as the last man standing [not to mention perhaps the most interesting man in the world] and having clearly eclipsed his big brother Vitali, Wlad is truly the last, great fighter from his generation. Vitali is likely the better warrior, but his injuries and off-and-on career, punctuated by lay-offs even when he is "on," have left Klitschko the Elder with a career trajectory nearly as inconsistent as Tua's, if markedly more successful. Like Lennox Lewis before him, and Larry Holmes before that, Wladimir Klitschko is the sole survivor of his bunch. He is the one who remains in a strong position (the strongest, as it just so happens), and is duking it out with the young lions.
When seen from within the shadow of Wladimir Klitschko, it becomes clear what David Tua ought to be doing: finding a new line of work! I've always been a fan of Tua's, and if he can make a nice payday, I'll be happy for him. Yet as he is more injury prone than Dr. Ironfist, and even if Dr. Steelhammer's day is drawing to a close, shouldn't Tua's day be well and truly over? Even Evander Holyfield (more or less) retired in October 2012.