Top 5 Heavyweight Boxers from the 1990s
The more time that passes, the more that boxing in the 1990s looks good. It gets a bad rap following one of the greatest decades, as the 80's was a golden era for the sport. But the 90's were better in certain areas–particularly in the heavyweight division. In the 80's it was all about Holmes and Tyson for the most part. While it's good for the sport to have a long-reigning supreme commander at the top, the 90's had more parody, with the throne being contested by a group of big-name fighters who made for many memorable fights.
1. Evander Holyfield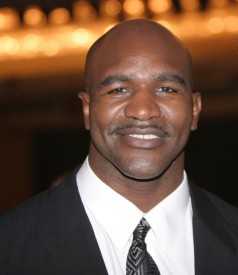 In 1990, he became World Heavyweight Champion, a position he still held until late-1999. After winning the belt against Buster Douglas, he beat two still-dangerous ex-champs in George Foreman and Larry Holmes. He lost the belt to Riddick Bowe in 1992 in his first career loss, but regained it the next year in an inspirational decision win.
Holyfield then had a bit of a slump, going 2-2 in his next four. He lost the title to Michael Moorer, before getting stopped by Riddick Bowe. In between, he won a tough decision over Ray Mercer. Counted out, Holyfield came roaring back in 1996 with an unforgettable knockout of Mike Tyson.
He won the bizarre rematch, before stopping Moorer in 8 rounds in their rematch. Holyfield didn't deserve the draw he got against Lewis in 1999, but fought the Englishman close in their rematch to end the decade. In fact, other than Lewis, Holyfield beat everyone on this list.
[Also See: 5 Biggest Heavyweight Title Fight Upsets]
2. Lennox Lewis
You could argue he was a better heavyweight historically than Holyfield, though he needed a little of the resume-padding in next decade to achieve that. While his 90's body of work falls short of Evander, it's not by much. He was effectively 2-0 against Holyfield in this decade, in addition to a slew of quality wins. The fact that it took until 1999 to consolidate his world title claim costs him the top spot.
Lewis was an underdog when he smashed Razor Ruddock in the 2nd round in 1992 to win the vacant WBC title. A trio of ho-hum defenses led to a tremendous upset loss to Oliver McCall in 1994. Two big wins over Tommy Morrison and Ray Mercer led to a strange rematch win over McCall. Lewis then went on a long run of success, knocking out Andrew Golota and Shannon Briggs. He was scandalized in a draw, before winning a decision over Holyfield in the rematch to close out the decade as the real heavyweight champion.
3. Riddick Bowe
"Big Daddy" could have been number-one on this list, but he grew old before his time–leaving the general vibe on his career as one of disappointment. It didn't begin that way. A big heavyweight stewarded by the wise Eddie Futch, Bowe looked like he was rounding into a heavyweight for the ages. His title-winning effort over an unbeaten Evander Holyfield might have been the biggest heavyweight win of the decade. It was certainly one of the more exciting. We struggled to not get overly-excited about an entertaining and talented heavyweight like Bowe, who seemed like he would reign for years. But a lot of us thought he was the full package.
Well, it didn't work out that way. After two gimme-defenses, Bowe lost the title back to a more mobile Holyfield. But we wanted to give him a pass. The fan-man incident and closeness of the fight allowed Bowe to not lose much face. But the signs were troubling–as a lack of fitness and hunger seemed to be depleting him of his powers.
Even without a belt, Bowe soon went on a run of wins that had many people thinking he was again the best heavyweight in the world. Included in that run was a 2nd win over Holyfield–via 8th-round stoppage. He then fought Andrew Golota twice and though he earned two disqualification "wins," he absorbed a pair of frightful beatings by an opponent whose stupidity alone kept him from winning. Though Bowe's story is a tragic one of unfulfilled promise, he was still one of the best heavyweights of the decade.
4. George Foreman
Big George made a freakish comeback to earn the 4-spot. A fighter who petered out in 1977, Foreman parlayed unbelievable power and self-belief to cap off what might end up being viewed as the greatest comeback in all of sports. Foreman made the impossible a reality when in 1994, he smashed Michael Moorer with one right hand to make history.
[Also See: Young George meets Old George in a Fantasy Fight]
He fought surprisingly well en route to a decision loss to then-champion Evander Holyfield in 1991. Following wins over Alex Stewart and Pierre Coetzer, a decision loss to Tommy Morrison appeared to bring his run to an end. Many questioned whether Foreman, inactive for 17 months and coming off a loss, even deserved a shot at Holyfield-conqueror and champion Moorer.
Foreman, 45, proved the naysayers wrong in one of the sport's most memorable moments. Following his hallmark win, he defended his linear crown 3 times. He probably didn't deserve a decision against unknown challenger Axel Schultz, but beat undefeated Crawford Ashley and Lou Savarese. Against 29-1 Shannon Briggs in his last fight, Foreman was downright robbed of his rightful win. Nevertheless, he had made his mark.
5. Mike Tyson
Sure, his best work was in the 80's. His work from this decade is usually mocked, namely his knockout loss and ear-biting fights with his master–Evander Holyfield. While the feeling that Tyson was a shadow of his former self in the 90's is somewhat correct, he still picked up some good wins–enough to crack the bottom of this list. Other than losing to Buster Douglas early in the decade, only Evander Holyfield beat him in the 90's.
Though beginning to depreciate, Tyson scored first-round knockouts over Henry Tillman and Alex Stewart, before twice beating Razor Ruddock, one of the best contenders from the first half of the decade. After 3 years in the can, he needed only 4 rounds to win a pair of belts against Frank Bruno and Bruce Seldon. After the Holyfield debacle, he scored a sudden one punch KO over Frans Botha to close out the decade.
The 90's were supposed to be the time where Tyson would put the stamp on a legacy that would make him one of the greatest Heavyweight Champions of all time. While he fell considerably short of that projection, his work from this decade earns him a small edge over the best of the rest from the rich decade of the 90's.