Tonight's HBO card from Houston opens up with the James Kirkland vs. Carlos Molina clash. These are two top-10 junior middleweights, each eager to win this fight and then land a title shot and a pay day against one of the names in the division. We have live Kirkland vs. Molina results right here on Proboxing-Fans.com, check 'em out.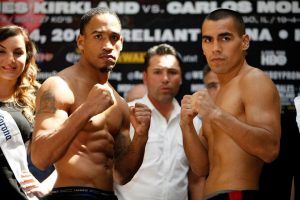 One interesting pre-fight note is that Kirkland wouldn't give a urine sample before the bout, but it was allowed to move forward anyway. He'll need to submit a urine sample after the fight or he won't get his purse.
Molina looks sharper and crisper in the start of the fight, and Kirkland looks a little bit more passive than usual, and off his game a bit. Molina is throwing more but more importantly, he's dictating the distance, pace and style of the fight.
The first two rounds go to Molina, 20-18.
Kirkland is more aggressive and eager in the third, but Molina is still able to keep him where he wants him, for the most part. You can see Kirkland beginning work himself into gear though.
If it looked like Kirkland was starting to get moving in the third, Molina found another gear entirely in the fourth. Hard, clean combinations were finding their mark, and Molina was walking Kirkland down and pushing him back. Kirkland took some punishment in the fourth. Molina up 40-36 here.
Kirkland probably has his best round of the night thus far in the 5th, but he didn't dominate. Molina is being effective by constantly using angles and turning, as well as clinching and pushing when the two get close. He gets off first, clinches, then pushes away and turns to avoid incoming fire.
Kirkland puts in some good work at the start of the sixth, but Molina comes back midway through the round and appears to stand Kirkland up with a few hard punches. Pretty even round, could have gone either way. 59-55 here.
Molina reestablishes control of the contest in the 7th, working behind his jab, sticking to those angles, and tying Kirkland up to keep him off of his rhythm. In a clinch, Kirkland ends up leaning over but the referee wasn't actually breaking them, and Molina takes the opportunity to tee off. Kirkland looks gas, as well as confused. Another round to Molina in the 8th, we have it 7-1 for him, 79-73.
Ann Wolfe has really been tearing into Kirkland all night, and especially does so after the 8th. Kirkland comes out more aggressive and pushes Molina back to the ropes, and throws some big shots, but Molina covers up and gets away. Then back to the same, with Molina moving and clinching, but still landing cleaner shots, too.
Kirkland comes out in the 10th and lands a huge shot and it gets Molina hurt. He's on wobbly legs and Kirkland is pouring on the pressure – doing what Wolfe wants – becoming the fucking gorilla in there. Molina's legs are gone right now. Suddenly Molina gets Kirkland down, but it's ruled a slip. Still, Molina is revived and gets some bounce to his step. Kirkland's round, but Molina survived being tagged.
WAIT! At the bell, Kirkland drops Molina with a clubbing shot, and Molina gets a 10 count from the ref. The fighters and their corners are confused about what to do as they don't know whether or not to sit down in between rounds.
WHOA! Now the ref is calling the fight! He is disqualifying Molina because his corner got into the ring during the count – which was after the original bell to end the round. He DQ's Molina!
What a farce! The ridiculous Texas boxing commission strikes again! This is terrible!
Aw man, this is awful, and the hard-luck career of Molina continues to get more hard luck.
One of the judges had Kirkland up 86-85 at the time of the stoppage, which is crazy, while the other judges had Molina up 88-83, 87-84. Even the intense Wolfe went up to Molina after the fight and told him he was winning.
The miserable, absurd Texas boxing commission strikes again.