An agreement has been made for a fight between Canadian superstars Lucian Bute and Jean Pascal, although the details of the fight are still to be determined. Bute vs. Pascal is a high profile match which would be a blockbuster in Canada, and one of the best regional rivalry match-ups to make in the sport (although, interestingly, not the cross-Canada showdown we had anticipated).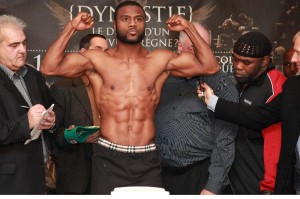 What we do know is that Bute will be moving up to 175 lbs for the bout. What we don't know is the date and exact location, although apparently several large football/soccer stadiums are being considered, and May 25 is the frontrunner.
This fight throws a wrench in a few potential upcoming fights, most notably, a planned rematch for each fighter.
First and foremost would be Pascal's planned rematch with Chad Dawson. The two were supposed to meet in March, although injuries delayed those plans. They were going to then hold that fight on the May 25th date on HBO, but bigger money is available for Bute and Pascal here. However, it's possible that Bute and Pascal could end up meeting this fall, after each man has a separate fight this spring.
If that sounds familiar, that was the loose plan for the rematch between Bute and Carl Froch. Froch though now has his rematch against Mikkel Kessler in May, and Bute's team doesn't seem too intent on getting back in the ring with the Cobra.
InterBox will be holding a press conference Tuesday afternoon with Bute and his trainer, during which time hopefully we'll learn more about Bute vs. Pascal, when it will be, and if it's official. Certainly, there is some back-room negotiating and discussion which will need to be done here to hash it all out.
We'll keep you posted with more information when we get it, so be sure to keep on checking back for more boxing news and rumors, and more updates on Pascal-Bute.