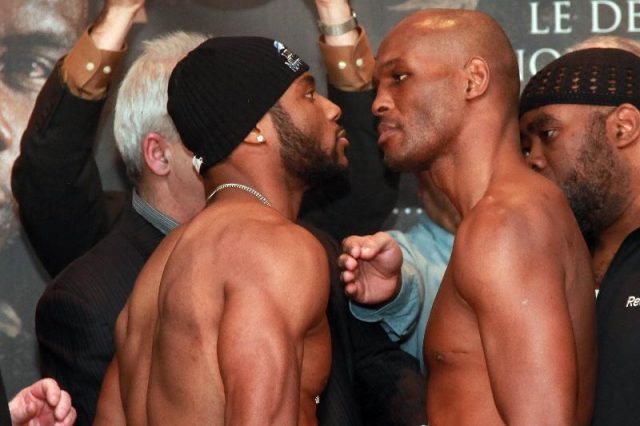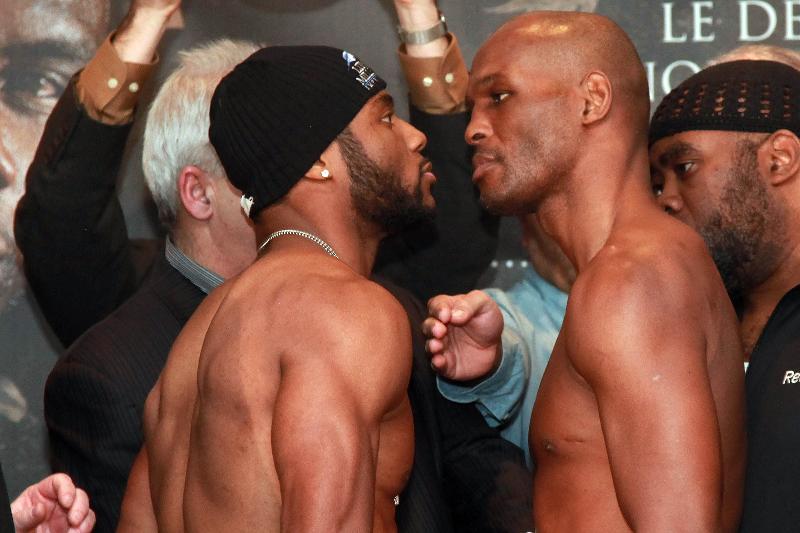 Hopkins vs. Pascal, Jones vs. Lebedev, Referee Steve Smoger  & More:
A full weekend of boxing just took place, culminating with Bernard Hopkins' historic title-winning effort against champion Jean Pascal. But before we were able to see history, there was a lot of other boxing to watch. And that's what boxing fans love—a slew of bouts that make it so you see boxing rings in your dreams. That's what this weekend was like—a cavalcade of bouts from around the world.
On ESPN 2, we saw Sadam Ali struggle at times, but pull out a decision over dogged campaigner John Revish. Ali, a 2008 Olympian, has a lot to work on. He has the seamless offense that suggests a good prospect, but stands up too rigidly and seems to freeze a bit in exchanges. The young pro has time to work out those kinks. The bout was marred by a power outage that left the building dark for about 20 minutes, once again illustrating that boxing venues need to have some kind of electrical back-up plan for when this happens.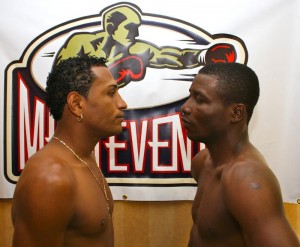 In the main event Joel Julio outpointed Anges Adjaho in a dreadful ten rounder. Adjaho did close to nothing after the first few rounds, despite looking pretty good when he in fact did move his hands. The best part of the broadcast was hearing Teddy Atlas rip into him. Joe Tessitore also took part. After the decision was announced, Adjaho was incredulous! Tessitore captured the thinking of everyone watching when he said, "Does Adjaho live in an alternate universe?" Funny stuff from an uneventful fight.
Later that night on Telefutura, Christopher Martin of San Diego won an entertaining 10-rounder from well-regarded Charles Huerta at the Hangar in Costa Mesa. Huerta appeared to have more of a hometown following, with many of his Paramount, CA fans in attendance. Some may have been a little surprised when Martin was awarded a unanimous decision. It was a close fight, where Huerta jumped out to a lead. Martin remained resolute, however, and by the mid-rounds, was making more of an impression.
I felt Martin outmaneuvered Huerta late, sweeping the last 4 rounds to deservedly receive the nod, though the perception of Huerta being a hard-luck loser in this bout is not entirely unjustified. The rounds Martin won were a bit closer than the ones Huerta put in the bag early. But Martin, now 22-0-2, is a fighter to keep an eye on, especially after he beat undefeated Chris Avalos and now Huerta. There's something "old school" about the kid. Physically, he is not very overwhelming, but he has an abundance of wits, toughness, and the ability to think clearly in the ring.
Saturday…
Jones vs. Lebedev

After a long Friday night, I got up sooner than I would have liked to see Roy Jones take on Denis Lebedev in Moscow. I should have stayed in bed. I have a major problem with everything that transpired in this particular fight. The whole affair left me and everyone else with a decidedly bad feeling.
This sport is tough enough as it is. But when the powers-that-be fall asleep at the wheel, that is when this sport can be downright nasty on its participants. Say what you will about Roy Jones, but the man is a legend in this game. He simply deserved better than what he got in Moscow this past Saturday.
The fight itself was predictable enough. Anyone saying Jones looked good has his head up his ass—he didn't look good. He looked horrible. Saying he looked good when he is a shadow of his former self is the kind of crap that fuels these delusions in the first place. What he did in the ring at times might have been good if it were you or me in there, but this is Roy Jones. In his prime, this Lebedev character would have barely touched him.
I felt a little uncomfortable watching round after round. I won't say it was the same feeling one had when watching Larry Holmes hammer Muhammad Ali, but it was kind of in the ballpark. After all, Jones had been turned into roadkill in several of his recent showings, so the fact that he was on his feet was palatable. Well, it didn't end up that way.
In the 10th round, Jones appeared to score a knockdown. Referee Steve Smoger didn't count it as one and waved the fighters together. If he did, perhaps Jones could have been spared of what followed. Lebedev got Jones against the ropes and wailed away with impunity. Jones took some clean shots and bent over at the waist in obvious distress—semi-conscious at best. Steve Smoger jumped in. But that's when things got really weird.
Smoger inexplicably froze. Lebedev looked at Smoger, a bit confused as to what the referee was doing. Smoger jumped in, but he wasn't stopping the fight. There were a few seconds where it basically looked like Smoger had his thumb up his ass. To say it was bizarre is an understatement. Lebedev, not knowing exactly what he should do, then threw a horrible right on a compromised Jones—sending him face-first to the mat out cold. Thankfully, Jones was revived with some smelling salts. But he does not need this at this point in his life.
The Russian commission deserves some blame here. They knew what they were dealing with in Jones—a badly faded fighter who is operating in the danger zone neurologically. So what do they do—they fly in Steve Smoger from halfway around the world. Why in the world would they do that? Any halfway knowledgeable fan would have considered Smoger the WORST possible choice for this assignment. The guy is known as a ref who will let the fighters decide the outcome, which is great, just not with a fighter like Jones in the fight.
Someone explain to me why everyone in boxing would consider Smoger a terrible choice, but the Russian commission was unable to determine that. Not knowing any better, you would think someone on the commission had a vendetta against Jones by picking Smoger of all people. So they should catch some flack for not being able to see the forest for the trees. Disgraceful!
I don't want to condemn Mr. Smoger. There are a bunch of fights in recent memory where he did a great job. He deservedly earned a reputation as one of the sport's finest third men over the past 30 years or so. With that being said, his performance on Saturday was horrific—there is no way to sugar-coat it. No one can offer me a reasonable explanation for what he was doing there at the end. He saw Jones taking big shots, causing him to sag. He jumped in and then FROZE. He choked and it led to Jones being separated from his senses.
Smoger should have used better judgment. Aware of Jones' situation, one would expect an experienced official like him to look after Roy a little bit. What was the point of allowing Lebedev to continue the beating? Roy couldn't have won on the cards. Smoger knew that. Did he want to see Roy get the chance to say he went the distance? What does that really matter at this point?
Smoger basically had one job in this fight—to not let Roy get hurt. That was the 500-pound elephant in the room. Sure, officiating a fair match was his job, but the unspoken component to that was that he would look after Jones to ensure his fellow American didn't take any unnecessary punishment. And he couldn't manage to do it, which I find profoundly disappointing. Smoger has a long career as a referee to be proud about, but as far as Saturday is concerned, he should be ashamed of himself.
Things like this only re-affirm how crappy this sport can be. We can comb through boxing history and be hard-pressed to find a fighter of Jones's stature who was allowed to sink to such low depths. What other pound-for-pound king was permitted to be rendered unconscious on 4 separate occasions in his twilight years? It would just be nice to know that men who contributed to the popularity of boxing would be looked after a bit by the sport. But as we know, that doesn't really happen in boxing.
It's a brutal sport and it's difficult to shield the harsh realities from crashing home from time to time. But even so, it didn't seem that difficult on Saturday to prevent this from transpiring. A little common sense and TLC would have gone a long way. The Russian commission didn't have to choose a Diggstown referee. Smoger didn't have to freeze like Ruby Goldstein. But all that did happen, and as a result, Jones is worse-off. Despite the heightened element of danger surrounding the health of Jones, his well-being still managed to slip through all the different cracks in place and that's disappointing to say the least.
Hopkins vs. Pascal II Making History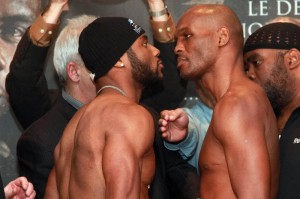 Bernard Hopkins was masterful once again in dissecting talented light heavyweight champion Jean Pascal. Hyperbole strong enough to place this in its proper perspective isn't even available. You cannot overstate the enormity of this accomplishment. If Hopkins hadn't been locked up, he would have been part of that wonderful 1984 class. Go look at those guys in 2011 and Hopkins' feat becomes even more jaw-dropping.
Jones depended on reflexes, speed, and athleticism to thrive in his heyday. When those traits waned, he was lost. Hopkins, however, was the consummate craftsman—developing his skills over years. He never relied on the qualities one normally associates with youth, so when he grew old, he still had the skills upon which he could rely. His vision of a fight has somehow improved. Combine that with a Spartan lifestyle and you have the recipe for extreme longevity. Not that it works for everyone, but Hopkins' mental strength and unwavering pride have made this accomplishment possible.
And it wasn't like when Foreman dropped a bomb on the mentally-weak Michael Moorer to annex the heavyweight crown. Hopkins controlled the fight most of the time, his mastery of Pascal far more thorough than what Foreman accomplished in 1994. Hopkins isn't the first fighter we've seen fight at this age, but when comparing him to the others, it is clear that he is a different league. No fighter in boxing's history has aged so gracefully—period. You could counter with mentioning Archie Moore, but even "The Mongoose" wasn't beating the likes of Pascal at 46.
Simply, we are witnessing something historic with what Hopkins is doing. It is just extraordinary that he has scored 4 big-time upsets after the age of 40, coming a hair from making it 6 upsets. On Saturday, Hopkins fought an active fight. His showmanship was off the charts—especially with the push-ups as he waited for Pascal to come out of his corner. He was magnanimous in victory, giving Pascal his credit and showing there was no genuine animosity. Long criticized for being unsportsmanlike in build-ups to fight, he continues to show plenty of class to his opponents—when all is said and done, of course.
Even an unsentimental observer had to be struck by the poetic nature of this weekend's events. Whereas one 40+ legend was knocked out cold, the other became the oldest boxer to ever win a world title. Long in the shadow of his former conqueror Jones, Hopkins made for a wildly disparate juxtaposition when looking back at this past weekend. One legend has aged as horribly as possible, while the other has managed to hold off the affects of age to a history-making degree. It doesn't get any more graphic than that.