Staff Picks – Floyd Mayweather vs. Canelo Alvarez Predictions:
The ProBoxing-Fans.com team gets together for all of the big fights to offer our picks and predictions, and no fight on the calendar for 2013 is bigger than Floyd Mayweather vs. Saul "Canelo" Alvarez. So, it was time that we had a meeting of the minds to come up with and put together our collection of Mayweather vs. Canelo predictions.
How will the fight play out, and which fighter will be The One? Does anybody believe in Canelo upsetting Mayweather, or is this another dominant Mayweather performance in the making?
—-> 50% Deposit Bonus up to $250 to Bet on Mayweather vs. Canelo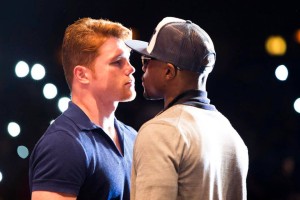 Jake Emen: The largest factor which stands out to me in this fight is Canelo's defense. More specifically, his lack of quality head movement. Despite some misplaced attempts at working the shoulder roll into his repertoire, Canelo is fairly wide open. For a sharpshooter and counter-puncher like Mayweather, that spells certain doom. Canelo will work the crowd into a lather by getting Mayweather to the ropes and unloading sporadically throughout the bout, but Mayweather will ensure that nothing solid lands, and will pick him apart in return.
I think Canelo will be so susceptible to Mayweather's right hand lead and other shots that the undefeated kingpin of the Sweet Science will even have a chance to grab a late stoppage win. But I'll take a typical Mayweather Unanimous Decision.
Prediction: Mayweather by UD
Scott Levinson: Alvarez is the real deal. The way he handled Austin Trout rang of a certain high level of quality. The odds tell a story, as well. With a fighter like Mayweather, he's usually favored by a ton. With the betting odds at -240 for Mayweather it's obvious the wise guys in Vegas really like Alvarez' chances. It's almost like they're tempting you to take Mayweather, knowing the real value lies with Alvarez.
It should be a struggle. If Mayweather can totally dominate a fighter like this with no resistance, it will be quite a surprise. I don't see that happening. While Alvarez is a good puncher, he's not really a one-punch guy, meaning that even if he times Mayweather with good shots, he's gonna need to string together 2 or 3 more of those and that isn't something anyone has been able to do yet. Without totally ruling out the possibility that Alvarez can somehow make this happen, I see Mayweather getting through some tough moments to win a clear unanimous decision.
Prediction: Mayweather by UD
Rich Thomas: Some people are picking Canelo's combination of size and ability as being just enough to tip the balance against Floyd Mayweather's Hall of Fame quality defense. Not me. Pretty Boy is at least as slick as Sweet Pea Whitaker, bigger than Whitaker, and takes better care of himself. Sergio Martinez might be big enough to multiply his ability and beat that, but not Canelo.
Prediction Mayweather by UD

Matt Andrzejewski: Mayweather-Alvarez is a matchup of a good fighter versus a great fighter. Alvarez is a very good fighter and proved that against Austin Trout. Mayweather, however, is a great fighter with elite talent. In my opinion, his speed and defensive skills will be the difference. He will use his speed and agility to create angles to pot shot Alvarez. Mayweather will also use his defensive skills to slip and counter. If Alvarez gets him on the ropes, Mayweather will roll with and pick off shots deflecting their effectiveness.
The only way I see Alvarez winning is if he finds a way to land something big that turns the tide of the fight. Though not impossible, it's difficult for me to envision that happening. Mayweather maybe loses one round in winning a dominant unanimous decision.
Prediction: Mayweather by UD
Blair Newman: As far as I'm concerned, this fight will be relatively one sided. Alvarez is a talent, and has youth and freshness on his side, but I feel he just comes up short when paired with the elusive Mayweather. Floyd looked as irrespressibly smooth as ever in his fight with Guerrero and I expect him to once again offset his size disadvantage through footwork and accurate punch-picking. As solid as Alvarez's win over Austin Trout was, it was no way as decisive as the scorecards suggest. He struggled to land clean at times with wild punches, and Mayweather will be twice as difficult to hit. I thoroughly expect Alvarez to dictate the pace of the action for the majority, but Mayweather will rack up the points early and hold on to his lead using the know-how of year upon year of championship-caliber experience.
Prediction: Mayweather by UD
Doug Crego: Saul "Canelo" Alvarez is one of the great, 23 year old boxers you will ever see. He seems to be an old soul in a young, sturdy body who has handled everything that has come to him with a coolness and poise, rarely seen at this early age. That coolness and poise, along with other attributes, will cause Canelo to be more of a challenge to Floyd than Mayweather's most recent opponents have been.
This is going to be a competitive affair whose outcome will likely be in doubt for much of the fight. Ultimately though, I believe Floyd is still just too good. His superior speed, elusiveness and cagey ring generalship is unlike anything Canelo has seen nor can prepare for. Canelo exhausts a lot of energy in many of his power punch attempts and I think we will see Canelo's energy drain a bit as the fight wears on. I don't think Mayweather will get Alvarez into serious trouble but Floyd will score enough and avoid enough against the still-improving Alvarez to get a unanimous decision.
Prediction: Mayweather by UD
Final Mayweather vs. Canelo Alvarez Predictions Tally
Mayweather: 6 – All by Unanimous Decision
Canelo: 0
Well, it's a shutout, and nobody from our group is siding with the young Mexican star. Despite Canelo's great record, his power, size and youth, and despite fan voting online which pegs him as the favorite, we're all putting our Money on Mayweather to be The One.
Be sure to keep on checking back over the next few days for all things related to the big fight, and be sure to chime in with your own thoughts and Mayweather vs. Canelo predictions below!