Floyd Mayweather vs. Miguel Cotto Fight Preview & Breakdown
Undefeated pound for pound kingpin Floyd Mayweather moves back up to Junior Middleweight on May 5, 2012, when he challenges divisional top dog and WBA titleholder Miguel Cotto at the MGM Grand in Las Vegas, Nevada. Mayweather vs. Cotto was once one of the most craved and debated potential matches in the sport, and today the bout still brings a lot to the table in terms of intrigue and potential excitement once the fighters step through the ropes.
Meet the Fighters
Floyd Mayweather

42 (26) – 0
Height: 5'8″
Reach: 72″
Stance: Orthodox
Credentials: Rated #1 Pound for Pound and #1 at 147 lbs; WBC titleholder at Welterweight; 5-division champion
Activity since 2010: Two wins in two fights at 147 lbs against Shane Mosley (UD) and Victor Ortiz (KO4)

Miguel Cotto

37 (30) – 2
Height: 5'7″
Reach: 67″
Stance: Orthodox
Credentials: Rated #19 Pound for Pound and #1 at 154 lbs; WBA titleholder at Junior Middleweight; 3-division champion
Activity since 2010: Three wins in three fights at 154 lbs against Yuri Foreman (TKO9), Ricardo Mayorga (TKO12) and Antonio Margarito (TKO10)
—> On fight night, come back & check out our live Mayweather vs. Cotto results
Mayweather vs. Cotto Preview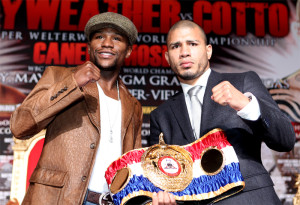 For Floyd "Money" Mayweather, the coming clash against Cotto is a like a pre-jail sendoff party. He convinced a judge to postpone his jail sentence while he publicly prodded Manny Pacquiao in an attempt to secure a date with him. In the absence of that fight, he'll just have to settle for an opportunity to lace up the gloves and rake in a cool $25 million or so against the number 1 guy in the next division above his own.
He's coming off his controversial knockout win over Victor Ortiz in September 2011, a fight in which he took on the top available challenger at Welterweight and dispatched of him with ease. What gets lost from that performance due to the way the fight ended and the infamous Larry Merchant interview is the fact that Mayweather was in the midst of a virtuoso, vintage performance.
He has always put forth his best and most entertaining work when he has been met with aggressive, come-forward fighters. This allows him to rely on his supreme defensive tactics while standing his ground and calling upon his precision counter-punching to turn back their charges.
Miguel Cotto is coming off what is likely the most satisfying performance of his career. He scored revenge against Antonio "Manos de Plaster" Margarito by battering him for 9 rounds this past December at Madison Square Garden, eventually forcing the referee and doctor to halt the action. It ended a rollercoaster ride the likes of which is only possible in the realm of boxing, as Margarito didn't gain licensure to compete until just days before the fight took place, and even then, barely so.
Cotto remained one of the biggest draws in boxing in the United States even as he brutally lost two of four fights in a 16 month period from July 2008 to November 2009, first to Margarito and then to Pacquiao. Still, the win over Margarito was necessary to firmly reestablish his place not just as a star, but as a world-class fighter.
In addition, the victory was most important not for spectators and analysts, but for Cotto himself, who can now rest comfortably with his knowledge that he only lost the first fight because Margarito cheated. With the win, Cotto has gotten past that roadblock and can move on with his career and his life.
A fighter with that sort of regained confidence and self belief makes for an infinitely more dangerous opponent than one who can't shake the image of himself profusely bleeding with one knee on the canvas after sustaining a vicious assault which he couldn't cope with.
Cotto has risen all the way up to the number 1 ranking in his division after just three fights at that weight class. While he has performed well, outclassing Yuri Foreman, handling the antics of a past-his-best Ricardo Mayorga and exacting his revenge against Margarito, the ranking has at least as much to do with the fact that there simply isn't anybody else for the job at 154 pounds right now.
Sergiy Dzinziruk has apparently entered witness protection since his loss to Sergio Martinez; Saul Alvarez continues fighting opponents ranging from mediocre to middling; James Kirkland is maddeningly inconsistent, but good enough to knock Alfredo Angulo out; Carlos Molina can't catch a break, and neither can Erislandy Lara; and Paul Williams has had a more drastic fall from grace than any fighter in the past decade not named Roy Jones.
So it is that with Mayweather-Cotto, we get the number 1 guys at Welterweight and Junior Middleweight squaring off against one another. It's a fight which is a justifiably worthwhile replacement to a Mayweather-Pacquiao clash, and it should make for an aesthetically pleasing contest to watch.
Maywether vs. Cotto Analysis
—> Check out our breakdown of the Mayweather vs. Cotto betting odds
When Mayweather and Cotto were both Junior Welterweights, there was much talk of a potential match between them. The truth is that Mayweather-Cotto will be a much better fight in 2012 than it ever would have been circa 2005.
Both men have evolved substantially since then, but the difference in style is most striking with Cotto. Cotto isn't the full steam ahead, left hook – left hook – left hook, destructive force that he was then. That's good for him, as Mayweather would have handled that challenge with ease enough to dampen Puerto Rican day parades in New York for years to come.
Today, Cotto is a boxer-puncher with a surprising emphasis on the boxing elements of his game. In running into the walls that were Pacquiao and Margarito, after surviving early-career scares against the likes of Ricardo Torres and DeMarcus Corley, he learned that it's best to deploy his arsenal behind a deceptively effective jab and a disciplined, movement-oriented, tactical plan.
The only times he has truly foregone that approach have been when he knew he was going against a guy well beneath him in class – Alfonso Gomez, Michael Jennings – or when in the heat of battle an opponent forced it out of him in spurts.
Here though, as with all Mayweather opponents, he's going up against a double-edged sword. He's not going to out-box Mayweather, or out-quick him or out-smart him, for that matter. Opening up and swinging for the fences is a worse idea, and Mayweather would love nothing more than to lay back, lick his chops and tee off when he sees an opening.
Contrary to popular opinion though, Mayweather can absolutely be out-jabbed, as that's far from his signature weapon. Therefore, Cotto's only chance of winning is in the consistent application of his own jab. If he throws his first, always works behind it, and stays busy with it, Mayweather is going to have to adapt. For Cotto though, with a 5-rinch reach disadvantage, it will be easier said than done.
Still, if he continues firing those jabs, he'll give himself a chance, and he'll force Mayweather to come forward and attack him. Then, Cotto will need to follow that up with some vintage left hooks to the body in an effort to slow Mayweather down, before eventually opening up and following the body shots with hooks to the head in hopes of doing real damage.
It's an uphill battle, but it's a plan.
Maywether vs. Cotto Prediction
Realistically, even if Cotto sees early success with that approach, I see Mayweather figuring out a solution and going to work by the fourth or fifth round, taking control of the fight and keeping it.
Mayweather has more than enough pop to make Cotto a bit weary, and once that happens, the battle of the jab will no longer matter. At that point, Mayweather will stick to his preferred straight right leads, and eventually his patented straight right –  push off – left hook combinations on his way to a decisive victory.
I don't see Mayweather forcing the issue enough to get the stoppage, and if Cotto hops on his bicycle, Mayweather will be happy picking him off at a distance for a decision.
Official Mayweather-Cotto Prediction: Mayweather by Unanimous Decision
Comments
comments